At this point in the season, if a team is failing to take hold of the consistency that has eluded them all year, they're probably not ever going to grasp it. The Boston Celtics are members in good standing in the "2019 Overhyped And Underperforming" club along with the sorry-ass Los Angeles Lakers.
Other than failing to meet expectations, the Celtics and Lakers seem to have a few parallels related to their star players causing unnecessary drama and deflecting blame while failing to clearly step up as team leaders in key games. The Celtics have had several big wins this year, but a W against the Raptors in Toronto would've served to assuage the lurking doubts about their incoming playoff competency. Instead of inspiring optimism, the C's got blown out by what looks like a clearly superior squad, 95-118. Take a look at the Rhythm of the Game for the recap and Takeaways for afterthoughts.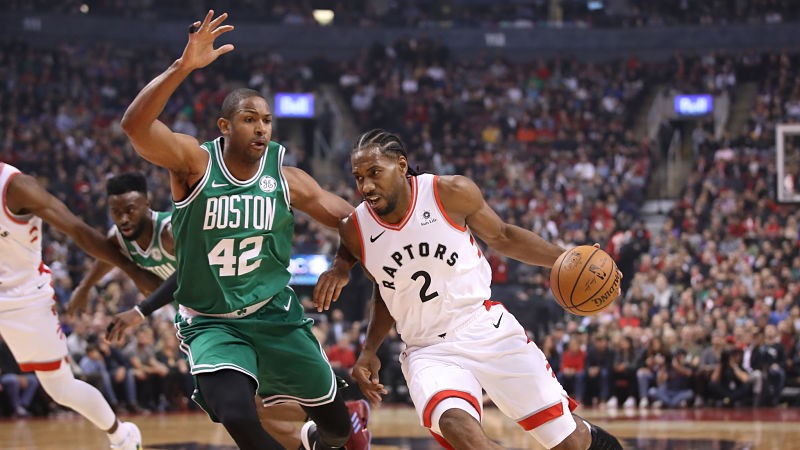 Rhythm Of The Game
Both squads looked sharp to start the contest. The scoreboard was always within one, two, or outright tied during the entire first period, but Boston managed to pull out a two-point edge after the initial quarter, 32-30. It felt like we were in for a dead-even battle of the first half, but the second quarter Raptors sought to write a different story.
That was when they just ran the Celtics off the Toronto home floor. First, it hovered around a 13-14 point lead, then all of the sudden we were looking at a 41-61 Raptors advantage with two minutes to go! Toronto's engines were just humming. They were swinging the ball all around the court which resulted in an onslaught of dunks and threes. Guys like Norman Powell were out here getting buckets! When Norman Powell is balling on you, you know you're in for a night of pain.
But it wasn't just Powell, Marc Gasol was in full facilitator mode too. The Raptors as a unit were out-rebounding, out-hustling, out-shooting, and out-fighting the Celtics to the tune of a 21-point halftime lead. It started when the Celts let Toronto go on a 15-0 run, which kickstarted their first half downfall. They were looking like the strife-filled squad that the media commonly paints them as. Who was going to change their tune in the third?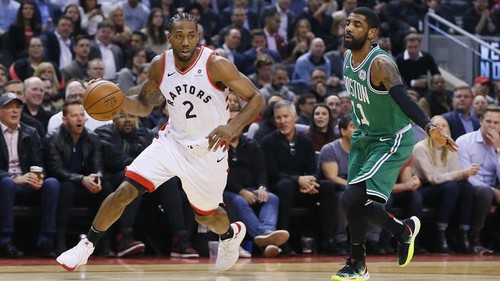 There was no single answer to that question. Everybody on this Celtics team picked their game up to start the third, coming out swinging with seven quick ones to cut the once-twenty point game to fifteen. Toronto responded in kind with their own run to counter, and pushed that lead back over twenty in only a few laughably quick minutes, 62-84.
Again, who on this Celtics team was going to be mentally resilient and step up? Mental toughness was something the Celts too pride in last year, but it's all but absent in big games this year. With Kyrie and Tatum on the bench, the Raptors pushed it to a 30-point game with one minute remaining in the third, 64-95. Kyrie's look of distant disgust was unable to be hidden. The entire fourth quarter was pretty much garbage time. The Raptors walked away with the clear-cut blowout win, 95-118.
Takeaways
Another dispiriting loss for the Celts. It kills me how many parallels the Celtics and Lakers seem to have this year. We reasonably assume Kyrie's leadership style is somewhat modeled after LeBron given his upbringing, but the bad parts of both men seem to be on full display in recent games too. You'd wonder how these Celtics would fare in the Western Conference though. Would they still firmly be in the playoff standings? Or would they be fighting to get in like the Lakeshow
This loss has to sting for the Celtics like all the others, but what do you expect to happen at this point? Players will hash out their same old responses to the beat writers, preach accountability etc. But will it change at this point in the season? It's hard to believe that it will. Boston feels like they're doomed to suffer a second round exit to the Sixers, Raptors or Bucks in due time.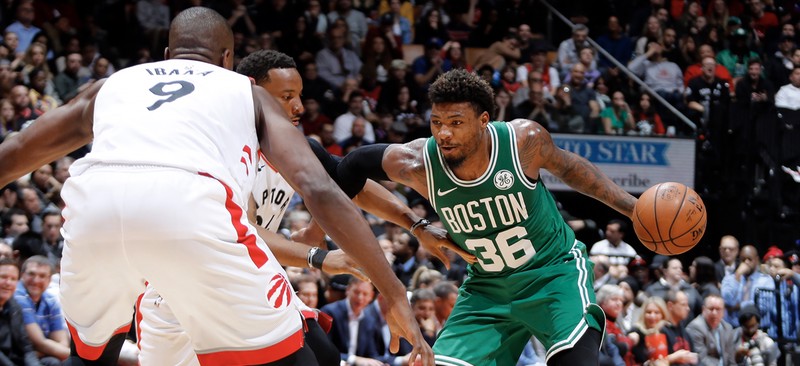 From a basketball perspective, I wish we could see the Kyrie-less Celtics from last year battle it out in the postseason. That version of the team played like they had some heart. Just a couple weeks ago, the Kyrie-less Celtics pulled out a win against the red-hot Philadelphia 76ers and we were all surprised - but slightly not - that they came out with that fire! The team played like they were having fun again too. Well, we all know Kyrie isn't going anywhere yet, but it's fun to wonder how last year's version of the team would fare in the postseason this year.
Meanwhile, the Raptors continue to quietly chug along into a stream of Eastern Conference dominance. 25 points and 8 boards from breakout role player Pascal Siakam, along with 21-6-4 from Kawhi and 7-6-11 from Kyle Lowry. Shoutout to bench mob members Marc Gasol for eight assists and Nick Powell for 11 points. Powell started a mini second quarter run that saw the Raps capture the advantage for good. The starters just came in and did their job in the first three quarters, allowing them to get some much-heralded rest in the final period. And you know Kawhi loves his rest.
Check out the game's highlights below