The fourth and final time the Golden State Warriors and Houston Rockets would meet in the regular season was last night on Wednesday, March 13th. Many things have happened since the Rockets missed 27 straight three-pointers in Game 7 of the Western Conference Finals. I'm still mad they kept shooting from deep even though they were given nothing but bricks. You didn't think mixing it up with a layup or some drawn contact would've been good to get points on the board? But I digress.
No Kevin Durant for the Dubs tonight, so the poor Warriors only had four All-Star level talents to go to battle with their greatest challenger the past two seasons. It came down to a battle of stars. Curry, Thompson, and Cousins had 24, 30, and 27 respectively while Paul and Harden poured in 24 and 29. Golden State narrowly escaped with the last-second win, 106-104 thanks to a tip-away on the Rockets inbound pass that would've given them a shot to tie or win. This victory ended the Rockets nine-game winning streak coming into the contest. Check out the Rhythm of the Game for the recap and Takeaways for afterthoughts.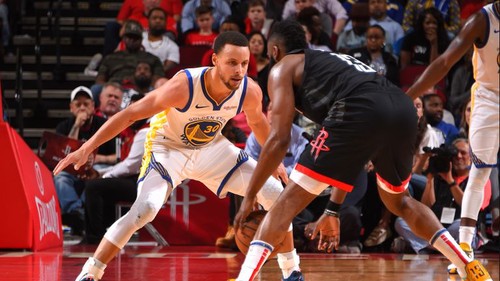 Rhythm Of The Game
The Warriors were without Kevin Durant, but they were playing their brand of sharp-shooting ball-sharing basketball that won them all their ships. A scorching 58% shooting and 11 first quarter assists for the Dubs, while they held Houston to a modest 37% from the field. A byproduct of successfully executing that Warriors style was a stern, unsurprising advantage after the first twelve minutes of play, 33-23.
The Rockets still weren't shooting particularly well to start the second, but they exhibited a level of toughness that translated to hustle points - good enough to bring it within three. After the Warriors created space with a ten-point lead, Houston rallied back to cut it to four with two minutes left! Now was their shot to close the gap heading into halftime. Sixteen first half points in a hell of a performance for Chris Paul. They tied it all up at the last second, but a mad dash of a Curry layup put the Warriors up two heading into the halftime locker room, 54-52.
The third quarter felt like a blur. The Rockets did manage to take the lead for the first time in the game, but Golden State's energy was way better in this second half - thus they took it back with ease. All throughout the quarter I couldn't help but daydream about the NBA playoffs, which are still a month away. We know these teams and what they're capable of. Can't we fast forward to the postseason so things can matter? Warriors lead heading into the fourth, 85-78.
Golden State was just settling into their groove while the Rockets wrestled with an apparent scoring funk. Klay came out firing, drumming up several quick buckets in the opening minutes to stretch that Warriors lead to thirteen. I guess when you employ five All-Stars, one of them is bound to put you over the top right?
Right when this seemed like it'd get away from the Rockets, the Warriors began shooting themselves in the foot! Turnovers and bad shots combined with a lockdown stretch of defense for Houston spelled comeback with under three minutes to play and down ten, 104-94. A few more Warriors misses (on wide open looks), and several key Rockets baskets saw it shrink to a four-point game, 104-100! This one was totally within reach!
Under a minute to go. Curry tried throwing up a tough look but it bricked. That sent the Rockets rushing down in transition who had Chris Paul sink the layup plus an and-1! We were at a one-point game with ten seconds remaining and two Rockets timeouts yet to be burned. Were we about to witness something special? Some Warrior free throws then pushed it back to a three-point game. Rockets had a chance to tie when they inbounded the ball deep beyond the arc....but it got tipped! Houston didn't even get a shot off and Golden State escaped with the narrow victory. They avoid the season sweep, 106-104.
Takeaways
I found myself actually getting Warriors & Rockets fatigue throughout this game. Basketball fans and media members alike have been constantly comparing these two squads since the beginning of last year. Justifiably so, because they're the closest two teams in terms of talent level in the NBA. It's a shame they both play in the Western Conference. Last year's Conference Finals should've been the NBA Finals, not that stinker of a sweep we got for Cavs Warriors Part IV.
Maybe it's just this long month's worth of games that we have remaining in the schedule until playoff time starts. I've said it before in previous Scorum articles. Every team has already played each other. We've already seen the best and worst version of each team. Regardless of what happens in these final regular season games, the true action between the league's best won't be set into motion until at least the second round of the Eastern Conference. After that, we'll have a better idea of which Eastern Conference challenger was for real during the year. Celtics, Sixers, Bucks, or Raptors? The month of May can't come soon enough.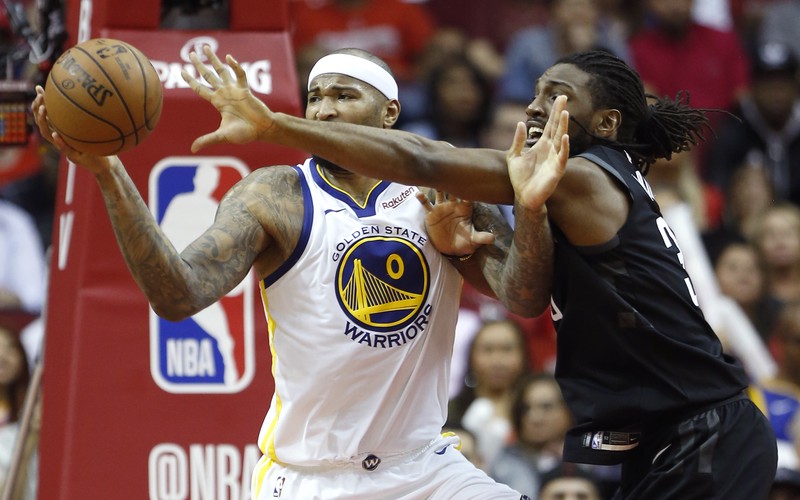 I think if there's one thing we can take away from this game is that even though Houston lost, they look way more put together with the whole squad there than they did at the start of the season. Harden's shot was a little off (10/23 FG, plus a couple ugly misses), but I won't knock him too hard for that on this regular season night. He has been on a historic scoring streak and been carrying the team for months now. Maybe it's good he's getting these bad games out of the way before the postseason. Chris Paul's game looked great on the other hand. He was hitting from his typical spots in the mid range and behind the three-point line, but his movement in the open floor and around screens looked crisp too. He seems like he's rounding into form just in time.
All this year, there has been a constant discussion, "Who is the West's second-best team?". The Rockets were so crappy out of the gate that we tried anointing another, but new never came to a universal conclusion. It's still a debate worth having, but in my opinion, I think that the Rockets look like they've reclaimed the mantle.
I thought it was interesting how much the ball was moving without KD in the lineup. The Warriors tend to go iso a little more with KD slotted in. They got this way in the playoffs when their backs were against the wall, particularly in the Houston series. It'd be like watching OKC Durant try and make magic happen with the most basic play structures. However, when KD's in and they're clicking on all cylinders they're still by far the strongest team in the current NBA season. Let's get this regular season wrapped up so we can play for some stakes, shall we?