In the second quarter, I was ready to anoint the Sixers as Warriors East. Coming off the big trade deadline acquisition of Tobias Harris and Boban Marjonavic from the Clippers, Philly seemed like they had a roster that could go almost man-to-man with the Warriors in terms of star power while increasing their depth at the big man role with the Boban add. Ben Simmons, Joel Embiid, Jimmy Butler, and now Tobias Harris? Sheesh. Funnily enough, it was the sharpshooting role player JJ Redick who kept them in this game at a crucial breaking point where only he could make a basket. Still, the Sixers pulled out a neck-and-neck home win over the surging Denver Nuggets, 110-117.

Nikola Jokic had a 27-10-10 triple-double while Jamal Murray pitched in 23-5-6 with a block. Philly was dealing with an ailing Joel Embiid (15-12-1-1-4), but their other All-Stars put out just enough to get the win, in addition to 34 big ones from JJ Redick. Take a look at the Rhythm of the Game and Takeaways below to see how this unfolded.
Rhythm Of The Game
Things kicked off in this Sixers-Nuggets game, and the Philly crowd was electric. Hot off the feeling of getting two promising trade deadline pickups in Tobias Harris and Boban Marjanovic, the crowd was ready to show them love at the first signs of positive input. Tobias drained two threes in the early going which drew a parade of praise from the East Coast spectators, while Boban executed a drive down the middle for his first hoop with the Sixers. Philadelphia grew themselves a 10-plus point advantage while the Nuggets still tried to get their bearings straight early on.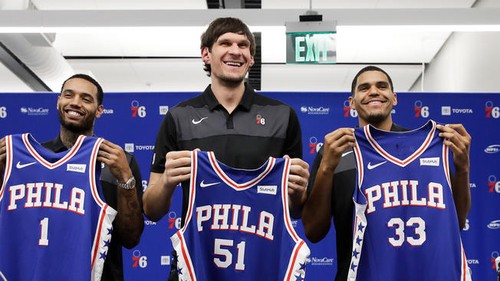 Denver did indeed find their offensive footing as the quarter ran on. Malik Beasley provided and eight-point spark in the first quarter, in addition to 3 pts, 4 assists from young Jamal Murray. Their contributions were solid, but Philly was invigorated in front of their home crowd so they held the ten-point lead heading into the second period.
Philadelphia kicked off the second with a steady assault of jumpers to keep the Nuggets at bay. Denver was making their shots at a pretty even clip, but it wasn't enough to eclipse the ten-point hole the Sixers posed. And Philly just didn't let up. They were getting buckets left and right from star guys as well as role players en route to a sixteen point advantage, 34-50.
One couldn't help but marvel at how stacked this new-look Philly team was looking. You have Ben Simmons and Joel Embiid, but you also added Jimmy Butler and Tobias Harris this year? Aaaaand kept JJ Reddick while adding an imposing backup center in Boban? The lineup was filled with certified All-Stars, great role players, and borderline All-Stars. This might be a team that could go toe-to-toe with Golden State, at least in terms of star power. We still had another two and a half quarters to go. We were about to see if the Sixers could execute at this level consistently.
And right as these positive Sixers thoughts started brewing in my brain, Denver went on a run to cut the sixteen point lead to seven, 47-54. Then they went on 10-0 run to cut it to one! So much for my praise-filled analysis. In total, Denver closed it on a 20-4 run to tie the game up at the half, 56-56. We still had tons of game left to play.
As the third quarter rolled along, it wasn't the Sixers Big Four doing all the damage offensively. It was JJ Redick! The lethal shooter had 31 points in the night before the third quarter even came to a close! Joel Embiid was ailing from a stomach bug, and he actually almost didn't suit up for this game. Despite JJ's effort, it was a neck and neck game heading into the fourth, 82-83 Sixers up.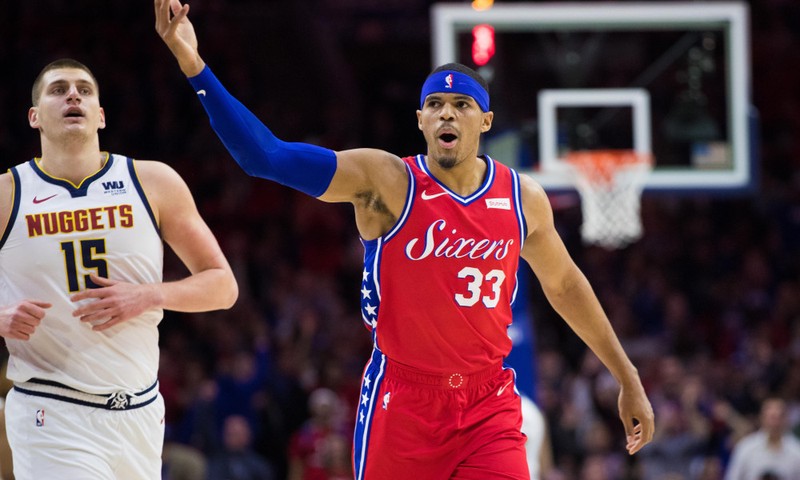 Philadelphia struggled to break free of the feisty Nuggets in the opening minutes of the fourth, but at least Joel Embiid was rediscovering his basketball rhythm. It was still completely even six minutes into the fourth. The biggest lead either side could muster up was one or two points. That was until Tobia Harris sank a three to put them up four and the crowd went wild! Sixers lead 101-97.
The four-point lead quickly evaporated in the span of less than one game minute. Thirteen lead changes and sixteen ties in the game so far. Things seemed like they were going to come down to the last second and the last shot, but the Philadelphia 76ers came through with key baskets from what seemed like all their guys to go up by eight big points with only thirty seconds to play! Joel Embiid, Ben Simmons, Jimmy Butler, and Tobias Harris all had key baskets when the game was locked in a tie. Sixers win 110-117.
Takeaways
I chose this game because it seemed like it was the best collection of basketball talent compared to the rest of the slate, and I hoped it'd stay neck-and-neck. I'd say it delivered on that end, but one thing I didn't anticipate was JJ Redick being the leading scorer. I had a feeling Jokic would win the battle of big men over Embiid tonight, and I'd say he won from an individual standpoint (27-10-10 with 3 steals compared to 15-12-1 with a steal and 4 blocks for Embiid). That might've been different if Joel wasn't coming off of an illness, but I knew that coming in so I literally put my money on Jokic. I picked him over Embiid in daily fantasy $$$
If you're a Philly fan, tonight's got to feel like a promising win over one of the best teams the West has to offer. With major personnel upgrades to the Sixers, Bucks, and Raptors, we might have to start shifting our conversation of the talent in the Eastern Conference, at least at the top. Toronto now sports Marc Gasol who is not quite the player he used to be but is a solid upgrade over Jonas Valanciunias. Nikola Mirotic on the Bucks will also help Giannias drive to the hoop with open lanes as Miro spreads the floor with his shooting.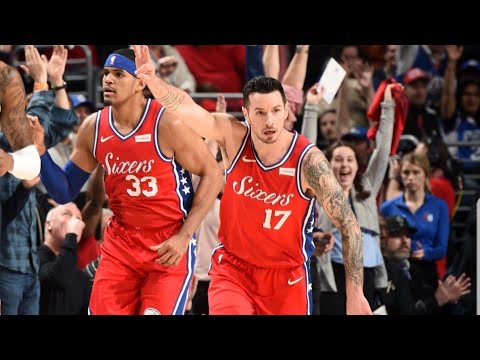 I'm really looking forward to this second round of the Eastern Conference playoffs! I feel like I could see any of the big four teams advancing to the Conference Finals. All I'm really hoping for at the end of the day is for the Celtics to have a disappointing second-round exit after they came into this year thinking they're hot shit, going to Game 7 in the ECF in a much weaker East compared to this year. Let's see how the East shakes out.
My basketball instincts are telling me they're going to run into the beefed-up Sixers in the second round and take a big L. That is unless they can figure out to play cohesive and consistently as a unit night in night out. I haven't watched them that closely until they played the Lakers last night, but it sounds like they haven't come together on the same level as they did in last year's postseason. I think I'll be rooting for the Sixers and Bucks in the postseason once the Lakers inevitably fall out. Thanks for reading and check out the highlights below!