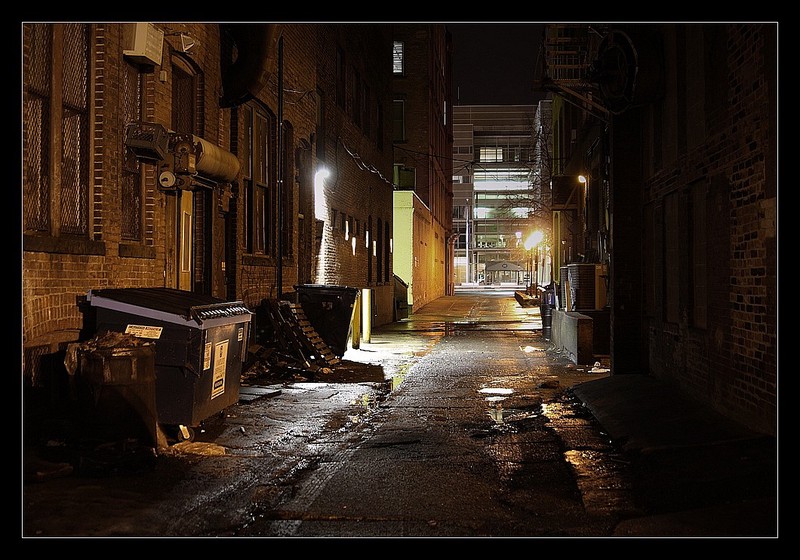 At the end of each year, the NBA releases a list of the top players at all five position called the All-NBA team. This is just a list voted on by the media that ranks the greatest players in their respective on-court roles. There are three strings or "teams" ex. All-NBA First Team, Second Team, and Third Team. In addition, there is an NBA All-Defense team with three levels which focuses solely on a player's defensive ability. When you look back at old lists, you realize it's a nice gauge of who the top dogs were at each position through the years. Michael Jordan took home First Team All-NBA honors ten times during his career ( his prime years of 1987-1993, 1996-1998), and LeBron has already done it twelve total times, including ten in a row (2006, 2008-2018).
Unfortunately, the NBA only ranks their "All" teams based on offense and defense. What if we got creative and made a list of the top 5 players, but with a different set of criteria? How about a list where we rank who you'd want by your side if you were to run into a fight with some shady characters in a dark alley? Former player and current NBA analyst Jalen Rose calls it his "NBA All Dark-Alley Fab Five", because if something was about to go down in a dark alley, these guys are not afraid to bang. The real tough guys, not the Kevin Durants.
Jalen did his list in 2012 during the Jalen & Jacoby show on the now-defunct Grantland. He has a respectable, but out-dated list. The winners were: Stephen Jackson, Metta World Peace, Kendrick Perkins, Tony Allen, and Zach Randolph. Peep the video below!
In my opinion, no flaws in that list! They were the undisputed tough guys in the league during that 2012 era who weren't backing down from any bum who stepped to them. All of them were proven bangers and/or great defensive threats in their primes. The problem is, most of them are retired. Since the NBA newscape is currently as barren as a Nets-Kings game in February, let's take a shot at updating this list with the most deserving players from the 2018 NBA season.
The hard part about taking on this list is that most guys in today's league aren't really trying to fight at all. It's a damn shame, from an entertainment perspective, that NBA fights aren't what they used to be. Players aren't as aggressive, but officials are a lot tighter with the whistle too. Nevertheless, here is what I believe to be 2018's A-team of Dark Alley dudes.
_______________________________________________________________________________________
Guard - Marcus Smart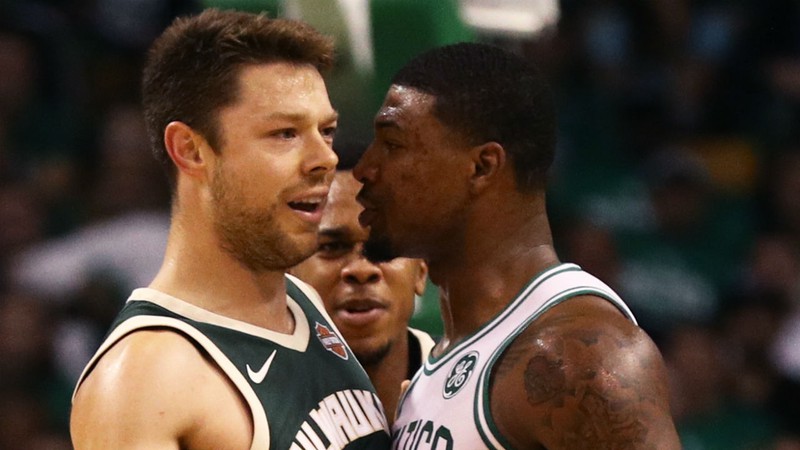 Marcus Smart grew up in an incredibly tough neighborhood in Texas populated with crime and murder. People should know better than to mess with a guy who has seen his share of stuff like that. In terms of his on-court play, he has a history of flopping but defends on the perimeter quite well and isn't afraid to step up when things get heated. He's always the first one to dive on the floor for a loose ball which is why Boston fans love him. They appreciate a guy with grit who will sacrifice himself for the team. It's why they loved Isaiah Thomas in his short tenure and Larry Bird. Bird would've had a few more good years if he just refrained from throwing his body around like a rag doll. It's no guarantee but his back might've held up more. Smart's tenacity embodies that hard-nosed Celtic tradition, making him a deserving guard on the Dark-Alley squad.
_______________________________________________________________________________________
Guard - Patrick Beverly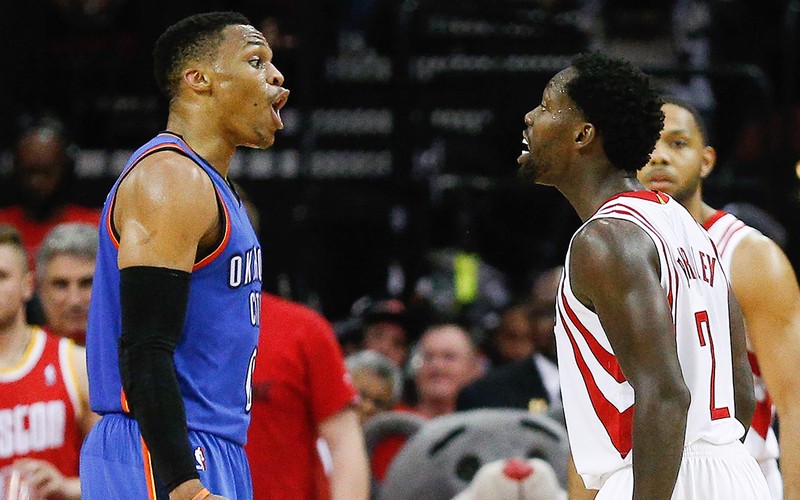 Patrick Beverly didn't play much this season because of injury, but we all know he's a tenacious defender who embodies the word "pest". He'll bump his chest into yours and get in your grill to make you uncomfortable in whichever way possible. There aren't a lot of tough guards in this league after Tony Allen hung them up, but Patrick Beverly is there to carry on the defensive-pest-torch. He's a worthy Dark Alley guy.
_______________________________________________________________________________________
Forward - Lance Stephenson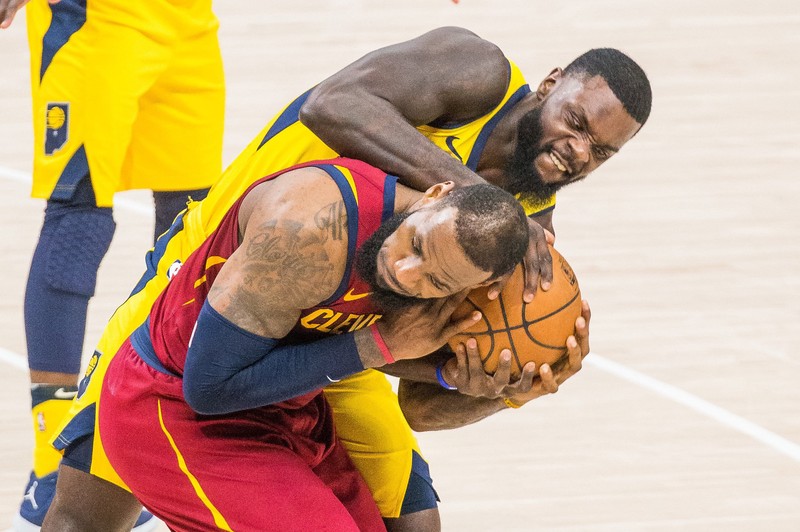 Lance's reputation precedes him. We all know how fired up he gets when he goes against a guy like LeBron. Look at his eyes in the picture above! He's either trying to murder LeBron or that ball. It'll be funny to see them coexist this year on the Lakers. Lance is just another instigator who will back it up if someone comes at him with aggression. He comes across as a guy who isn't scared of anyone. His inefficient play doesn't always back up his self-confident toughness, but when the going gets rough you want a guy who isn't shying away from a scuffle, no matter how big of a player his opponent is. Check out a video below of Lance and LeBron's greatest hits!
_______________________________________________________________________________________
Forward - Zach Randolph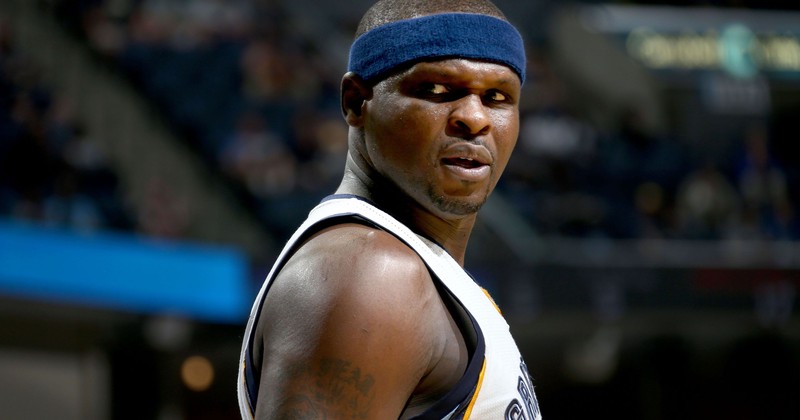 Zach Randolph! Z-Bo! The bruising big man's nickname comes from the movie "Friday" after the antagonist D-Bo who is the feared neighborhood bully. Zach Randolph isn't a straight-up bully, but if he sees people trying to instigate with some nonesense, he's going to come correct with them. That's why you saw him get tangled up so many times with Blake Griffin! Griffin started many a kerfuffle with tons of different players by trying to just impose his will on people down low. Whenever he played the Grizzlies, the Voice of the People aka Zach Randolph was always there to set him straight. Here's a hilariously overdramatic compilation of Griffin and Randolph getting into it
Randolph's prime is gone but he still isn't here for any of that bullshit. Earlier this year, DeMarcus Cousins tried getting in some cheap shots and just like with Griffin, Zach wouldn't stand for that either! After the situation diffuses a bit, he gets in Cousin's face and lets him know, "Where I'm from, bullies get bullied", basically saying if try to pull that with me I'm coming right back. You could tell by Demarcus's reaction that he had no intention of poking the bear any further. That's one of the only times I've seen DeMarcus walk away from a fight. Z-Bo gets the title of Dark Alley team captain partly based on his long history of being an enforcer, but also as a veteran Dark Alley presence.
_______________________________________________________________________________________
Center - Steven Adams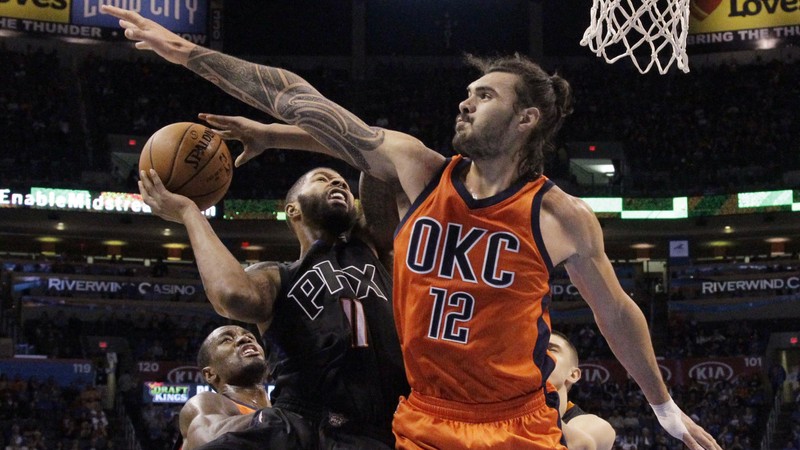 I was going back and forth between David West and Steven Adams. You could really go either way. Adams is just a solid slice of New Zealand meat that looks like he can take a hit, shake it off, and come right back with the two-piece. He plays physical as hell down low. He puts all his energy into snagging those rebounds and setting hard picks, which sets the tone for his team's toughness. He's got a garbageman role and he fills it well. He would also do well flanking fellow big man Zach Randolph in an NBA Dark Alley if something was about to go down.
_______________________________________________________________________________________
That's just my two cents on the guys from today's NBA. What are your thoughts? Who would you put on your list? I'd love some debate, leave your teams in the comments below!