Alright folks, the funs over. The All-Star break came and went. Now that the festivities are done it's time to go back to having random nightmares throughout the day where I imagine a world where the Lakers may not make the playoffs after signing LeBron James.
If you looked at the title you can put together a vague idea of where I'm going with this article. The Lakers currently own the 10th seed in the Western Conference. They're two games behind #9 Sacramento Kings and three back of the #8 Clippers. For those unfamiliar with the playoff format, only the top eight teams in each conference make it, so the Lakers will have to leapfrog the Kings, Clippers, and hold off any other surging challenger like the Mavs or Timberwolves (only two games behind them) below them to make the postseason.
Not making the playoffs in LeBron's first year would be a catastrophic organizational failure that'd rival the Dwightmare season of 2012-13. In that year, All-Star talents Dwight Howard and Steve Nash joined Kobe Bryant and Pau Gasol over the summer to form what we thought would be a super team worthy of challenging the newly-minted champion LeBron-Wade-Bosh Heat squad. Injuries, chemistry clashes, coaching deficiencies, and roster flaws derailed those hopes with Nash/Howard years ago, but fast forward five and a half seasons and those same four issues may be the downfall of this current Laker squad. Funny how history repeats itself!
This final stretch of 25 regular season games is one of the toughest in the whole league. They have the ninth-hardest ranked schedule according to Tankathon.com, while the enemy Clippers and Kings are ranked 23rd and 21st respectively. That leaves verrrrrry little margin for error on the Lakers part, and also puts them in a position where they'll have to hope the Kings or Clips fall victim to a losing skid. They basically can't take nights off if they're trying to make the playoffs and not get embarrassed.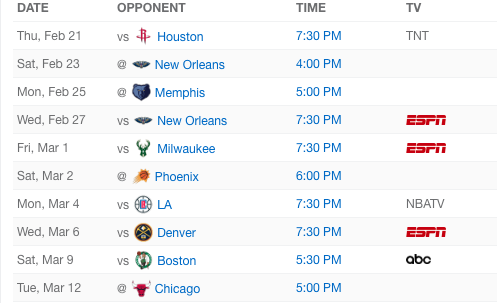 The first ten matchups are no exception, with the majority of games lined up against playoff contenders(Rockets, Bucks, Clippers, Nuggets, Celtics) or feisty squads anxious to prove something against the Lakers(like two games against New Orleans, the team we tried to publicly steal Anthony Davis from).I'm only looking at the first ten out of 25 right now, because these will set probably the tone for the rest of the season. Since we as human beings love looking at things through the lens of black and white, take a look at the rosiest and thorniest outlooks for the Lakers first ten games of this dire moment in the year.
The Optimists Viewpoint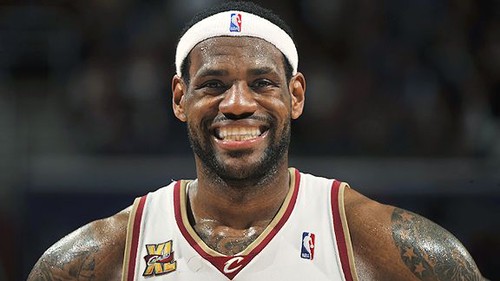 The optimist in me sees it playing out like this: LeBron comes out rejuvenated and firing away after some much-needed R&R from the All-Star break. They take an invigorating home win over James Harden and the Houston Rockets, who they've already lost to all three times this 2018-19 season. Just like in a playoff series, it's hard completing a season sweep of a motivated LeBron (unless you cheat and get Kevin Durant), and I think knowing what's at stake + being on national TV will pull great games out of Bron and Rondo in particular. If they get that first Houston game, it's totally conceivable that the Lakers could win their next three against the Grizzlies and Pelicans to rattle off a four-game winning streak.
Then they run into Giannis and the Bucks. Did you see what madness Giannis was laying out in the All-Star game? Have you seen how dominant the Bucks look this year(especially against the Warriors)? Even though we are at home, I don't see a universe where this Laker squad gets a W over Milwaukee this year. Luckily, we have an easy one in Phoenix right after that, making that five possible wins out of six.
The next three are against the Clippers, Nuggets, and Celtics, who are all solid but we've all beaten them this year. Also, Lonzo Ball might be back for these games since he's due to return in early March from the ankle injury. Right on time for this hard stretch of three games. He'll bring a positive force back to our playmaking, and a HUGE boost to our defense. I don't think we'd take all three but best case scenario we'd take two out of three. Then you just got the Bulls who are another garbage team, so that's winnable too! This stretch might not be so bad after all. We got LeBron James after all, the best player in a generation. If he's near 100% health like he says he is, and plays with the total focus needed during this crucial stretch, we should be ok
Best Case Scenario: 8-2
An 8-2 stretch in this brutal playoff race would be a Godsend of all Godsends. But how often do things shake out the way we want them to? And how often do they happen with things we can't control, like the fate of your favorite NBA team? There's a nervous hum emanating through my body because I'm leaning more towards the way of the pessimist in terms of the Lakers season outlook. Take a look at these dark thoughts below
The Pessimists Viewpoint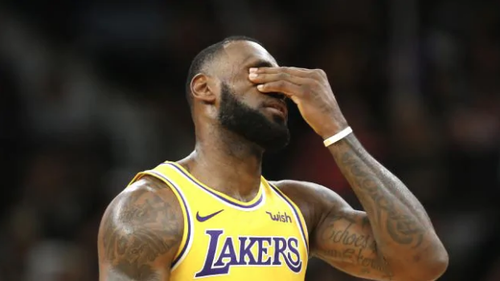 LeBron and the guys have pulled off some excellent wins this year, but every time we think the seasons turning around, someone gets hurt or the team puts up a shit performance in a necessary, winnable game (See Knicks, Cavs, Hawks). Lately, it has felt like a new low point emerges every week.
The pessimist in me thinks LeBron just won't be able to put the whole team on his back like he used to. Yea he might be able to do it for a few games, but I have a hard time picturing him put up all those amazing performances in a row at age 34 in his 16th NBA season. It'll be up to Rondo and the kids to lift the team if LeBron can't do it like he used to. The thing is, this year has proven they can do it for a game here or there, but not on a night-to-night basis. They went 6-11 when LeBron was out with the groin injury, and need to be on the same page Day 1 of this stretch to keep their heads above water.
I think the worst they'd do in this ten-game stretch would be 3-7, or maybe even 2-8 if they're really falling apart. They'd lose to all of the playoff contenders and maybe pick up wins against the Suns, Griz, and Pelicans while dropping an easy one. 3-7 is the awful clip they played at heading into All-Star break, so it'd just be more of this same lethargic brand of basketball. This team just hasn't shown its ability to put consistent wins together lately. If our squad was healthy and had the chance to build chemistry all year/familiarize themselves with each other's games, we'd be telling a whole different tale.
_______________________________________________________________________________________
While polar opposite viewpoints clash, the truth often lies somewhere in the middle. So many times in LeBron's career, he's had his back against the wall and we've been able to flippantly say, "Oh it's LeBron, he'll figure it out" - and he did. It happened as recently as last year's playoffs, where the Cavs almost lost to the Pacers in the first round! They needed seven games to get rid of them, and the same theme repeated against the Celtics in the Eastern Conference Finals.
I just don't know when these god-like LeBron moments are going to run out. These first ten games will set the tone for the home stretch of the season. If they don't put up a good showing in this first set of games, they'll be hard-pressed to find themselves in the playoff picture. If they're going to put out the same effort level they've done in the last few games before the All-Star break, then they don't deserve to be in the postseason.