How seriously do you take a few NBA preseason games? I think it's fair to give what you see legitimate consideration even though these contests don't count against the record. Given, players aren't usually trying as hard and coaches aren't utilizing their full repertoire of weapons for all four quarters. What we are getting, however, is a little sample size of how a team plans on playing throughout the course of the regular season. In the three pre-season games we've witnessed, we've gotten a serious whiff of the basketball dish that Luke, LeBron & Co. have been cooking up over the summer.
Their offense is evolving into a much more refined version of last years ball-pushing gameplan (they ranked 3rd in pace last year per NBA.com). It's an adrenaline-pumping brand of basketball reminiscent of the Showtime Lakers that thrives on gang-rebounding, dashing down the other end of the floor like wide receivers, and making unselfish passes to open man. They've been turning the ball over quite a bit as a result of their high tempo, but if they tighten that up they're set to become one of the deadliest offenses in the league (with all of their young pieces constantly improving in the skill department).
The offense gives fans a boatload of reasons to be excited, but their defense looks like something they'll be grappling with all year. There are three players that have stuck out to me as guys who are poised for an integral role in the Lakers system on both ends of the floor. Obviously, this team starts and ends with LeBron, but if these three maintain their mojo then this will be one of the tougher teams to beat night in night out.

(Shaq voice) JAVAAAAAALE MCGEE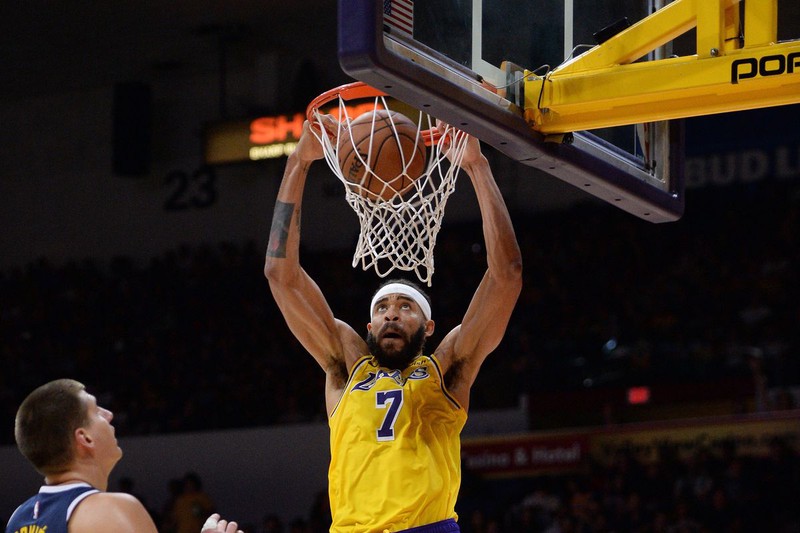 JaVale McGee's career saw a mini-renaissance in Golden State, and that trend shows no signs of slowing in Southern California. Some of his unique traits like his humongous catch radius, end-to-end athleticism, and imposing length slide right into what the Lakers need in a glaringly perfect way. JaVale knows that his role is to block/contest shots, snag rebounds, and get the easy bucket when defenses are looking away at LeBron. He played ball next to Steph Curry and Kevin Durant the last two years, so you know he's familiar with operating next to stars that command the defense's attention
He's clearly the Laker's most useful big man this year. He had an impressive 15 points, 8 rebounds and five blocks against the Nuggets on Tuesday in a full-on JaVale type of performance that you can find below. Because the Lakers are so thin at the big man, I'm concerned he'll fall victim to injury from overuse early in the season. JaVale has asthma, so Luke will consider that when doling out minutes to the big man, but he will be taking on a big role early on. Backing up JaVale we have Ivica Zubac, who is young and incredibly inconsistent, and Moritz Wagner the rookie from Michigan. Wagner's game is similar to JaVale's but with more 3-point shooting. Unfortunately, he's nursing a left knee injury right now so he'll be dealing with that when he's finally back.

If you watch a Laker game you'll undoubtedly see JaVale's impact on the team. He's so integral to defending the back-line on defense in addition to finishing plays on offense. I'm also just happy that he's gone from being the top meme in the league to finally getting some recognition for his skills. I love a good redemption story. He will definitely have some Shaqtin-a-Fool moments throughout the season, that comes with the territory, but I think the positives are going to outweigh the negatives. He's will be playing next to four able ball-handlers in LeBron, Rondo, Ingram, and Ball who are going to get him looks close to the basket all day. I can't wait to see how much JaVale will feast! The messy stigma of his reputation is on its way to being cleaned up.
Brandon Ingram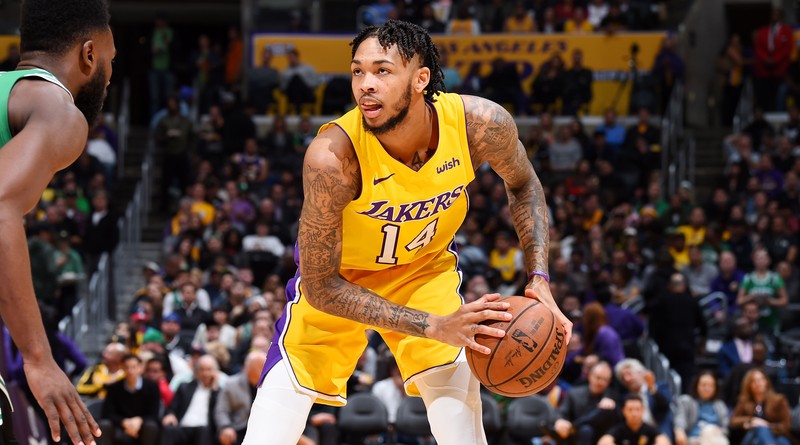 The most obvious addition to this list, and probably the greatest reason for Laker fans to be excited. LeBron and Ingram have developed some eye-popping on-court chemistry in an alarmingly short amount of time, with Ingram being the beneficiary of how much attention the opposition pays to LeBron (similar to JaVale). On defense, he has the ability to defend from point guards to smaller power forwards thanks to his lanky frame and quick feet.
A lot of people gave up on the No. 2 overall pick after his lackluster rookie year( 9.4 points, 4 boards, 2.1 assists, 40.2 FG%, 29.4 3PT%, 62.1 FT%), but his sophomore year gave us tangible jumps(16.1 points, 5.3 rebounds, 3.9 dimes, 47 FG%, 39 3PT%, 68.1 FT%). The third year he's entering should fall right in line with the high expectations he was drafted with. In his last preseason game against the Sacramento Kings, Ingram chalked up 31 points (including a nasty crunch-time bucket) and got four consecutive deflections off of an inbound pass in the last minute of action. This all happened while LeBron was watching gleefully from the bench like a proud parent. The Kings game was a great embodiment of what Ingram can do for the team, so peep the highlights below.
LeBron is really high on Ingram at the moment. You'll hear off-hand accounts of how he remarks that "Ingram's got the juice" per the blog Clutch Points. Their lockers are currently side-by-side, and he's shaping up to be the perfect combination of student and on-court complement to LeBron's game. If Ingram keeps progressing on offense, then he can take some of the ball-handling and scoring load off of LeBron as well. BI played considerable minutes at the point guard last year, and was quite effective in a string of wins.
He's one of the quieter guys on the team from the view of an outsider, but he clearly lets his game do the talking. This year will be a big chance for Ingram to grow without the weight of "championship-or-bust" expectations" fastened to his skinny shoulders. Those won't come around until next year, whether the Lakers grab a big-time free agent or not. People will still continue to doubt him through the year when he has bad games, saying we should've pulled the trigger on a Kawhi deal over the summer. We won't truly know whether that was worth it until years down the line, but regardless, I certainly have a good feeling about Ingram's fit next to LeBron
Josh Hart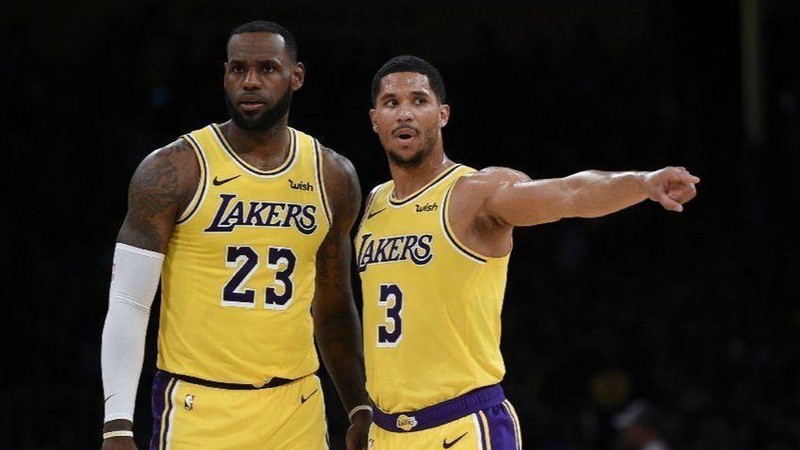 Josh Hart was pegged as a potentially great 3-and-D player coming into the league, but people outside of the Lakers organization are starting to realize he can be much more than that. Notable ESPN reporter Marc Spears tweeted out during the Kings game that Josh might need to be held in the same regard as the other talented young guns Ingram, Ball, and Kuzma. The now-retired David West responded that he remembers one exchange last year where LA played Golden State, and Josh got switched on him in the post. Josh Hart sent all the weight into his lower body and bodied him up to prevent David West from scoring on a guy that was like 4-5 inches shorter than him. I love Josh, but if he keeps showing people how good he is he will really inflate his value as an asset too. Maybe you could even create a trade package centered around Hart for a quality player with playoff experience.
Josh Hart has a sneaky amount of strength for a guy his size. When he's not banging with guys that are way too big for him, he utilizes that power to out-muscle opponents for rebounds and to fight through screens on the perimeter to keep up with his man. He only averaged 4.2 rebounds per game, but there were several instances where the 6'5 shooting guard cracked teh 10-rebound mark when given an expanded role with the team. He's also one of the Lakers best shooters already, shooting a cool 39.6% from three last year. If he could raise his 70.6% clip from the free throw line then he will make himself an even more valuable piece to the Lakers attack. Thanks to the amazing shape he's in, he's going to benefit greatly from the high-octane offense they look like they're going to run.

Josh will be competing against Kentavius Caldwell-Pope for a starting spot with the Lakers. Most think that Hart should get the nod over Pope for his higher ceiling and superior basketball IQ. Kentavius had a ton of bone-headed moments involving shot selection last year where he would pull up in transition for the stupidest three's. Josh has more of an inclination to make the right play. I hope Luke sees the light early on and gives Josh more run with the starters while Kentavius comes off the bench. Here are highlights of Josh's performance in the second game against the Nuggets.
Those are three guys who I think will have great seasons other than the obvious one, LeBron. Do you have other opinions? Let me know!