We've had a pretty competitive Raptors vs. Sixers series so far, so many people expected Game 5 in Scotiabank Arena to be a neck-and-neck battle of wills. The series features two talented-rich lineups who are vying for Eastern Conference supremacy in a post-LeBron world. The potential of this tie-breaking game was through the roof. Unfortunately, reality was much more disappointing than our hopeful imaginations. Kawhi Leonard and the Toronto Raptors inched ever-closer to an Eastern Conference Finals berth with an authoritative smackdown over this scatterbrained Sixers squad, 89-126.
Kawhi Anthony Leonard made Joel Embiid look like an absolute child tonight. Leonard slammed home a pair of dunks over Embiid that practically sent him staked into the ground like a Loony Tunes character. By the time the second half rolled around, 20-30 point Raptors leads felt like the norm. Not even Jimmy Butler, Ben Simmons, or Tobias Harris could pull the Sixers out of this one. It was honestly a pathetic no-show by Philly's stars in a practical must-win game.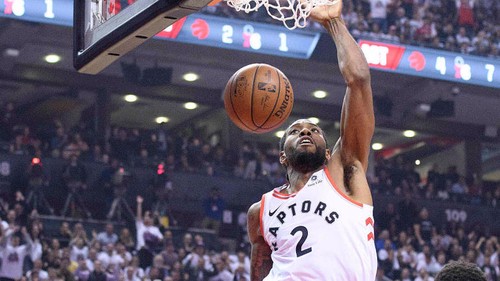 Prior to tipoff, we received word that Joel Embiid was suffering from a sickness. It's another message of ailment in a long line of them for Embiid during this 2019 playoff run. I don't doubt that the guy has gone through his share of struggles these playoffs, dealing with knee tendinitis and now a sickness, but they shouldn't be affecting our impressions of the Cameroonian's play the way they are.
When Joel has come out dominating, we don't even bring up his sickness or injuries. When he has a bad game though, he's exonerated by the, "Oh, he's hurt" excuse. Sometimes, we just have to put more stock into the idea that a guy just flat-out played badly. Tonight looked like one of those nights, as Embiid finished with a 13-6-1-1-1 line on 5/10 shooting. Jimmy Butler led the Sixers with 22-5-7-1-1-1 on 6/16 from the floor.
Kawhi Leonard was once again the best player on the floor for Toronto (21-13-4-2 on 7/16), but he got a lot more help from his friends. Pascal Siakam had the playoff game of his life with 25-8-3-2-1 on 7/19 shooting (9/10 free throws), and was a scorching +35 in the +/- department. Kyle Lowry (19-6-5-1-1) and Danny Green (17 points, 5/7 from three) also contributed admirably in the invigorating home win.
This game may be remembered as the moment where regular season expectations fulfilled their destiny. All year, the NBA world was unsure of the Sixers ability to mesh in the postseason, despite their imposing collecting of starting lineup talent. With Kawhi and the Raptors looking as good as they do and only needing one more game to advance, I have a hard time imagining Philly winning out two more times in a row. It's only a matter of time until we have Giannis and Kawhi locking horns in the Eastern Conference Finals!
_______________________________________________________________________________________
In the Western Conference, we saw Portland and Denver tango for the chance to go up 3-2 over the other in yet another neck-and-neck Conference Semi-Final. This one, like Raptors Sixers, was another unceremonious blowout. Denver handed down an ass-beating over the feisty Blazers squad in a 98-124 win.
The Nuggets pulled away in an explosive third quarter, which saw them go up by as much as thirty thanks to a barrage of transition points, energetic putbacks, and a great two-man game between Jamal Murray and Nikola Jokic. Portland was having a horrific shooting night, shooting 36.7% overall from the floor, 27% from three, and a god-awful 53.3% from the stripe. If they had been making shots at a decent clip then a fourth quarter rally would have still been in play, but you could tell by the start of the third that tonight wasn't the night.
It was another subpar performance by Damian Lillard (22-6-4, 9/21 FG), who has been having a stark contrast of a series compared to his incredible Round 1 versus the Thunder. What happend to the hell-raising, deep three draining point guard that terrorized Russell Westbrook and company?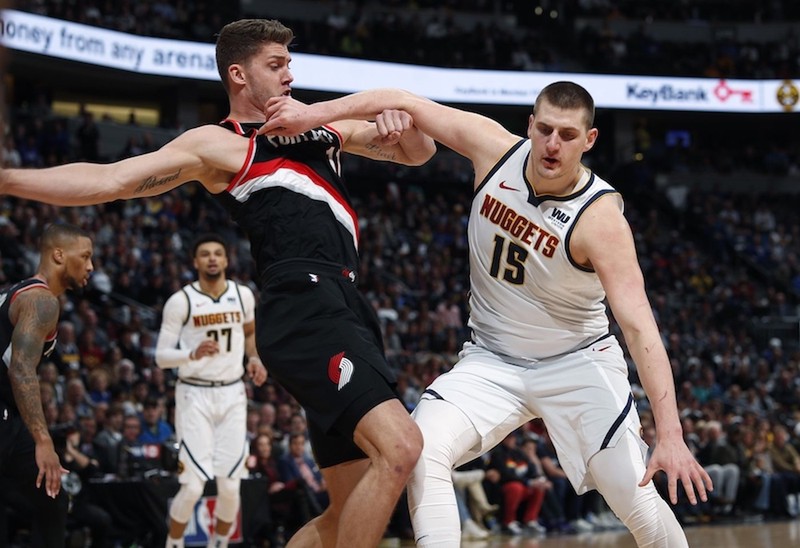 I think it's less of what Denver is doing and more of what Lillard isn't. Dame isn't making shots like he did just one round ago. He's hitting under 30% of his threes in his last four games now. The Blazers managed to cop a Game 2 win even when Lillard only scored 14, but if they're expecting to advance they obviously need their marquee player to regain form.
With Game 6 taking place back in Portland, I think the the Blazers chances of forcing a Game 7 are looking brighter than the Sixers'. Damian Lillard may not have exhibited many great individual performances in recent games, but he's going to have the troops fired up and ready in front of their home crowd. I think most people are going to have their money on Portland forcing a Game 7, so my sports instincts are contrarily telling me that Denver will shock us with a Game 6 win. The presume penultimate game to this series will take place on Thursday, May 9th at 7:30 PM PST / 10:30 PM EST.