I could tell. I just know that the Los Angeles Lakers were on the cusp of the dreaded "players only meeting" if they gave up another game to another beatable opponent. Monday night in Dallas saw the Lakers finally break their losing streak against the wave-making Luka Doncic (27 pts, 8 rebs, 2 assists, 1 steal, 10/23 FG) after rallying from fifteen points down. Two of the main cogs in the 107-97 road victory were two of the biggest dartboards of fan criticism: Brandon Ingram (25 pts, 5 rebs, 6 assists, 2 steals, 12/21, 2 turnovers) and Lonzo Ball (21 pts, 7 rebs, 5 assists, 2 steals, 8/15 FG)
Everybody has been justifiably critical over the play of Brandon Ingram and Lonzo Ball in these last three losses. Here were two guys pegged as stars, picked at #2 overall and they were playing like hot donkey dump. No fight in them at all, and it seemed like time out from injured players only served to highlight their immaturity and flaws. Sure they may be good down the road, but is it worth waiting for them to develop when you have LeBron James on the team? Only time will tell what the right choice would have been, but tonight was a chance to prove their doubters wrong. The difference this time was that they tweaked their games to play towards their strengths and they delivered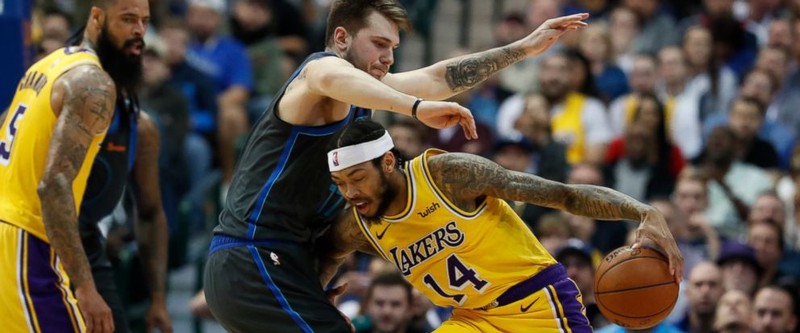 Rhythm Of The Game
The Lakers brought more energy to this first quarter than they did the last three games combined. Still, Dallas held the upper hand heading into the second with Luka establishing himself as their top dog. 25-33 to end the first, but the boys had a fluidity to their game that they were lacking in thee losses. Lonzo and Ingram were both cutting and driving to the rim when it was there, but Zo's three managed to find the bottom of the net two times in the first. The needed to tighten up their interior defense to keep pace with the Mavs aggressive attack.
The Lakeshow really let the floodgates open in the second, where we saw the Mavs go up by thirteen, 31-44. The Mavs were just outworking LA on the boards. Every time it seemed like you'd only find one Laker jersey in the paint battling amongst two or three Maverick blues. Michael Beasley was able to offset the Dallas momentum by providing a bit of scoring punch for the Lakers.
They were down by around 13 points the whole second quarter, so it was only fitting that they'd end the half down by that, 54-67. But just the optics of this game made me feel better about their chances than I initially did. Kuzma was clearly shaking off the rust and slowly rediscovering his scoring touch while BI had some beautiful attacks on the basket in concert with Lonzo's falling three-ball. Their scowls and on-court barking to teammates showed me that despite the promising signs, they weren't satisfied by their level of play in this half. They still had much more work to do, but this time they seemed like they were up for the fight.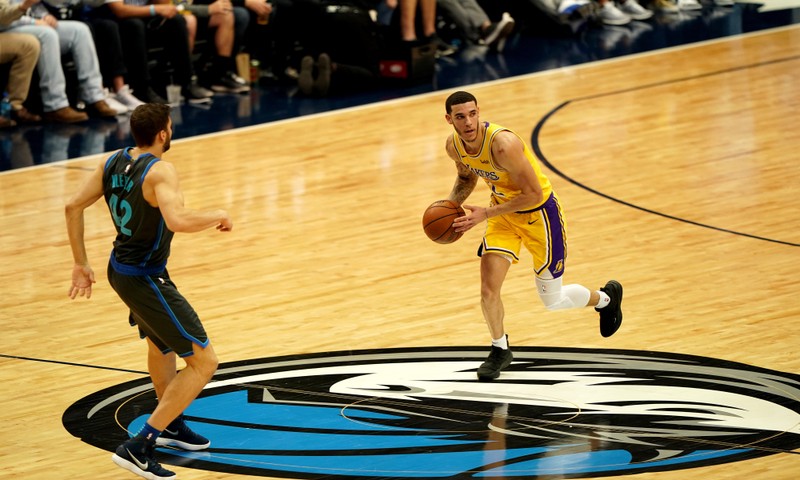 The Lakers managed to close the gap in the third quarter thanks to better team output in the rebounding and defense departments. They were also generating opportunities in transition, eventually tying the game up at 76-76. You know what was the difference tonight with Brandon? He was barely taking any midrange jumpers! Every time he was using his length to slash in between the holes of the defense and get close to lay it up and in. Several back-and-forth sequences later, the Lakers grabbed the lead for the first time off a Lonzo transition slam. They closed the quarter strong to go into the fourth with a six-point lead, 86-80. LA outscored the Mavs 32-13 in the third.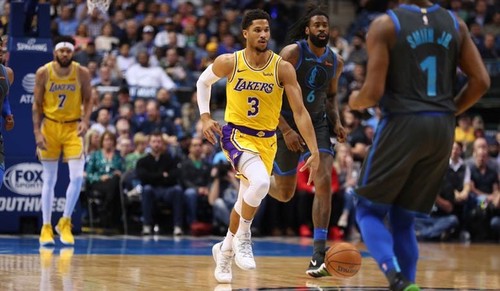 A six-point lead turned into fourteen in the fourth quarter's early going. The Mavs were just shooting themselves in the foot with unbelievable turnovers, and the Lakers were out here taking advantage. But right as it seemed the Lakers would cruise away with it, they adopted the Mav's turnover issues to let them back in the game. That and a couple questionable calls by the refs kept the Mavericks in prime position for a comeback, but a humungous Lonzo triple kept them at bay with four minutes to play, 100-89.
The Lakers have let so many games like this one slip away before. They're one of those teams were up by ten plus points with four minutes to play is the least safe leads in the world. Not big enough to be safe, and not close enough for them to concentrate on every second of every possession. So predictably, they started turning it over while giving up easy fouls to the Mavs to let them cut it to seven. Nobody could come up with a bucket either. They weren't hitting their jumpers or even their god damn free throws. Who was going to be the one to hit a lucky jumper to save them in this game? It wasn't a jumper, but a lanky, cutting Brandon Ingram sliced and diced his way into the lane for the effective game-sealer. Fittingly poetic that it was the massively slandered Ingram who put this game to bed and the Lakers back in the win column, 107-97.
Takeaways
Every one of Ingram's twelve field goals tonight came in the painted area. So what did we learn tonight? People who've followed the team are already painfully aware, but newcomers of the Lakers may have noticed that Ingram is a much greater threat in the paint as a slasher/facilitator than he is as a jump shooter. He still definitely took those shots, but he leaned on his driving and kicking abilities when the going got tough.
I also saw a little more fire in the mannerisms of Lonzo and Ingram tonight. I actually remember Ingram angrily gesturing at his teammate to get into position when he was setting up a play off the pick and roll. He kind of looked like LeBron barking at somebody to get into position. You don't see that urgency out of Ingram all that much. The only time we saw it was when he urgently sprinted across the floor to serve up a two-piece extra crispy to Chris Paul.
They both heard the criticisms of recent days loud and clear. Even more so because it was coming from their own coach, Luke Walton. Luke remarked that Ingram and Ball "need more passion" for the game before tonight's contest. Lakers reporter Bill Oram also remarked that before tonight's game, Ingram and Ball met up in the hotel room and both affirmed to each other that they needed to step up on offense. Tonight was a steady reminder that the fire is still there for them. Now they just have to channel it every time they take the floor. If we got to see fully engaged Lonzo and Ingram every night, people would think twice of putting them together in a trade package for anyone other than Anthony Davis. Beal/Dame/McCollum to LA trade rumors would be nonexistent.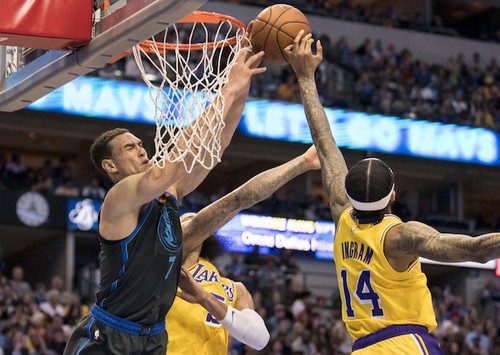 We need to give a shoutout to Josh Hart tonight as well. He was in a bit of an offensive slump, and after tonight I don't think he's completely broken out of it (5/13 FG). His three-ball wasn't falling, but his perimeter defense showed up stronger than usual en route to a 14 pt, 12 rebound, 6 assists, 5 steal night. That's a playoff game Draymond Green stat line.
Another shoutout has to be given to Michael Beasley, who in a rare extended appearance played his ass off on defense and got crucial buckets when the Lakers needed them to come back/stay ahead(13 pts, 5/6 FG, 9 minutes). I can see him getting a boost in minutes going forward. He basically filled in for Kyle Kuzma's role of scoring Power Forward since Kuz wasn't feeling it tonight (an ugly 4/20 from the field).
Looking ahead, the Lakers will take on the Detroit Pistons at Staples Center on Wednesday night. Two imposing big men in Blake Griffin and Andre Drummond will meet them in the paint for a test of their manhood. The Lakers can totally win this game too, but we're going to need some better spacing to open up the lane. That'll be on our three-point shooters to drag the defense out of the middle to open up driving lanes for Ingram, Ball and Kuzma. Hopefully, Kuz shakes off a little more rust and has a breakout game in front of the LA home crowd. One more win in LeBron's absence is what this team needs to build their confidence before his impending return.
Thank you for reading and check out the highlights below.