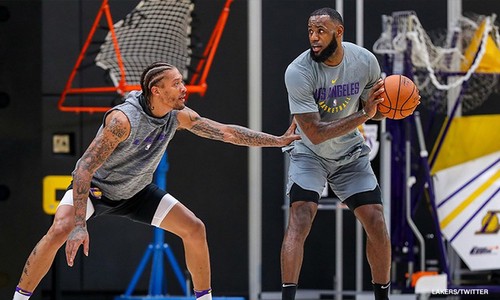 Lakers president Magic Johnson is so proud that Lebron James is in perfect shape and the team is working out together before the training camp starts. He even brags that Lebron can shot 3s near half court.

Aside from Lebron, there are three young rising stars from Los Angeles Lakers (Kyle Kuzma, Lonzo Ball, and Brandon Ingram). The three were training together with Lebron James and it widens there way of playing in the court. Lebron James joining the Lakers was a great factor for them, for it takes away some pressure that they have experience last season. Kuzma, Ingram, and Ball really showed great respect and admire the three-time champion Lebron. During their practice, they witness James at age 33 still shows impressive performance in the court. It's a good thing that the young players of the team will have a chance to learn from the champions.
The team is excited for this season for they want to grab the throne the defending champions Golden State Warriors. The first home court game for the Lakers will be on October 20 and it is against the Houston Rockets. Really can't wait to see and how they play in the court. I think this is the most awaited team to be seen by the fans.