It was a very devastating result on Wednesday night for the league defending champions Golden State Warriors as they were crushed away by the Oklahoma City Thunder by 125-93 baskets in the NBA. The result of the make is quite humiliated for a team that come out as King in the last leagues season. How are the mighty falling.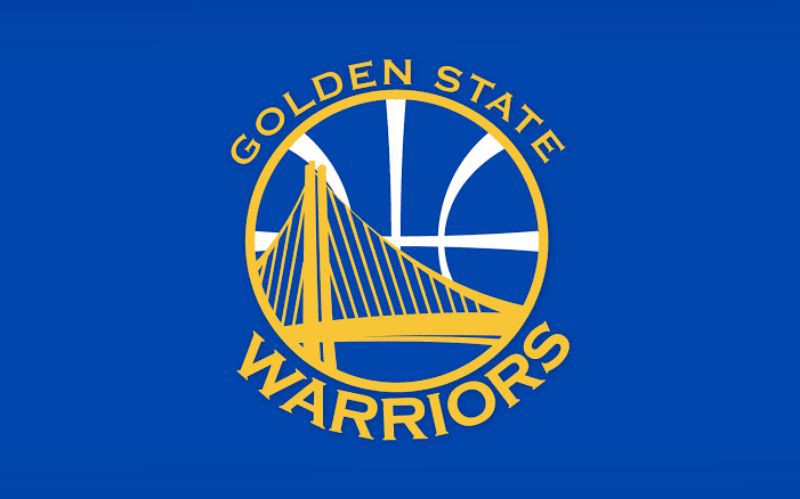 Warriors who are on four matches losing streak for the first time under Steve Kerr and their first since 2013 still have a mountain to climb in their next game against sensational Trail Blazers who are seating on the second spot in the west.
This must be a very challenging times for Steve who has watched his boys fail to secure any win for four games in a role. What must be the problem of the defending champions for this poor outing so far?
In match that Russell Westbrook got a triple double of 11 points as well as 11 rebounds and had 13 assists was all the efforts Thunder needed to bury warrior, couple with amazing Paul George's contribution of getting the games highest points at 28, 9 rebounds and 5 assists which gave Thunder a big road win. Russell has been in fine form for Thunder and unfortunately used Warriors to practice what he does best.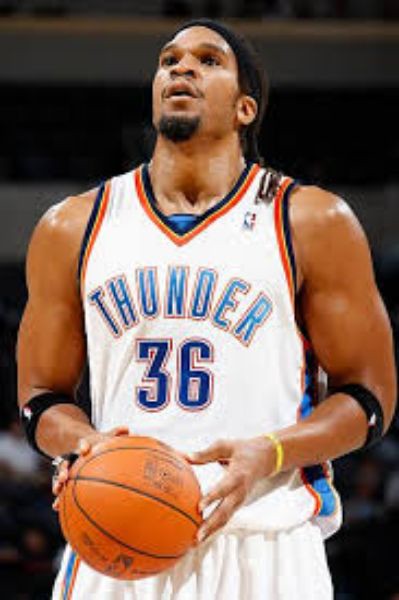 Despite the effort of Kevin Duran and Klay Thompson 27 points each, it was not enough to hand Warrior any honorable score line as they continue to struggle.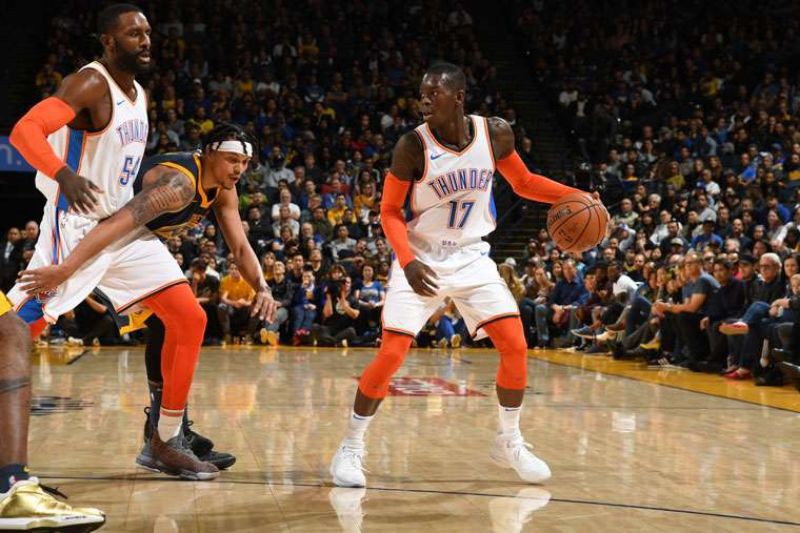 Thunders prior to this match had suffered a defeat at home to Sacramento Kings while their counterpart; Warriors has completed their three matches losing streak with Draymond Green missing out due to toes injury. His absence coupled with that of Steph has continued to haunt Warriors who are struggling with shooting from the field.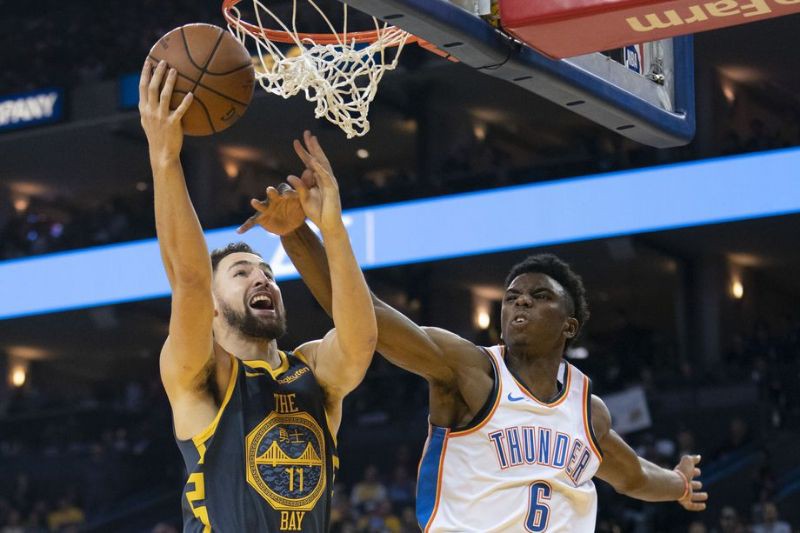 Right from the kick off of the game, Thunder started well by dominating the game with massive support off the bench which limited Warriors from shooting from the field with only two players managing to rake double figure in Kevin and Klay who were left isolated in most part of the game.
Steves Adams 7 offensive rebound helped Thunders have more of the possession to control the game and Golden Star Warriors were no match to the ball possession of Thunders.
Dennis Schroder who is showing a strong backup for Russell Westbrook since his move from Atlanta Hawks finished with game high of 32 points, 4 assists and 4 rebounds to keep the result far from Warriors reach.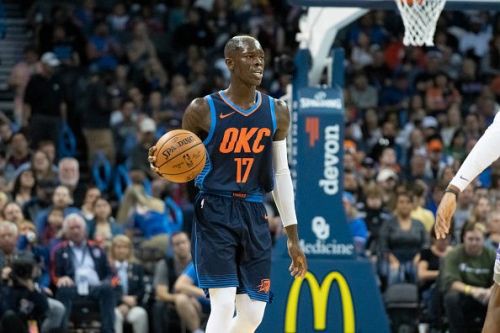 At the end on the match, Thunders secured 61 rebound against Warriors 42 with Damian Jone getting no rebound as he struggled with Steve Adams throughout the duration of the game.
Golden State Warriors must find a solution to their shooting struggle in the absence of Draymond to get out of this mess. The players must be up and doing to add extra effort to remedy the team current form.
''Talent is cheaper than table salt. What separates the talented individual from the successful one is a lot of hard work'' by Stephen Kings.
This is my entry for happy moandy contest organised and sponsored by @pete to encourage new bloggers and help the to grow on scorum. To enter the contest for the week, please check the link bellow.
https://scorum.com/en-us/wrestling/@pete/happy-moan-day-november-19th-2018