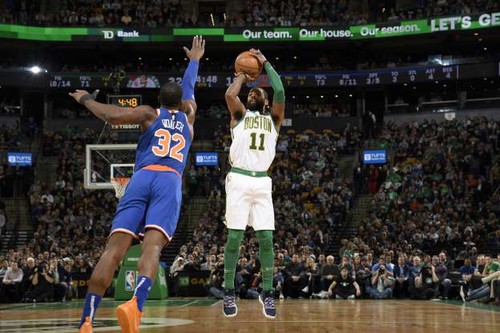 The Boston Celtics were able to defeat the Knicks 128-100 with an impressive team victory with all members of the starting squad contributing to the score line with the Celtics demonstrating very good chemistry getting the easy victory. The Celtics came out strong in the beginning of the ball game having a very big 1st quarter outscoring the Knicks 38-30 and setting the tone going into the following quarters. The New York Knicks failed to build any momentum with Kyrie Irving, Al Horford, Jaylen Brown, and Jayson Tatum stopping any sort of comeback the Knicks attempted to build. The game was clearly over early in the fourth with the New York Knicks essentially giving up not providing the most exciting ball game but Kyrie Irving definitely did have a strong performance. The Boston Celtics were able to achieve their 14th win of the season and further strengthen their ranking in the Eastern Conference currently sitting at 6th.
Game Stats
Boston Celtics
Kyrie Irving: 22 points (9-15 FG), 4 rebounds, 8 assists, 1 block.
Jayson Tatum: 17 points (7-11 FG), 5 rebounds, 2 assists, 2 steals.
Al Horford: 19 points (8-12 FG), 12 rebounds, 3 assists, 4 blocks.
Jaylen Brown: 21 points (7-10 FG), 3 rebounds, 2 assists.
New York Knicks:
Tim Hardaway Jnr.: 22 points (7-19 FG), 1 rebound, 2 assists, 1 steal.
Enes Kanter: 14 points (7-12 FG), 11 rebounds, 1 assists, 1 block.
Emmanuel Mudiay: 17 points (5-15 FG), 2 rebounds, 6 assists, 1 block.
Upcoming Games
The Boston Celtics next face the Chicago Bulls who have been struggling of late and are 2nd last in the Eastern Conference with us seeing if the Celtics can get the win and climb the ranks. The New York Knicks will next match up against the Brooklyn Nets which is a New York showdown where i would have the Nets as the favorites due to the fact that they have a lot more fire power than the Knicks at the moment. Below are highlights of the ball game in case you missed it!
Did you expect the Celtics to currently be 6th in the East? Are they not a major threat we all thought they would be? Follow to keep updated on the NBA and leave a comment below!