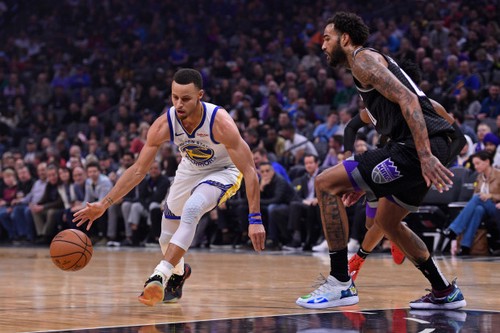 The high scoring showdown between the Golden State Warriors and the Sacramento Kings went down to the wire with good basketball demonstrated from both teams but the big 3 from the Warriors came up big time against the Kings combining for 95 points with Steph Curry completely showing off dropping 35 and helping Golden State get the 130-125 victory.
The Golden State Warriors came into the ball game very determined to get things rolling early with a massive 42 points first quarter with the Steph, KD, and Klay Thompson showing no remorse against the Kings defense. The collection of Buddy Hield and De'Aaron Fox from the Kings tried to rally some sort of pressure against the continuous scoring of the Warriors big 3 and did have very impressive games with Hield scoring 29 and Fox scoring 25 but this effort was not enough to overcome the overwhelming talent the Warriors has. The Sacramento Kings failed to keep the lead late in the 4th quarter with the Warriors going on a 17-2 run late in the game to clinch the victory and this led the Warriors achieving their 20th win of the season and improve there regular season record to 20-10 with Steph Curry having another MVP performance to add to his very impressive season where he has averaged 29.3 points per game, with 48% three point percentage which is crazy!
Game Stats

Golden State Warriors
Steph Curry: 35 points (11-23 FG), 7 rebounds, 6 assists, 3 steals.
Kevin Durant: 33 points (9-20 FG), 8 rebounds, 8 assists.
Klay Thompson: 27 points (10-27 FG), 9 rebounds, 3 assists, 1 steal.
Sacramento Kings
Buddy Hield: 27 points (11-21 FG), 4 rebounds, 2 assists.
De'Aaron Fox: 25 points (9-19 FG), 6 rebounds, 9 assists, 2 steals.
Willie Cauley-Stein: 22 points (7-11 FG), 11 rebounds, 3 assists, 1 block.
Upcoming Games
The Golden State Warriors will next face the Memphis Grizzlies which should prove to be an interesting match up and we will see if the Warriors can keep this high scoring up!
The Sacramento Kings will next match up against the Dallas Maverick to see if they can improve their 15-13 regular season record.
Below are highlights of the high scoring match up! Enjoy :)
The Warriors looked REALLY good this game! Do you think they have their groove back?? Follow to keep updated on the NBA and comment below to leave your thoughts!