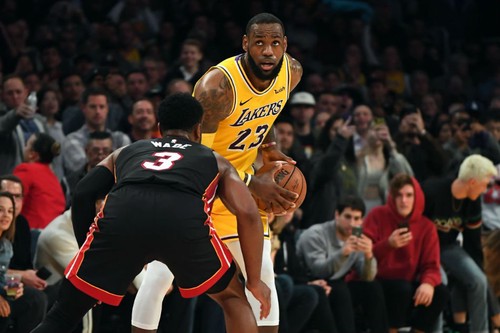 A very emotional game happened yesterday between the Los Angeles Lakers and the Miami Heat consisting of the final ever matchup we will ever see between Lebron James and Dwayne Wade. I remember enjoying the glorious young years of Dwayne Wade absolutely destroying opponents in his first NBA championship in 2006 and from then he was a dominant force in the NBA. I truly think the D-Wade is quite capable of playing a few more years and he still looks better than ever but unfortunately his hall of fame career is going to come to an end.
The battle between the Lakers and the Heat was truly a classic to remember with the Lakers clinching the 108-105 victory with big efforts from Kyle Kuzma who absolutely starred in the matchup as well as Lebron James nearly getting the triple-double to add to his MVP caliber season. Dwayne Wade was very active coming off the bench helping his Miami Heat team stay in the ball game at all costs but the collection of young talent along with the King was too much for the Heat to overcome. Justise Winslow had a break out performance dropping a massive 28 points with Miami Heat's starting five not doing a whole lot in the match up and leads me to be confused as the coaching staff needs to sort out the rotation because a collection of 39 points from your starting 5 is a joke. Nonetheless, Winslow and Wade tried there best to try steal the victory but fell short to the overwhelming Lakers who have been gaining momentum over the last 10 games.
Game Stats
Los Angeles Lakers
Lebron James: 28 points (10-19 FG), 9 rebounds, 12 assists, 1 steal.
Kyle Kuzma: 33 points (14-22 FG), 7 rebounds, 1 assists.
Lonzo Ball: 10 points (4-11 FG), 7 rebounds, 4 assists, 3 steals, 2 blocks.
Miami Heat
Justise Winslow: 28 points (11-20 FG), 7 rebounds, 2 assists, 1 steal.
Dwayne Wade: 15 points (6-19 FG), 5 rebounds, 10 assists, 1 steal, 1 block.
Kelly Olynyk: 15 points (6-10 FG), 4 rebounds, 3 assists, 1 steal.
Upcoming Games
The Los Angeles Lakers next face the Houston Rockets which should prove to be an interesting match up. The Rockets have been struggling this season and no one thought they would be in this sort of form but we will see if they can compete with the red hot Lakers have been on a warpath recently and we will see if they can improve there 17-10 regular season record.
The Miami Heat next match up against the Utah Jazz which should be an interesting match up with the Jazz also struggling this season. The Heat will battle it out and see if they improve there 11-15 regular season record during a time of rebuilding for the future.
Below are highlights of the classic showdown between Lebron James and Dwayne Wade which will be the final time we get to enjoy these two legends of the game compete against each other and provide memorable moments to NBA fans for years to come!
How sad are you to never see these two legends battle it out again!? Do you think D-Wade could go another couple season? Follow to keep updated on the NBA and comment below to let me know your thoughts!