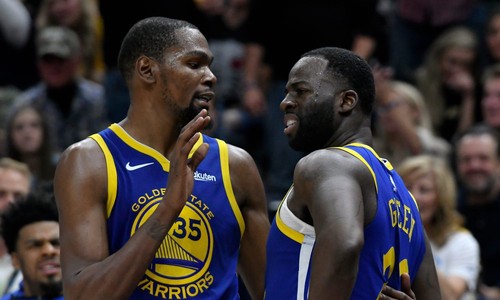 The Golden State Warriors have inserted themselves as one of the most dominant teams the NBA has ever seen over the last four years and have been on a war path with all competition failing to keep up. Unfortunately, in recent games the mood and behavior within the Golden State locker room has not been good with superstars Kevin Durant and Draymond Green having arguments and creating a break between the superstar team.
The problem between the two superstars was sparked at the end of regulation time in the game against the L.A. Clippers where there was 4 seconds remaining in the ball game and scores were even at 106 a piece. Kevin Durant asked for the last shot which was ignored by Draymond Green who then continued to dribble up the court failing to get any sort of shot off. The Golden State Warriors ended up losing the ball game against the Clippers who won 121-116 and this apparently led to massive conflict between the superstars after in the locker rooms. Below are highlights of the Warriors vs Clippers game!
Draymond Green received a 1-game suspension for the matter and didn't play in the recent game against the Atlanta Hawks. Could this conflict between the superstars of the reigning champs cause a split and cause a shift in power within the league.
Kevin Durant was allowed to play in the Golden State vs Atlanta Hawks game and was able to help his team get the victory with a 110-103 win. The deadly scorer was able to get 29 points, 6 rebounds, and 3 assists showing that the conflict between him and Green was not going to impact his game play and still be able to perform at a high level. Klay Thompson was also good scoring 24 points, 5 rebounds, and 4 assists.
Could this been an end to one of the greatest teams assembled and could it create a completely new powerhouse depending on whether or not Kevin Durant or another member of the All-star team decides to leave. Things are looking interesting and the clear favorites might need to sort out roster issues before they get into the post season. Below are highlights of the Golden State vs Atlanta Hawks game :)
Thank you for reading and I hope everyone knows that I am truly genuine on this platform and try to be as authentic as i can possibly be. I hope i can continue to provide awesome NBA content for those who enjoy reading it :)