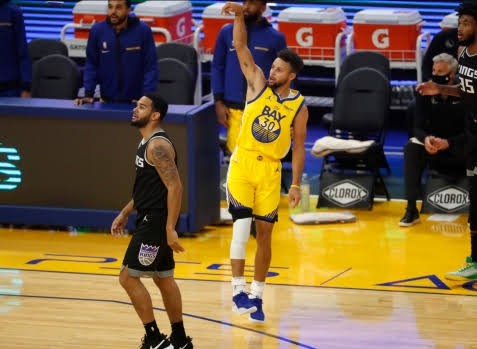 He already has achieved having two of the top three seasons for three-pointers,which includes finishing a season with 400 threes— something no one has ever done in the NBA!

His name is Stephen Curry. I grew up watching Reggie Miller and admiring that his lean frame sinking those 3-pointers but Curry rose to prominence in the mid 2010s and has taken this thing to a whole new level and with some dribbling artistry added to it. Well he has since,in 2011, overtaken Miller who is third, with 2560, in the all time three point haul.
He wrote another story in his already glistening career on Tuesday night the 14th of December. On this night his team(the Gold State Warriors) locked horns with the Ney York Knicks and Curry shot himself to the top of the NBA record book for most three-pointers in a career, by making his 2,974th three-pointer during the first quarter of this match, breaking the record set by NBA great Ray Allen(2,973).
Curry hit the shot from the right side with 7:33 minutes remaining and lifting his arms, waving them towards the sky, as if leading an orchestra, as he jogged backward to his team's half of the court. The Warriors quickly followed this up by committing a foul and promptly calling a timeout to give some ventilation to the celebration. Curry exchanged hugs with his coach Steve Kerr, longtime teammate Draymond Green, family members and Ray Allen himself, who was at the ground. By the way Reggie Miller was there too. This match and event took place at the famous Madison Square Garden.
Curry is popularly considered the league's greatest shooter with his brilliant shooting accuracy. He has won two MVP awards and three championships and has become one of the biggest, most sought after stars in the game. He has topped the league in 3-pointers six times and is well positioned to win his seventh for a burgeoning Warriors side that yet again boasts the league's best record.
Steph(as he is fondly called) has this fan appeal not just from hardcore 3-point loving fans, but by others who admire his attitude behind the scenes– his humility,his hardwork, his life.
Funny how his beginnings didn't suggest he would become this big. He arrived the NBA in 2009 as the No. 7 draft pick from Davidson,– a team that usually doesn't produce potential top players. So at 33 years old, his enormous hardwork has been crucial to his much celebrated succes. Just look where he is now. It has been said that his story is a great testament to one who eventhough gifted, has earned his applause by working his socks off, as if he wasn't so gifted.
His story therefore seems to transcend sport and that which many a people can glean from and apply in their various fields of endeavour.
All hail the King!
Cheers