Los Angeles Clippers lost to the Los Angeles Lakers 120:123 after extra time in the derby of City of Angels.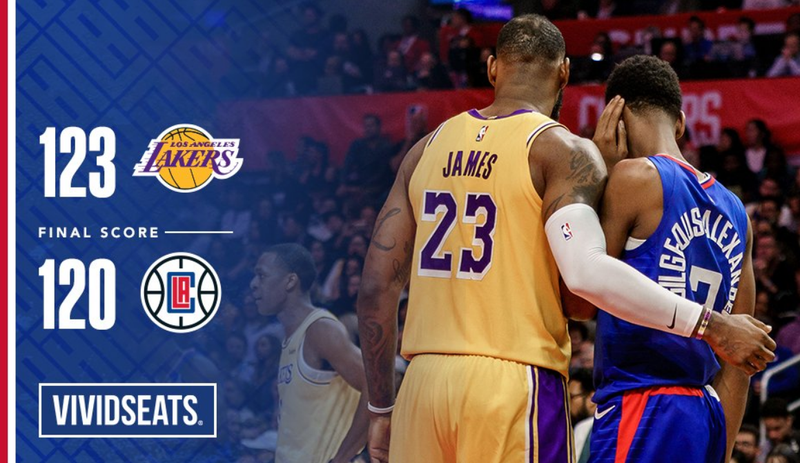 LeBron James returned to the Lakers squad after a long absence due to injuries
Los Angeles Clippers after the defeat have a balance of 28 wins and 24 defeats
Despite losing, Clippers are in the eighth position in the Western Conference, which is still a higher position than the Lakers' place.
The second derby match in this regular round (the first to be looted by LAC 118: 107) was to be mainly marked by the return to the game of LeBron James, who missed 17 meetings due to an groin injury. This was the longest break in the "King" game in his 16-year career. Lakers lost without him 11 out of the 17 games they played.
The first performance of "LBJ-a" from the festive competition with the Golden State Warriors, in which he injured himself, turned out to be a show of his skills. James scored 24 points, he also had 14 rebounds and 9 assists in 40 minutes spent on the Staples Center floor. The leader of the Lakers team was one of the heroes of the extra time winning LAL.
During the first two quarters the game was equaled. Admittedly, the charges of the coach Luke Walton ran 32:26 after the first quarter, but at the halftime, the basketball team led by coach Doc Rivers almost completely recoup and was 54:53.

A huge crisis in the Clippers game occurred in the third part of the match, in which the Lakers led 14-point. In the fourth quarter Clippers were losing seven minutes before the end, but after several accurate attacks they led to a draw 112:112 which resulted in additional five-minute game.

At the result 118:118 basketball player from Akron, Ohio state, gained two points, a moment later Lance Stephenson stepped in two points and also scored by forcing a foul on the opponent and adding one point from the awarded free throw. Avery Bradley and Lou Williams made a mistake on the other side of the court - Williams even three times (two throws from the game and once from a free throw).

Marcin Gortat played for 16 minutes, he gave three throws from the game and hit once. After his precise finish Clippers were leading the match, at the beginning of the match 11:6. In the statistics of the Pole, apart from two points, four rebounds, two assists and two blocks, there were also recorded two fouls and two losses.
In the next match, the Los Angeles Clippers will face the Detroit Pistons on Saturday night.
---