Los Angeles Clippers have won with Atlanta Hawks 127:119. This is the fifth consecutive victory of Los Angels Clippers team and the second success, in which they make up for big losses during the match. Marcin Gortat also played in this meeting and scored five points.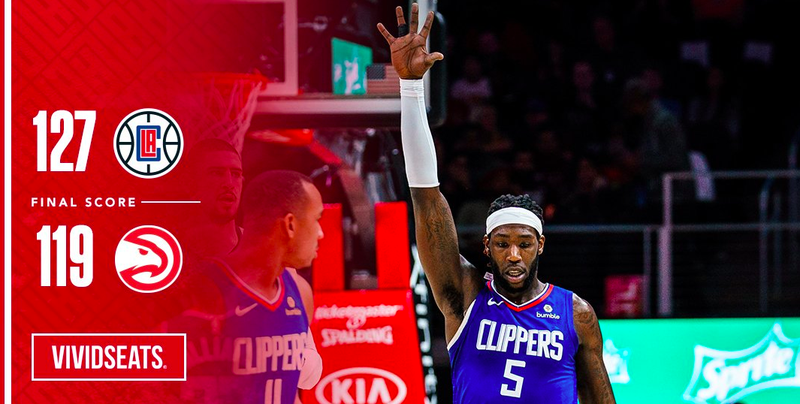 Despite the fact that Atlanta Hawks is considered as the worst team in the Eastern Conference, it was supposed to be a difficult away match for Los Angeles Clippers. Visitors (Clippers) played in Georgia without their second best shooter Danilo Gallinari.
In the first quarter Doc Rivers' players didn't show up well and lost 29:34. In the second one they did better, but at the halfway point they were still worse 61:64. The weakest in the performance of Clippers was the third quarter, at some point they were losing 15 points - 72:87.
The key part of the meeting was the moment between the third and fourth quarters, when after the series of points 20:4 the team from Los Angeles took the lead 97:96. For the second time in a row they were able to win the match (127:119), in which they lost a double-digit (recently a similar scenario took place in the game with Brooklyn Nets).
Marcin Gortat went to the match in the first line-up and played for 16 minutes. During this time the Pole gave five throws, hitting two of them. Gortat also had two free throws and he hit one. Pole scored five points, he also had seven rebounds, three assists and one block. Two fouls were also recorded in his statistics.
Los Angeles Clippers have 11 wins and five defeats. It makes them third in the Western Conference.
In a few hours (during the night of Tuesday and Wednesday of Polish time) Los Angeles Clippers will play another match, in which their rival will be Washington Wizards, the former club of Marcin Gortat.
---
Who will you support and cheer for? Clippers or Wizards?
I believe Clippers have a chance to win also this time.