Golden State Warriors won with the Los Angeles Lakers 130:111. Klay Thompson from the GSW team made record-breaking achievements, hitting the first ten attempts of three pointers and at the same time ten "threes" in a row without any missed.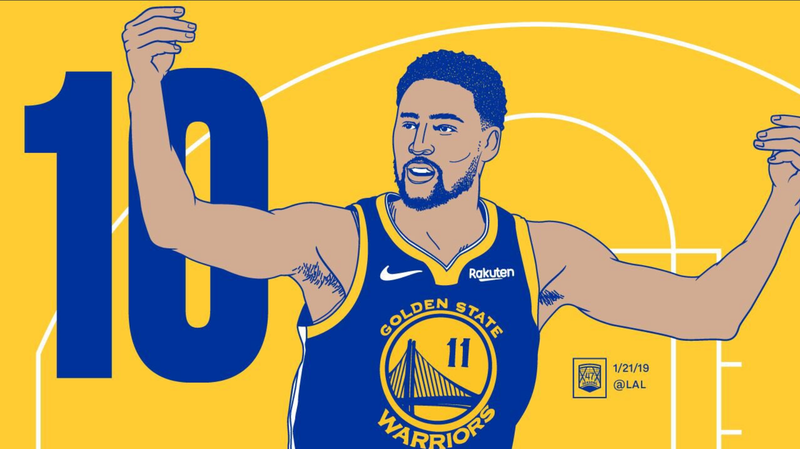 The eighth consecutive victory of the Golden State Warriors was accompanied by the incredible feat of Klay Thompson. The defender of the team from California finished the match with 10 out of 11 throws for three points. To make a new record in the NBA history, Thompson needed only the 27-minute performance.
Thompson, made the first shot for three points in the third minute of the match, and the biggest show was in the third quarter, scoring 23 points. In total, he scored 44 points throughout the entire match and scored ten first shots from distance.

The first and last time he made a mistake and missed the shot was less than four minutes before the end of the third quarter. Moments later, he left the court and the coach decided that he won't play anymore. Lakers played in this match without three injured players: LeBron James, Lonzo Balla and Rajon Rondo.
Basketball players from LA lost the first part of the match 24:29, at the halfway point they lost ten points 55:65. After the third quarter, the losses were already huge, because it was 80:110. From that point on, it was hard to make the losses smaller and the game ended with the victory of Golden State Wariors 130:111.
It was the 14th match without James of a team from LA who lost nine of these games. This is the longest break in the game of LBJ in his career.
---
Thompson's three-pointers festival is the equalization of pre-set records. Ty Lawson hit the first ten triples in the match in April 2011, and Chandler Parsons was the author of 10th in a row of trials from the perimeter in January 2014.
The same basketball player has another record set this season for three points. In a battle against the Chicago Bulls in October, Thompson set the NBA record by hitting 14 throws for three and scoring 52 points. At that time, he was only 27 minutes on the pitch.
---