Golden State Warriors won 110:103 with Atlanta Hawks. In the Warriors' lineup there was no Draymond Green in this match. The winger had previously been punished by the club for initiating an arguer in the team's locker room after the game against Los Angeles Clippers.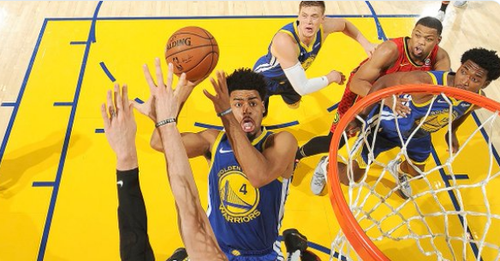 Defenders of the championship title the day before they played in Los Angeles against Clippers. The hosts won the match 121:116 after extra time, and this failure led to a conflict in the locker room of the team from Oakland.
The quarrel that broke out between the Warriors players concerned the situation at the end of the meeting with Clippers. In the last seconds, Green collected the ball and rushed alone on the basket of rivals. He did not give Kevin Durant, who demanded the ball in this action.
After the game, both basketball players didn't refrain from harsh words and among their colleagues, they slandered eachother with insults. The atmosphere was so hot that the club's authorities decided to intervene and for not complying with the rules, they removed Draymond Green from the game in the next meeting.
There was no Green in the match against Hawks, but there was Kevin Durant. He was the best scorer of his team (25 points). Stephen Curry, who is injured, still didn't play. The charges of the coach Steve Kerr didn't play their best in the first half - they lost the first and drew the second quarter (20:23, 29:29). In the third, however, they did their homework and stabilized their advantage, which they managed to maintain in the fourth quarter.
According to preliminary findings, Draymond Green will be able to play in the next game against GSW.
---