Los Angeles Lakers defeated Cleveland Cavaliers 109:105. LeBron James for the first time since the change of club colors played in his home area and was one of the main players thanks to whom the guests won.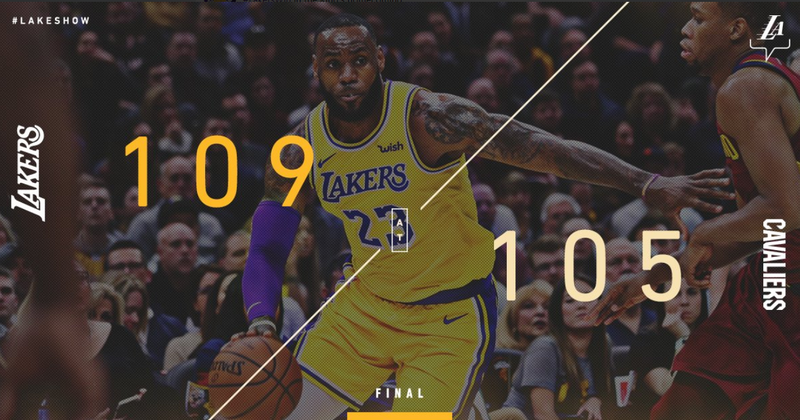 Before the match, during the presentation of both teams to the audience in the Quicken Loans Arena, LeBron James received long applause and a standing ovation. Already in the first action "LBJ" hit the ball into the basket, which was even more appealing to the fans, even though their team lost then 0:2.
During the first break on demand, on the big screen above the dance floor, a specially prepared video dedicated to James' years in Cleveland was shown. The video ended with the words "Thank you for what you did on the court, but we all know it's bigger than basketball."
Below you can watch the video:

and see how LeBron respond to it:
'The King' was one of the best in this competition, he threw 32 points, had 14 rebounds and seven assists, he scored or assisted 11 points in a row in the fourth quarter when Lakers took control of the meeting, reversing his fate with 91:99.
The Cavaliers still had a chance to make a tie at the end, but for 17 seconds before the siren, Kyle Korver missed 3-pointer, and Kentavious Caldwell-Pope did not make a mistake in any of the four free throws in the last moments of the match.
---
25,000 Vince Carter points
Vince Carter from Atlanta Hawks became the 22nd player in the history of the NBA, who scored 25,000 points. The oldest NBA basketball player who is still active has done so in a defeat of Atlanta Hawks against Toronto Raptors 108:124.
It was in the colors of Toronto Raptos where he began his NBA career, for Toronto he played for the first six seasons. Now he has 1423 meetings in the regular round, he scored his jubilee point in the last second of the match by 'packing' the ball effectively to the rim and determining the result of the match.
---