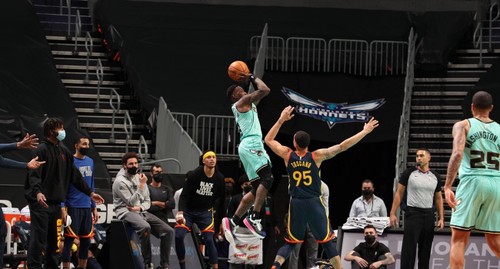 NBA continued with 5 matches. The Hornets won the Warriors match, where they were trailing 100-98 in the last 13.3 seconds, with the help of the visitor's team's all-star player Draymond Green's inability to control his anger.
Green, who missed the dose of the referees after the Hornets won the air throw after the decision of the unshared ball and took a time-out, was sent off by taking two technical fouls 9.3 seconds before the end.
Rozier, who turned 2 free throws arising from technical fouls into points, also ensured that the Hornets left the field victorious with the basket he recorded afterward. The form name of the last days, Rozier, became the top scorer of the match with 36 points.
Kelly Oubre scored 25 points and Andrew Wiggins 19 points in the Warriors, who left the field without Stephen Curry because he was not feeling well.
Heat won the match between 2020's finalists
The Miami Heat beat the Los Angeles Lakers 96-94 on the road, which they lost in the final series last year.
Kendrick Nunn, who scored 27 points, 5 rebounds, Jimmy Butler with 24 points, 8 rebounds, 5 assists, and Bam Adebayo, who scored 16 points, 10 rebounds, 6 assists, "double-double" led the Heat to the victory.
For the Lakers, Kyle Kuzma finished with 23 points, LeBron James 19 points, 9 rebounds, 9 assists, and Montrezl Harrell 18 points, 10 rebounds.
Results
Charlotte Hornets-Golden State Warriors: 102-100
Los Angeles Lakers-Miami Heat: 94-96
Memphis Grizzlies-Phoenix Suns: 97-128
Chicago Bulls-Sacramento Kings: 122-114
Portland Trail Blazers-Washington Wizards: 111-118