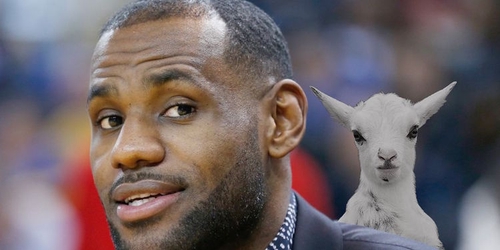 All in all I think this will be an interesting experiment, can my sports podcast do better on here than on Steemit? And yes I will come up with a better name for my podcast.
Below is my post of this podcast on Steemit, lets see what happens between them.
https://steemit.com/life/@swolesome/scorum-cross-over-podcast-the-king-needs-the-west-to-be-the-goat

Let's find out. I can't tag people yet but I wanted to give a special thank you to Mikey, bamamama, BP, Sanchez and everyone else that has answered my questions and welcomed me to the community. It feels really special to be here. I can see myself cutting a cool niche right here. I am really aggravated that I couldn't remember any of the players name on the Lakers or JR Smith's name after his gut-check time mistake. NBA isn't my sport but I felt I really had to win that argument on mrsanchez's post.
Lebron needs to win to be the Goat. I think he's tied and maybe slightly better than MJ right now. But he NEEDS to win a few rings wearing the Purple and Gold to cement it.
Agree, disagree or just want to say hi? Comment below.
On Steemit we say Steem on. On here, do we say keep scoring?