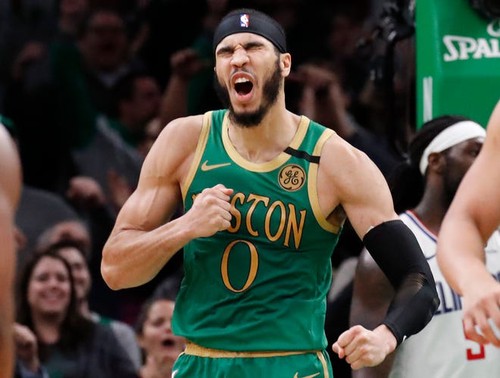 Celtic's first time All-star forward Jayson Tatum tried to lazer focus while inside the game but he can't seem to contain his emotions after his clutch plays led them to a 2 overtime victory.
It was a game that neither team was in control as it was a back and forth night for the Clippers and the Celtics. Tatum found himself defended by Shammet and Harrell in the final minute of the overtime period where the score was 124-123 in favor of the Clippers.
Jayson Tatum used a hesitation move, sidestepped in front of Shammet and spun around through Harrell that ended with a layup. The crowd got into it and cheered Tatum which led him to yell out loud and flex his muscle and was amazed by his own play.
Tatum becoming one of the best clutch player is a no surprise considering he was always praised by the late Kobe Bryant and was mentored as well. Tatum also looking more comfortable handling the ball and initiate an offense during crunch times.
Promotional Links:
https://t.me/s/nba_stats
https://t.me/nbatakeaways
https://www.facebook.com/animecravers
https://www.facebook.com/groups/725683580956458/
https://www.facebook.com/librengcrypto
https://steemit.com/@julstamban
https://twitter.xn--com%20%20engrjulstam-ni3l/
https://www.facebook.com/hooppress/
https://www.linkedin.com/in/julius-tamban-2a7865167/