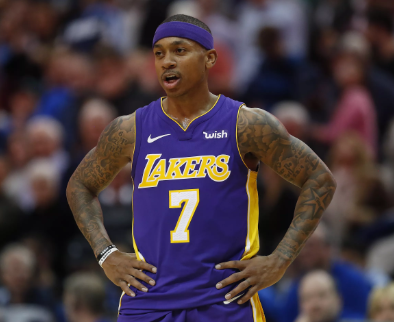 Isaiah Thomas has agreed to sign with the Denver Nuggets for 1 year at $2 million. He will be playing for his 4th team in just over a year. Last summer he was traded from the Celtics to the Cavs for Kyrie Irving. The Cavs then turned around and traded him before the trade deadline to the Lakers. Now he will start next season in a Nuggets uniform.
His last contract was for 4 years 27 million so this deal represents a significant pay cut. No doubt he is hoping to return to the form he had during his 2016-1017 season when he led the Celtics to a 50 win season and the Eastern Conference Finals. He also averaged 28.9 PPG last year but saw that number cut in half this season after returning from a hip injury. He suffered another hip injury at the end of the 2018 season and underwent arthroscopic surgery.
If he can recover and return to the form he had just last season the Nuggets may have just picked up a star player with absolutely no risk. This is a great deal for them as they finished 9th in the western conference winning 46 games. With this addition it's possible they may make the playoffs next year though they would likely be a bottom seed in a loaded western conference.