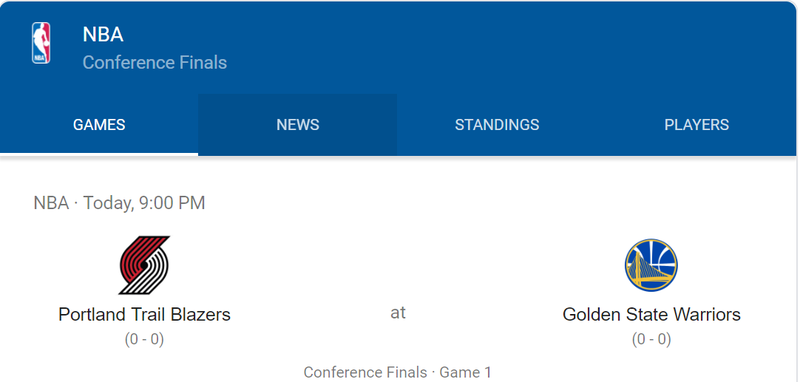 Tonight is game 1 of the Western Conference Finals between the Golden State Warriors and the Portland Trailblazers. Only one of these teams was expected to make it this far and that was the Warriors. The Trailblazers have not been favored to win either series they have competed in, yet they have managed to defeat the Thunder as slight underdogs and defeated the Nuggets in 7 games as a big underdog.
The Warriors come into this series having defeated the Clippers and Rockets, both series going 6 games. The big news out of the Rockets series is that Kevin Durant was injured in game 5 and missed game 6 and is expected to miss game 1 of this series and possibly more time. This serves as a huge advantage for the Blazers as they will be meeting a team not at their very best. However, the players that the Warriors have available are very potent. Curry, Thompson, and Green led this team to an NBA record 73 wins just 3 years ago. They also managed to close out the Rockets shorthanded in game 6 on the road.
The Warriors open as huge 5 to 1 favorites to win the series and honestly I don't expect them to lose this one. I would be totally shocked if the Trailblazers managed to win this series and make it to the NBA Finals. This Blazers squad has shown fight all along the way though so being underestimated and overcoming the odds is right in their wheelhouse. With Durant available I would say the Warriors take the series in 5 games. If he misses more than just game 1 I think the Warriors will still win it in 6 games or 7 games if it comes down to that.
From a betting angle I will take a "wait and see" attitude toward the series. The Warriors are listed as -7.5 point home favorites in game 1 tonight and are once again going without Durant. I lean toward the home team and the over (220) as each team will want to come out and make a statement. The Trailblazers that they will fight and be competitive in the series, and the Warriors that they won't get pushed around even without Durant in their lineup. I probably will pass on this game though as there are way too many X factors that could play into the motivations in this one. The Blazers were competitive in the season series splitting 2-2 with the Warriors so there is an argument that they could keep game 1 within the number.