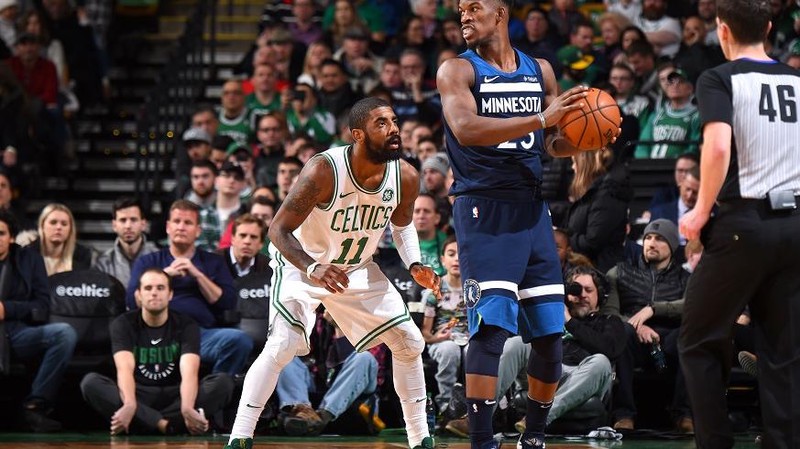 Jimmy Butler's future promises to be one of more interesting stories during the 2018/19 season. With a player option next season, and reportedly being outraged with Karl Anthony Town's carefree attitude, Butler looks set to be leaving Minnesota at some point within the next year. If it comes down to the T-Wolves building a franchise around Towns or Butler, it's unlikely that they'll move on from their number one pick in 2015 for Jimmy, good as he is.
While the Lakers have dominated recent news about a Jimmy Butler trade or free agent signing, it's also been reported that Butler would be open to making a move to play with Kyrie Irving in the future.
Irving, who also has a player option next season, may feel that Boston isn't the place for him, if he is to establish himself as "the man" for an NBA franchise.
As a Cavalier, the New Jersey native put the Knicks on his trade wish-list, and so a move to the Garden with Butler could still be an enticing proposition for the All-Star guard.
The Knicks have been a troubled franchise for a while now, but with a new coach in David Fizdale, and a player with serious potential in Kristaps Porzingis, the question now is if they can finally get the ball rolling and bring back top level basketball to the Big Apple. If Jimmy Butler's situation looks to be unsolvable in Minnesota, and they try to move him before the deadline, the Knicks should take full advantage of the situation. Here's how it could play out for them:
Knicks Trade: Tim Hardaway Jr, Trey Burke, 2019 First Round Pick
Timberwolves Trade: Jimmy Butler
It will be tough to get a lot for Butler if moves are made at the deadline, but in Hardaway and Burke, the Timberwolves would be getting some solid guard play on the offensive end. Both players combined for 30.3 points per game last season, can create their own shot, and stretch the floor.
One could question whether having both Derrick Rose and Trey Burke would hurt both players' games, but with Rose's injury problems, perhaps going deeper at the point guard spot is best for the team.
Hardaway Jr doesn't have the defensive talent that Butler possesses, but is a versatile wing player who is skilled off the ball. Playing alongside Towns and Wiggins may force him to become more efficient from the floor, which has been an issue of his game so far.
The draft pick, however, could be the best piece of all. With Porzingis scheduled to be out until at least Christmas, the Knicks aren't expected to have a great record this season, and will probably find themselves in lottery contention next summer. Burke is an expiring contract, and the T-Wolves can move on from Hardaway Jr in 2020, but the chance to bring in another long term prospect may convince Tom Thibodeau to part ways with Butler in February, rather than risk losing him for nothing in July.
For the Knicks, the move could be the start of a major turnaround for the franchise. With the proposed trade above, and using the waive and stretch provision on Joakim Noah for the final year of his deal, the Knicks could free up an extra $30 million in cap space. What's more, they'd now have Butler's Bird Rights, allowing them to go over the cap to sign him to a max deal. This would provide enough space to sign Kyrie Irving and Jimmy Butler to max deals regardless of the cap projections, and extend Porzingis' deal (provided he proves himself healthy in the second half of the season).
A new big three in New York would be great for the league, and provide another power to compete in an Eastern Conference that needs new life post-LeBron.
Butler's days in the snow may be numbered, but he perhaps he's better suited in the Garden anyway.