LET TALK SOME BASKET BALL NOW
So far so good between 6 and 8 game has been play in the NBA, first and for most let me run you through the result then I can now dip a little into this great young man called Darrick Martell Ross (THE SUPERHERO).
Yesterday result update
Brooklyn Net beat Detroit pistons 120 by 119 (I call this win an upset)
Chicago Bull lose to Denver Nuggets 107 by 108 (which by me Denver Nuggets is the most underrated team, still coming back to them soon)
Los Angeles Lakers beat Dallas Mavericks 114 by 113(the have now recorded 3 win and 5 loses)
Golden State Warriors beat New Orleans Pelicans 131 by121
New York Knicks loss to Indiana Pacers 101 by 107
Minnessota Timberwolves beat Utah Jazz 128 by 125 and
Phoenix Suns loss to San Antonio Spurs 90 by 120
DERRICK ROSS BACK COME TO GOT DENVER NUGGETS 3 POINT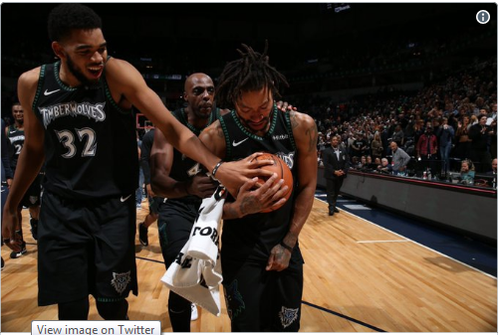 Derrick Ross is an American who has been a professional basketball player for the Minnesota Timberwolves of the national basketball association, he was first playing at the college basketball team called THE MEMPHIS TIGERS before he was drafted first overall by his hometown Chicago Bull in 2008. it was a very emotional win for them, I actually feel it when I saw Derrick rose crying at the end of the game, the 2011 MVP Derrick rose has being suffering a kneel injury for years after and because of this people have forgotten about him to the point that when you called the top twenty or thirty (20 or 30) players, no body since to remember anything about him but yesterday he prove people wrong by show are best skill in the game of basketball scoring fifty ( 50)high point fantastic goal not a final game to say but to lead the wolves to a three point win. That was emotional for me, it was so beautiful seeing his team mate all came out to celebrate with him, it was enough to drop out those emotional tears of joy even while he was interview. Such kind of great performance can only be put out by a genius even though the score line was very slim, it worth celebrating.
Denver Nuggets only lose to Lakers this season, I am still having much expectation from the team because some of their great players who are in the injury room are not yet back so hopefully few weeks from now the will be expecting
Derrick Ross has had a rough few years would be an understatement. The former league MVP 2011 saw his run with the Chicago Bulls come to an unceremonious end, he played one disappointing season with the New York Knicks, before he signed on to join the Cavaliers' Cleveland star-studded lineup last season, only to end up taking a leave of absence from the team before eventually being traded, Ross his a man of faith, When he signed on with the Minnesota Timberwolves late last season, it was seen as a coach doing a favor for his former star player, he did not lost his hope but he keep on telling his Undefeated Marc SPEARS, "Anything that comes my way I am going to grab it." Today he is one of the most celebrated basketball player, Derrick Rose's has create a record with is 50 point goal has the fourth most scored by an NBA player this season not just that, he has also tied for the second most ever scored by an NBA player on Halloween.
THANK YOU FOR VISITING MY BLOG, DO WELL TO
UP-VOTE
COMMENT
AND FOLLOW