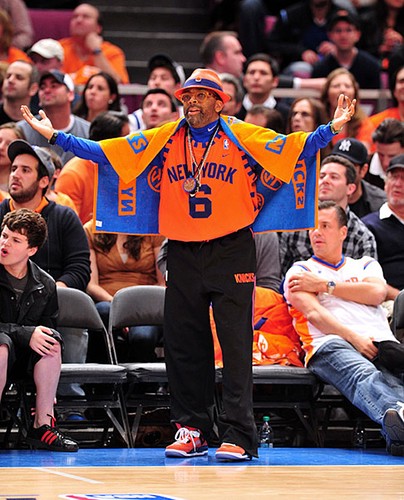 When it comes to the Knicks, it feels like the "Things are looking up" piece has been written about 14,000 times. In fact, the history of the Knicks franchise is really just the story of a fan base duping themselves into a free agent signing, trade or coaching hire every eight years or so, only to be wildly disappointed by circumstances that, upon retrospection, feels like we should have seen coming.
Though allow me to humor myself into writing the "Things are looking up" piece that will stick. Because statistically, things cannot go wrong 100% of the time for the Knicks, even if Dolan gives his best college try.
We hired a coach… who seems good(?)!!!
Many may remember David Fizdale from his "take that for data" press conference and his time with the Memphis Grizzlies. Fizdale was fired at the onset of his second season in Memphis, much to the dismay of those around the league impressed by his acumen, supposedly due to a rocky relationship with Grizzlies star and "Geico caveman after a month of rehab" Marc Gasol.
Fizdale is a favorite of Lebron's (I swear I'm not going to do it, I don't have the energy), and well-endorsed around the league. His no-nonsense mentality has already sparked a few quotes that could be nerve-wracking to the European-laden Knicks, calling for tough players and guys that "get joy out of locking teams down". (Somewhere Amar'e, 'Melo and J.R Smith let out a simultaneous sigh. In the distance, Lace Thomas winks and Frankie Nicotine blows smoke at the sky in glee.)
Kevin Knox is going to be good at the sport of basketball
Thanks to a typical post-Christmas Knicks collapse, (at this point other teams should owe the Knicks for stolen intellectual property if they fall off a cliff after a nationally televised Christmas Day Game), the Knickerbockers are the proud employers on one Kevin Knox and Mitchell Robinson.
Kevin Knox is a Kentucky product who looks already like he's going to be the real deal. He already has an NBA ready body, and has shown prowess with the outside J and a real knack for getting inside buckets. He figures to be at a minimum a solid starter, with a ceiling of a superstar if all works out.
Mitchell Robinson didn't play in college, which is why his elite prospect pedigree was downgraded during the draft and dropped into the Knicks laps in the second round. He has arms like an octopus and blocks shots at will, and supposedly he can stroke it from outside as well.
Found money
Trey Burke is certainly proof of the Knick's scouting ability, but he's more than just a pleasant surprise. He could really be something for the roster moving forward. The dynamic guard this team has sorely missed for the past few seasons. For pete's sake, starting out the year we were pushing out Ramon Sessions and Jarrett Jack as our point-men.
Burke's 12.8 scoring average, punctuated by violent scoring outbursts like the 42-point performance back in March that led many to draw Iverson comparisons, is just a hint a the offensive potential to come if Burke's career continues to stay on track. This was his most efficient season from the field, at .503, while also dishing almost five assists per game.
All of this, in conjunction with Porzingis and Nitlikina, as well as continuing production from role players like Ron Baker, and the progression of THJ, could mean that this time, the Knicks are really on to something.