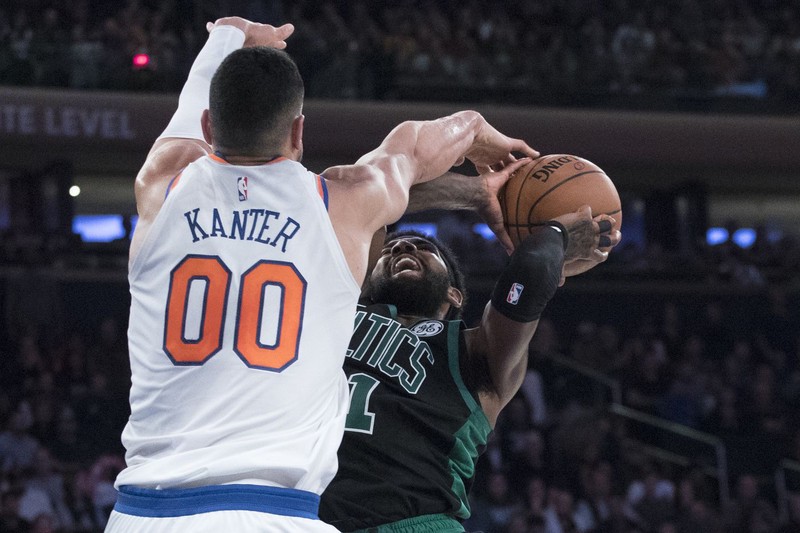 If you ask any major basketball pundit right now they will tell you that the Boston Celtics are one of the teams to watch this season. And for good reason, they had a great run last season and that was without Kyrie Irving and Gordon Hayward who are both now back and (reasonably) healthy.
So to see a scoreline of 103-101, indicating another last-second loss for the NYK is disheartening. We want those Ws. But the fact is that coming into the game most people assumed we would be annihilated. The fact that that was far from the case is a great thing in itself.
With all of that being said, it was another check in the loss column, but there are positives to take away from tonight's performance. These are my top five.
Kanter Keeps Rolling
With the 17 points and 15 rebounds Enes Kanter contributed tonight he became the first New York Knicks player since Zach Randolph (back in 2007-08) to begin a season with three consecutive double-doubles. Anyone who ever doubted that Ennis the Menace (love that name, Wilt Clyde has NOT lost his touch) is the right man to hold down the center position for the NYK should have realized that that is far from the case by now.
Alonzo Trier is a Player to Watch. Closely
In my humble opinion, Alonzo Trier is one of the most underrated rookies in this year's Rookie Class. And with his 15 point contribution - second only to Kanter and Hardaway Jr - in 25 minutes tonight and the poise and sheer basketball knowledge he has displayed thus far if you are not watching this young man out of Arizona very carefully I suggest you start doing so.
Kevin Knox is NOT Badly Hurt
It's only a few games into his rookie season, but Kevin Knox is already showing real signs of living up to his potential. Therefore it was scary when, in the first quarter, he was fouled by Terry Rozier III while driving for a layup and seemed to roll his ankle, limping off the court in obvious pain. The good news though is that although KK did not return tonight the Knicks announced that all x-rays were negative. Coach Fizdale admitted to being worried, especially at the time of the play, but believes the 19-year-old will bounce back just fine.
These Knicks Aren't Giving Up
Faced with tight finish after tight finish the Knicks - who are, by the way, officially the youngest team in the league, with an average age of 24.5 - are not crumbling. Past Knicks teams, made up of far more experienced, far older players, gained a reputation for doing just that, but so far this season even in very high stakes situations the young players - let's remember that the 'seniors leaders' on the team, Kanter and Hardaway Jr, are only 26 - are keeping their heads and holding their own.
The Garden is Rocking
It's not easy being a Knicks fan. I've heard stories - from those who were there - of the glory days of the 1970s when the Knicks ruled, but that happened long before I was born. I have memories - very good memories - of those 'they almost made it' 90s Knicks.
I had a poster of John Starks up on my wall back then and I still have it now (and yes, you can remind me of 2-14, I can take it and smile, now at least) The day Anthony Mason died I cried like a baby. That man was my idol. And having met him on several occasions I can tell you he was one hell of a nice guy, off the court at least.
But the last few years have been especially tough. And although we all know that this team is very much in the rebuilding phase the atmosphere at the Garden, the mecca that is MSG, has a wonderful spark again. It's fun to be there, this team is fun to watch. And as that's really what basketball is about - for me at least - so far this season has been all good - tough losses and all.