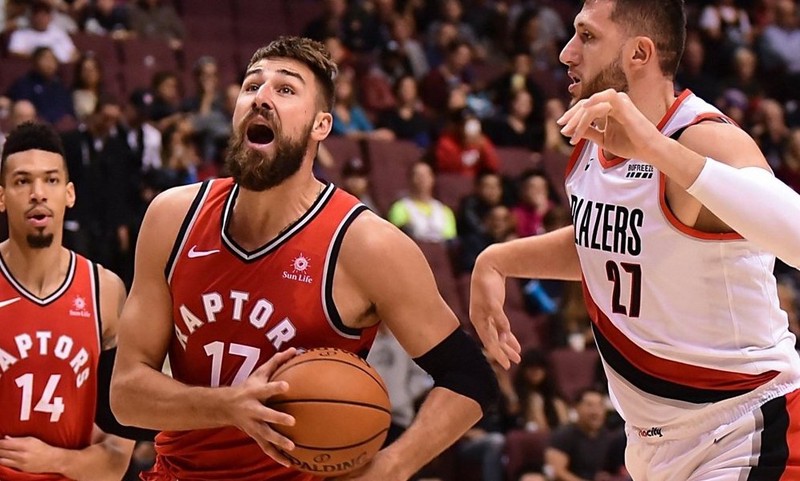 The upcoming NBA season might become one of the most epic seasons with all the powerhouses waiting to prove their superiority. I cannot wait to see the Lakers, GSW, and Rockets battling each other in the Western Conference. Those matches will become instant history. However, people tend to forget that there are some powerful clubs in the Eastern Conference as well. I have already written a piece about Raptors, and I still believe that they are capable of winning the Eastern Conference (even though bookies think that Celtics are favorites). To do that, Raptors will need more than just good performances from Kawhi Leonard and Kyle Lowry. In my opinion, Jonas Valanciunas might become the x-factor this year.
Jonas Valanciunas was the starting Raptors player for many seasons already, and all other teams in the league know what to expect from this big guy. And yet, it looks like it's getting harder and harder to stop Valanciunas when he feels the rhythm. I have been following JV since he was 16 and playing for local Lithuanian club. People in Lithuania expected him to become the most dominant center in the NBA, but apparently, JV couldn't live up to the expectations. That said, at the age of 26, it is evident that Valanciunas has at last matured as a player and is ready to take his game to the next level. Of course, JV won't fancy the fact that most of the clubs in the NBA are playing small-five these days.
During the first 2 off-season games, Jonas Valanciunas became the leader of the Toronto Raptors, averaging 17.5 points and 8 rebounds. He has already made a massive coast-to-coast highlight drive against the Trail Blazers:

I do agree that JV is still somewhat clumsy and slow, but he has improved a lot from the previous years. He has also started shooting 3s (he still sucks, but with some practice, he might become a quite reliable 3 points shooter) and that stretches the opposing defense, giving other guys on the team some spaces to improvise.
Of course, there are a lot of speculations that Nick Nurse will be playing small-ball with Ibaka as a center this year. That might be true, and JV might even lose his spot in the starting 5, but I am very skeptical about Ibaka's ability to dominate the game and lead his team to the victories. Eventually, Nurse will have to trust JV and give him more minutes than Casey did (especially during the clutch moments). JV is still sometimes too slow on the defensive end, but he is improving a lot, and if I had to rate him now, I would say he is a very average defender. However, when it comes to attacking, JV is getting better every day.
A few years ago, the only move that JV knew was his pump fake, which worked fine in the beginning, but it became useless later when opponents understood that JV could not shoot from distance. Now, when JV's mid-range shot is working fine, he can use his pump fake again. On top of that, JV's ability to get to the basket by force is pretty extraordinary. Tonight, against Jazz, Valanciunas has outplayed Rudy Gobert on numerous occasions, and that is a positive sign, knowing that Rudy is probably the best defender in the league. Of course, Gobert punished JV a couple of times as well, but in general, Lithuanian gave us a very inspiring performance.
Also, JV has learned how to drive to the basket, and he even added a spin move to his moves repertoire. A few years ago, a very stagnant and predictable offense used to be one of the main factors why JV couldn't become an all-star. Today, his offense is getting more and more flexible and unique, giving JV that extra something against his opponents.
Kawhi Leonard will be the all-star and the main go-to guy in the Toronto Raptors this year, but if the team wants to play in the NBA finals (there might be no better time), Nick Nurse must trust Jonas Valanciunas and give him some freedom to improvise. I do believe that JV might become one of the most improved players in the league this year and prove all the critics who said that he is not worth the max contract wrong. After all, I believe that Jonas Valanciunas did not play like an all-star during the last couple of years only because Dwayne Casey did not trust the big guy from Lithuania. Hopefully, Nick Nurse won't make the same mistake.