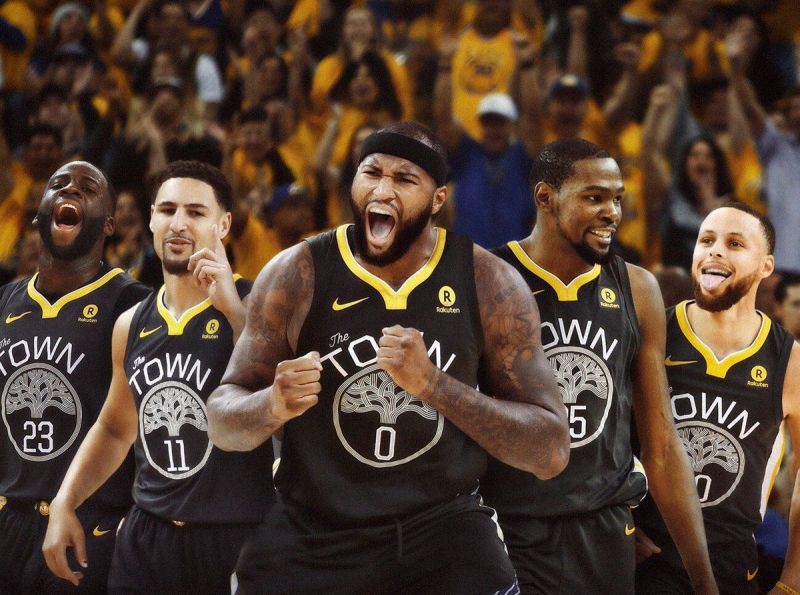 Let's continue The Best of 2018: Scorum Super Series with the best sport in the world - basketball. There might be some people (or even everyone) who might disagree with my statement but I don't care - I am from Lithuania. So yeah, 2018 was a decent year in the basketball world. The only thing that lacked was a high-level International basketball competition (EuroBasket, Olympic games or World Cup). Gladly, Kobe Bryant will take care of it this year with World Cup 2019 in China. As for now, let's focus on what happened last year. I will look into European and NBA basketball and will try to talk about the most important games/players/events.
European Basketball
I know that you crazy people don't watch European basketball so I write this part for me. It was a very interesting year in Europe with lots of wonderful game and moments. If you don't feel like reading about it, go to the NBA part already. Those, who actually care about basketball, please stay with me.
Kaunas Zalgiris
I might be a little biased here but I think that Kaunas Zalgiris was the most successful team in Europe last year. Of course, Real Madrid won everything there is to win and gave the world Luka Doncic, but Kaunas Zalgiris gave much more to a small Lithuanian country - we have hope again.
Last year, Kaunas Zalgiris managed to finish 6th in the Euroleague's regular season and had to play the quarterfinal against Olympiacos which was seeded 3rd. Not many experts believed that Kaunas Zalgiris could pull off a miracle and win the series even though Olympiacos struggled with injuries. However, fans in Lithuania did not care about the odds and gathered to Zalgiris arena to support their local team. In fact, Kaunas Zalgiris had the best attendance all season, averaging 13,560 people per game while other teams were happy to get at least 10,000 fans to their games. This thing did not change in the 2018-2019 season - it was impossible to get any tickets to Kaunas Zalgiris home games unless you bought them at least a month before the game. That shows how much Lithuanians love basketball and I must say that people in the NBA fall short in this matter. Here in Europe (especially Lithuania, Greece, Serbia and Spain) fans are crazy about every single game that their team plays. Even though 14,000 fans every single game might not sound that much to football fans, it's huge for a basketball game in Europe.
Anyway, Kaunas Zalgiris managed to win the series against Olympiacos 3-1 and finally got themselves back to the final 4 after 19 years of absence. Yes, even though Kaunas Zalgiris always had great support, they never had enough money or talent to compete against other powerhouses in Europe. And things have changed in 2018. It doesn't even matter that Zalgiris lost in the semi-final to Fenerbache because who could expect a team with the second lowest budget (out of 16 teams) to compete in the final 4? No one except delusional hardcore fans. To put it in perspective, imagine Kings playing in the Western Conference finals this season.
Also, Kaunas Zalgiris played very attractive basketball with lots of dunks and highlights. Just look at this for example:
The main reason for Zalgiris success was Sarunas Jasikevicius, who is one of the greatest coaches in Europe at the moment. And it's scary to think that it is only the beginning of his coaching career. Sarunas Jasikevicius has enough talent to become a head coach of any NBA team in the future. The only thing he needs to work on is his emotions during the game because otherwise he would get ejected in the NBA every single game and would spend all his salary for paying fines. Apart from that, Sarunas Jasikevicius can do miracles. He is now probably the most loved person in Kaunas because the city has a basketball team that actually wins again.

Real Madrid
It would be a shame to ignore Real Madrid in 2018 because that team won everything they could. Real Madrid was without a doubt the greatest team in Europe if we judge it by titles and victories. Real Madrid produced some magical moments, including 17 victories in a row run which started in June and lasted until November. It looks like Madrid had a very great 2018 in sports as both their basketball and football teams produced some magic.
However, the most magical thing that Real Madrid produced in 2018 was Luka Doncic, probably the biggest teen talent in the world right now. Luka Doncic won most of the individual awards in Europe last season, including Euroleague's finals MVP. By the age of 18, he was one of the best players in Europe, and that is crazy. Here are some of his highlights with Real Madrid before he joined NBA:
A Little Bit of the Worst
This post should be dedicated to the best things that happened in basketball last year, but I cannot miss an opportunity to rant about one of the biggest issues that European basketball faces now - the fight between Euroleague and FIBA. This stupid dispute between two organizations that want to monopolize European basketball is ruining the beauty of the game, especially when it comes to international matches. FIBA decided to organize qualifiers to the World Cup 2019 during the club season and that became a huge mistake. None of the players who played in Euroleague or NBA could come and help their international teams, leaving most of the countries with their 2nd or 3rd squads. Teams like Croatia or Latvia will probably have to skip the World Cup and Olympic games just because of the stupid dispute between FIBA and Euroleague. You could say that every country had the same rules and should have adapted but that would be ignorant. In the end, the qualifiers looked ugly (even though favorites like Greece, Lithuania, Serbia, or Spain qualified they did not produce any quality with the players they had to rely on) and FIBA should take responsibility for that. It was the worst thing that happened to basketball in 2018.
NBA
Let's head to the NBA now, the place where most of the best players in the world play. Last year was very interesting and placed a lot of seeds which might grow into something big in the upcoming few years. In my opinion, these were the most important things that happened last year:
Lebron James and the Cavaliers
Lebron and the Cavaliers could qualify for both best and worst category last year. Lebron James managed to carry one of the ugliest teams in the NBA to the finals once again. Even his haters had to agree that Lebron did something impossible. Of course, people started shouting that the Eastern Conference was weak and anyone could reach the finals but let's face the truth - no one else but Lebron could bring the 2018 Cavaliers team that far. Anyone who is willing to say that the Cavaliers were not that bad, just look at them now when Lebron is gone. Case closed?
Anyway, the fact is that Lebron won the Eastern Conference stays. He beat the Pacers, Raptors and Celtics along the way. All those teams were powerful in 2018 and I am sure will continue to grow in 2019, whereas the Cavaliers are done. That is why I think we should mention them in this post because we might not have a chance for upcoming 5-10 years (if ever). So, Lebron and the Cavaliers reached the finals in 2018? What's so bad about it? Let me just leave this here:
After screwing up in the first game of the NBA finals, Lebron punched the wall and broke his arm in anger and the Cavaliers were swept by the GSW 4-0. Even though the GSW had won the finals fairly easily, Lebron James still provided miraculous numbers even with his broken (or at least strained) arm. In my opinion, Lebron James proved that he is as good as Jordan in 2018. He still has a few years in the Lakers to surpass Jordan and become the GOAT.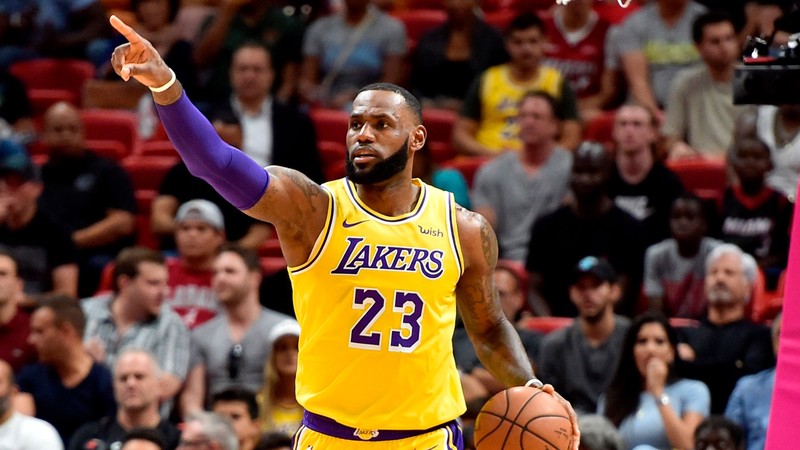 Talking about the Lakers, Lebron James leaving Cavaliers and joining the Lakers was the biggest signing of 2018. The Lakers might not have a clear chance this year, but I am sure that they will be contenders in 2020 when Lebron brings another superstar to LA. So, I guess that the Lakers fans should be super happy about 2018 as their team raised from the ashes again. As for the Cavaliers, they became ashes and I cannot see any ways how they could change that. So, this is probably the last time anyone writes about Cavaliers this year. Let's forget them.
The Golden State Warriors
The Golden State Warriors were the best team in 2018 and I might even argue that they were the best team ever. It breaks my heart to say that but it is true. I believe that the 2018 Warriors would win against Jordan's Bulls or any other basketball club throughout the history. That's how great they were.
Of course, the GSW had some serious problems against the Houston Rockets in the Western Conference finals and only God knows how it would have ended if Paul did not get injured. However, Paul got injured and the GSW came back from 2-3 to win the series 4-3. Kevin Durant stepped up during the most important part of the season and proved everyone that he brought something essential to that 73-9 GSW team.
The GSW signed Cousins for the 2018-2019 season and that became the second biggest transfer signing in 2018 right after Lebron's move. Even though Cousins did not play for the GSW yet, I could not skip this fact because the GSW became the first team ever with 5 all-stars. I have no idea how anyone is planning to stop the GSW this year because they remind me of...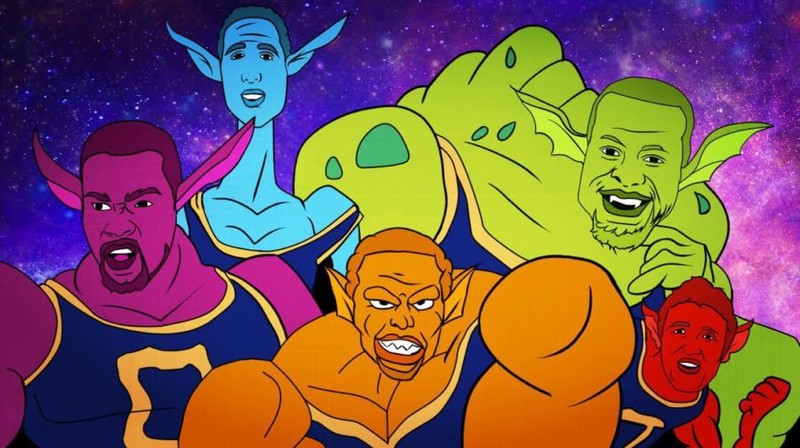 Many people, including myself, wish to see the Warriors fail in 2019. However, looking back at 2018, they did not fail and became the best team in the world. Love them or hate them, you must appreciate their talent. Of course, 2018 winter showed that there might be some problems inside the GSW team and that some players (most likely Durant) will leave after the season. The 2018-2019 season may be the end of the GSW domination so you should take your time and think about the beautiful basketball that the GSW provided us throughout the years. I personally loved Klay Thompson's 14 triples the most:
James Harden
James Harden had an amazing 2018 as he became the MVP and produced some incredible numbers. I don't want to throw dry stats at you because they might not say the whole story. However, you must know this: James Harden averages 40+ points in the last 12 games (it includes a few games in 2019 but let's not be radical). After 2017-2018 season many experts doubted the Houston Rockets and they actually struggled at the beginning of the 2018-2019 season. But things have changed drastically in the last couple of months and the old good Houston Rockets are back. The only thing that James Harden might regret in 2018 is not winning the NBA title. As I mentioned above, he and the whole Rockets team were so close to beating the GSW but they got unlucky with Paul's injury (with the number of injuries Paul had in the last decade could you call it bad luck, though?).
A lot of people still hate how Harden plays and I get it - he is sometimes lazy at defense and he tends to take bad shots very often. However, he improved a lot in the last couple of season and started assisting the ball just as good as shooting. Judging only 2018's performance, I think that James Harden was individually the best player. And he is not ready to stop this year as well. Just look at what he did tonight:
Comeback Story - Derrick Rose
I am a sucker for drama, comebacks and emotional moments in sports and nothing was more emotional than Derrick Rose's 50 points against the Utah Jazz. For the last 6 years, Derrick Rose was struggling with injuries and no one expected to see him being a leader again. In fact, Rose's career went South after he left Chicago and very few teams wanted to take the risk and sign Derrick Rose, a former MVP who spent more time wearing his suit rather than his jersey. However, the Timberwolves gave him a chance at the beginning of the 2018-2019 season. Sadly, he did not play much at first as Teague was the main point guard. But by the end of October, the Wolves had many missing players and Derrick Rose got his chance to shine. Did he use it? Well, see this:
I believe that before that night bookies would have given you 5000:1 odds that Derrick Rose would not score 50 points in his career. They would probably even agree with 40. Anyway, Rose dressed up as a previous version of himself for the Halloween and scored 50 points, bringing joy to every basketball fan around the world. Injuries are one of the ugliest aspects of any sport and very few people in the world could hate Derrick Rose after what he had to go through. In my eyes, he belongs to the list of players who never reached their potential because of severe injuries. Well, at least we could see a glimpse of what could Derrick Rose be that night when he scored 50 against the Jazz. I don't know about you, but that brings tears to my eyes.
Players to Watch This Year
To end this post, I want to provide you with a list of a few players you might want to watch based on their performance in 2018.
Giannis Antetokounmpo

The Greek Freak is probably my favorite basketball player at the moment. He can be everything you want him to be. That dude is pure magic and he produces highlights every single game. I don't know if laws of nature work on Giannis but it sure doesn't look like it. The only thing that the Greek Freak might want to improve is his long distance shooting. Apart from that, Giannis is unstoppable. I am sure that he will be the MVP in the future and might even become one of the all-time legends. Make sure to watch him play because otherwise, you might miss this:
Anthony Davis
I know you know everything about Anthony Davis but it would have been a shame for me not to include him on this post because Davis might be the most gifted player in the NBA at the moment. He is basically everything that Giannis is but with more experience and shooting. There are plenty of rumors that Davis will join Lebron at the Lakers this summer so you should follow this guy closely. Even though the Pelicans suck, they are still beautiful to watch only because of Anthony Davis' highlights.
Luka Doncic
Luka Doncic is playing one of the best rookie seasons ever played in the history of the NBA. He is making clutch shots and collecting incredible numbers. A lot of experts already admitted that they misjudged Luka Doncic before the season and that he is one of the most talented players in the NBA. It looks like the Maverics know how to sign wonderkids from Europe. The one thing that makes Luka Doncic better than other rookies is his maturity and experience playing professional basketball. On top of that, Luka Doncic might finally make Americans believe that European basketball is also played at the highest level. If he won't, nothing will.
Let me know if I missed anything! I would be glad to hear your opinion about basketball in 2018!