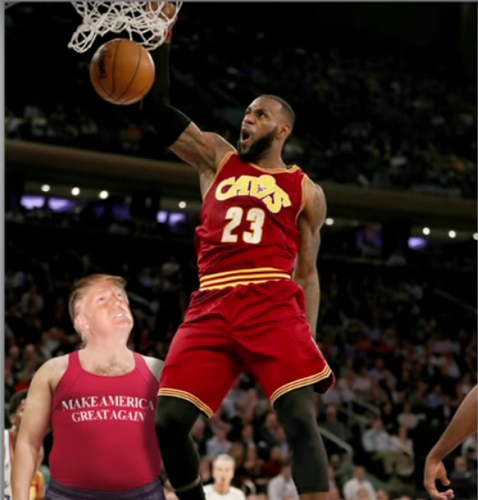 Trump insulted the intelligence of James and CNN's Don Lemon in a tweet.
Trump wrote: "Lebron James was just interviewed by the dumbest man on television, Don Lemon. He made Lebron look smart, which isn't easy to do. I like Mike!"
Trump would mock James' intelligence at any time, but to do it the week James opened his new school for at-risk children takes a special kind of hubris.
Jordan, who casually stayed out of politics during his heyday in the 1990s — his famous quote, "Republicans buy shoes, too" in explaining his lack of a political agenda — didn't offer any political perspective in his statement.
In the wake of President Donald Trump's disparaging Twitter comments on LeBron James' interview with CNN's Don Lemon, basketball Hall of Famer Michael Jordan expressed his backing of the Los Angeles Lakers forward who has become a viable threat to Jordan in the "greatest" debate among basketball pundits.
"I support L.J.," Jordan told NBC News on Saturday. "He's doing an amazing job for his community."
"Those who exercise the right to peacefully express themselves should not be demonized or ostracized," Jordan said last September, without directly addressing Trump.
"At a time of increasing divisiveness and hate in this country, we should be looking for ways to work together and support each other and not create more division."
"Sports has never been something that divides people. It's always been something that brings someone together," James said.