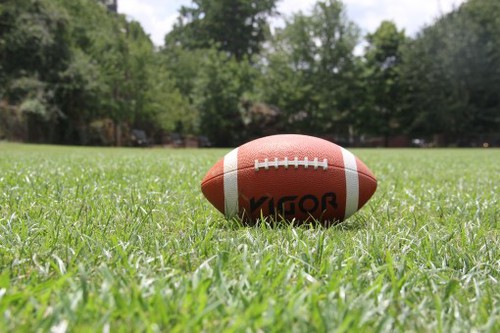 Number One
Clemson Tigers
What can I say? The Tigers are the best. They are the returning National Champs and almost every preseason article I read has them winning each regular-season game 20-50 points! This team is phenomenal and so is their coach. I love Coach Dabo Swinney, his team loves him…. Everyone loves Dabo. What's not to love? His head coaching record is 116-30. He was on the Alabama 1992 National Championship team as a Wide Receiver. He was a graduate assistant with the Tide his first few years as a coach. He learned from a couple of the best in Head Coaches, Gene Stallings, and Tommy Bowden. He is known as one of the best recruiters in NCAA Football.
The Tigers return the 2018 returning National Championship winning quarterback, Trevor Lawrence. This true Sophomore is something to behold behind center! He does some amazing things that just defy logic. Only one season into his collegiate career he has already amassed 3,200 yards passing and 30 touchdowns. He started in only 11 of last years 15 games.
Offense - The O-line is returning 4 or 5 starters from the National Championship team. This appears to be the best and deepest O-line known to Clemson. In the receiver position, there are four top returners. The best (in my opinion) is Amari Rogers, but he won't be returning until late September or early October due to an ACL tear. Also, Justin Ross, who tore up Alabama's secondary in last years Natty. If the passing game isn't going well, Clemson returns Travis Etienne as running back. He is one of the best in the country and did win the ACC Player of the Year in 2018.
Defense - Coach Brent Venables is hands down the best Defensive Coordinator in NCAA Football. Well, at least in my not so humble opinion. He can make his defenses put more pressure on opposing offenses than I've ever watched. However, Clemson lost all four of it's starting defensive linemen from last season. They will be playing a front that is young and inexperienced, but with that being said, they are extremely talented. Coach Swinney believes his "back seven" on defense are the best he's ever coached. Personally, I believe this defense will be fine. Coach Venables and Coach Swinney can put it together.
It looks as if the Tigers will be in the hunt for back to back National Championships. There will be several teams trying to make sure that doesn't happen. One of the best is my # 2 team.

Number Two
Alabama Crimson Tide
This is the hardest and the easiest for me. This is my team and I love them. It's hard for me to be objective about a team that is to me always number one. I didn't choose the Tide last year for a playoff berth and they proved me wrong. Very wrong.
Coach Nick Saban entering his 13th season with the Tide has won five National Champions since 2009 and eight "Coach of the Year" awards. His philosophy of "The Process" has been mimicked all over NCAA football.
Focus your every effort into the present moment, focus on the details, eliminate outside noise and distractions, detach from outcomes, compete against yourself but be accountable to others, never become satisfied with where you are, develop a champion's mind.
As usual, Alabama has new offensive and defensive coordinators.
Offense – Coach Sarkisian is returning to the OC position after a short stint with the NFL. He likes the "Play action pass" offense. Make the defense respect your run game and passing lanes just open up. This seasons go-to running backs will be Juniors, Najee Harris and Brian Robinson. They are equally explosive. Their strength and quickness are mind-blowing. When the Tide gets to the passing game, there is seasoned, Heisman Runner-Up, quarterback Tua Tagovailoa, who passed for almost 4,000 yards last season. He will be passing to receivers by committee in Jerry Jeudy, Devonta Smith, Henry Ruggs III, and Jaylen Waddle.
Defense – Coach Pete Golding was the linebackers coach last season and this year has stepped in the Defensive Coordinator position. The Tides defense ended 2018 as the 3rd scoring defense nationally. One of the best things that could happen is having healthy linebackers. Terrell Lewis, Anfernee Jennings, and Dylan Moses all on the field and healthy. Wow, opposing quarterbacks look out, these guys are headhunters. Now, on to the not so bright side, losing Quinnen Williams is going to hurt and hurt badly, but also remember, the Tide has 6'7", 312 lbs Raekwon Davis returning. When Davis sets his mind to it, he can be unblockable.
It's going to be an interesting season for the Tide. Some say, the best team ever while others are thinking they won't be as good as years past. We will see in two weeks which one wins.
Number Three
Michigan Wolverines
This is Coach Jim Harbaugh's 5th season with the Wolverines. Coach Harbaugh is one of the most experienced head coaches out there. Previous to Michigan he coached both at the college and NFL levels. He coached in two Super Bowls for the San Francisco Forty-Niners. In 2011 he won the prestigious AP NFL Coach of the Year award.
Offense – Michigan offense has the good fortune of returning 8 of 11 of its starters from 2018 including quarterback, Shea Patterson, and two top receivers will be the major emphasis for this team. New Offensive Coordinator, Josh Gattis is running a "pro-style no-huddle" offense this season at Michigan. Gattis will also use some of RPO's (Run, Pass, Option) that he used at Alabama last season. We can look for the Michigan offense to be dynamic and put up plenty of points in 2019. All though this is his first year as the "sole" play-caller, Coach Harbaugh has turned the offense over completely and confidently to Coach Gattis.
Defense – Many replacements from 2018 season, but… speed is the name of the 2019 Wolverine defense. There are only two returning starters from last years defense, but what they lack in experience they more than make up for in talent, depth, and speed. One returning player, 2018 sack leader, linebacker Josh Uche discusses the defense during fall camp "I think we're a lot faster than last year. A lot more depth. Everybody can run on the field. Not saying that people last year couldn't run, but there's so much depth. If something happened to one guy, then the next guy may be even faster. May be at a better level than the guy he was in front of. Just a lot of depth. A lot more guys in the core this year that know what they're doing. A lot of speed."
We will see if a new offense and a speedy defense can lead Michigan into contention for the elusive National Championship.
Number Four
Texas Longhorns
Texas is back! Many will think this a silly choice but I have many reasons for this choice. Let's begin with Head Coach, Tom Herman. How many of you knew that he is a member of Mensa International? So, first thing, he is genius. In the 2014 season he was the OC at Ohio State under Urban Meyer. He had such an explosive offense, they won the National Championship with a 3rd string quarterback!
Let's talk the 2019 Longhorns quarterback, Sam Ehlinger. Let's just talk about the last game of their 2018 season. The Peach Bowl against Georgia. Ehlinger ran for three touchdowns and a two point conversion, was named the MVP of the Peach Bowl. He is a beast.
Offense - They are very young, but they have a mighty weapon in Offensive Line Coach, Herb Hand. The man is another genius at coaching his position. All though the Horns will be replacing 3 of their O-Lineman, they had red-shirted ALL of their 2018 incoming Linemen! This is huge and will have impact not only for this season but for several seasons to come. Texas has many talented young O-linemen. Even though they are young, they have are one of the deepest and most talented O-lines around.
Defense – Texas will be replacing their starting 3 defensive linemen from last year. (Tx runs a 3 man front base nickel defense) Replacing your defensive line is never good, but they have the talent to reload not rebuild. One returning player behind the D-line is Outside Linebacker, Joseph Ossai. He should be explosive and very versatile this season. The way I understand it, this young man is capable of playing Outside, Inside and Middle Linebacker positions, equally well, depending on the defense called, nickel or dime. That is very impressive! He is only a true Sophomore, but what he did in his second start last year (the Peach Bowl) was incredible. He racked up eight tackles in this one game to help bring down the mighty Bulldogs.
If this team can carry the momentum they had at the end of the 2018 season, they will make it to #4 position in the playoffs. If not, who knows? It could be Ohio State, Georgia, LSU, possibly even Oregon. In preseason you just never know.

______________________________________________________________________________________

So, these are my preseason picks. The actual official playoff rankings will not begin coming out until November. But, this is fun. I love to pick and choose and see how well I did at the end of the season. Last year was dreadful, maybe this season will be better. Tell me what you think of this upcoming NCAA Football Season.