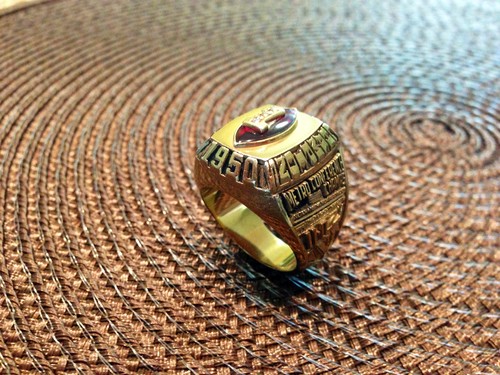 For those outside the USA., you might ask yourself, what is a conference in sports?
It is a collection of teams playing competitively against each other. In NCAA it is a group of colleges of similar size and region.
To win a conference championship is huge, it means you are the best of all the teams in your conference.
I will be talking about what is called the "Power 5 Conferences" and the AAC, due to UCF being a contender.
These conferences have the biggest and best CFB teams and the schools that vie for the National Championship and Bowl games.
This past weekend the Conference Championship games were played.
These are the results.

__________________________

Big 12
Location: AT&T Stadium, Arlington, Texas
Oklahoma 39 – Texas 27
Quarterback and Heisman hopeful, Kyler Murray led his team to victory over the Texas, Longhorns.
This was the second match-up for these two teams this season. Texas had handed Oklahoma their only loss during the regular season. It was revenge time for the Sooners.
Oklahoma's defense has been for the most part non-existent the last four games allowing more than 40 points per game. This game was different, the defense stepped up, they even got a "safety" for two points and the ball kicked back to them.
Back to Kyler Murray, he was 25-34 with 349 yards passing, averaging 11.1 yards per pass!
Texas did not help themselves as they had major penalty problems as they lost 128 yards in 13 penalties.
Next up
Oklahoma will play in the CFP Semi-final in the Orange Bowl against Alabama at Hard Rock Stadium, Miami Gardens, Florida – Dec. 29 at 8 pm ET
Texas will play in the Sugar Bowl against Georgia at Mercedes-Benz Super Dome, New Orleans, Louisiana – Jan. 1, 2019 at 8:45 pm ET
Pac-12
Location: Levi's Stadium, Santa Clara, California
Washington 10 – Utah 3
This was a fan of strong defense's dream game! The Huskies defense scored the game-winning touchdown, the only touchdown in the game!
The Huskies had come into this season with high hopes and high expectations. They were deflated first game against Auburn, the wind was gone from their sails.
These stingy defenses played tough, physical football.
The Ute's allowed 306 total yards while the Huskies allowed only 188 total yards of offense.
The Ute's turned the ball over 3 times, all interceptions with one leading to the Huskies only touchdown. Also, Utah was on the field only 21:28 minutes during the 60-minute game. Washington's defense proved who was the toughest.
Next up
Washington will play in the Rose Bowl against Ohio State at the Rose Bowl in Pasadena, California - Jan. 1 2019 at 5 pm ET
Utah will play in the San Diego Credit Union Holiday Bowl against Northwestern at the SDCCU Stadium, San Diego, California – Dec 31 at 7 pm ET
SEC (South Eastern Conference)
Location: Mercedes-Benz Stadium, Atlanta, Georgia
Alabama 35 – Georgia 28
These two teams never disappoint. This was a rematch of last years CFP Championship game that ended with Alabama winning in overtime.
Last years game saw Tua Tagovailoa come in for Jalen Hurts the second half and save the day for Bama. This year it was deja vu in reverse. Jalen Hurts came into the game the 3rd quarter and saved the game for injured Tua Tagovailoa.
Georgia came into this game hoping to revenge last years CFP Championship loss. The Bulldogs had a strong game-plan and executed it well. Georgia's quarterback, Jake Fromm threw for 301 yards and 3 touchdowns. Georgia went into the half leading 21-14.
The one play I would bet the Bulldog's coach, Kirby Smart wishes he had back, was a fake punt in the 4th quarter. The play only gained 2 yards and the Tide with Jalen Hurts at the helm, took over from there, scoring one more touchdown to secure the win for the Tide.
Next up
Alabama will play in the CFP Semi-final against Oklahoma in the Orange Bowl at Hard Rock Stadium, Miami Gardens, Florida – Dec. 29 at 8 pm ET
Georgia will play in the Sugar Bowl against Texas at Mercedes-Benz Super Dome, New Orleans, Louisiana – Jan. 1, 2019 at 8:45 pm ET
ACC (Atlantic Coast Conference)
Location: Bank of America Stadium, Charlotte, North Carolina
Clemson 42 – Pittsburgh 10
This game was never in doubt and Clemson was never in trouble. The Tigers drummed Pittsburgh to win their 4th straight ACC Championship.
The Tigers went into this game as an over 27 point favorite over the Panthers.
This game was played on a rain-drenched field that proved to be detrimental for the Panthers as they turned the ball over 3 times on the wet field.
The Panthers were held to only 8 yards passing and 192 yards rushing, while the Tigers amassed 301 yards rushing and 118 yards passing.
Up next
Clemson will play in the CFP Semi-final against Notre Dame in the Cotton Bowl in AT&T Stadium, Arlington, Texas – Dec. 30 at 4 pm ET
Pittsburgh will play in the Hyundai Sun Bowl against Stanford at the Sun Bowl Stadium, El Paso, Texas – Dec. 31 at 2 pm ET
Big10
Lucas Oil Stadium, Indianapolis, Indianapolis
Ohio State 45 – Northwestern 24
The Buckeye's dominated the first half and went into half-time up 24-7. Another Heisman hopeful, Ohio State Quarterback, Dwayne Haskins had a stellar performance with 499 passing yards with 5 touchdowns and a total of 607 yards offensive yards.
The defenses of both teams played well and forced 5 turnovers between the teams.
Ohio State also suffered 90 lost yards in 9 penalties.
Northwestern was able to only hold the ball for 24 minutes out the 60-minute game but was able to put up 418 yards total offense against the Bucks defense.
Next up
Ohio State will play in the Rose Bowl against Washington at the Rose Bowl, Pasadena, California – Jan. 1, 2019 at 5 pm ET
Northwestern will play in the San Diego Credit Union Holiday Bowl against Utah at the SDCCU Stadium, San Diego, California – Dec 31 at 7 pm ET
AAC (American Athletic Conference)
Spectrum Stadium, Orlando, Florida
UCF 56 – Memphis 41
I add this conference championship out of respect for the two great teams playing in it.
The AAC is not considered among the elite "power 5" conferences, but if these two teams have a say in it, it may become the "power 6".
Coming into this Conference Championship game, both teams had stellar seasons as UCF was undefeated and Memphis had maintained a terrific 8 games wins.
The University of Central Florida Knights now has an impressive 25 game winning streak.
The Memphis Tigers led going into the half 38-21 with hopes of avenging their regular season loss to the Knights, but that was not to be. The Tigers scored on their first 5 possessions that built a substantial lead, but could not hold on to it.
These two teams put up some impressive offensive stats with UCF having 698 total offensive yards and Memphis gaining 583 total.
UCF had to come from behind and win this game and without their star quarterback, McKenzie Milton who has suffered a horrific knee injury.
Up next
UCF will play in the Fiesta Bowl against LSU at the State Farm Stadium, Glendale Arizona – Jan. 1, 2018 at 1 pm ET
Memphis will play in the Jared Birmingham Bowl against Wake Forest at Legion Field, Birmingham, Alabama – Dec. 22 at Noon ET
Other conference championship game scores:
MAC
NIU 30 – Buffalo 29
Sun Belt
App State 30 – Louisiana 19
C-USA
UAB 27 – Middle Tennessee 25
SWAC
Alcorn State 37 – Southern 28
MW C
Fresno State 19 – Boise State 16 in OT
That's it folks for the Conference Championship games and which teams will be playing in the Bowl season and where.

Stay tuned for more exciting NCAA Football News!
Mama