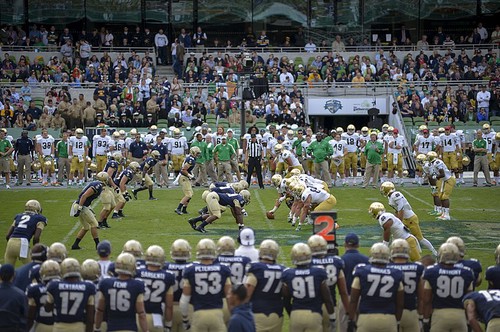 This was a rather quiet Top Ten weekend for NCAA Football. There were four teams with bye-weeks and two teams that played each other.

The games that were played were very exciting! Who all watched the Georgia/Florida game? That was a hard-hitting SEC game with these two powerhouses playing each other.

Clemson and Oklahoma blew out their opponents while Texas got beat. Notre Dame kept a steady undefeated course.
The Top Ten

#1
Alabama did not play – Bye week
Alabama will travel to Death Valley to play LSU on 11/3/18 at 7 pm
#2
Clemson 59 – Florida State 10 The 17.0 spread was covered
Regular Season ACC Match-up
Unfortunately for Florida State, this was a game of broken records. This was the first time another ACC team had beat the Seminoles in Tallahassee four years straight. This was the most lopsided defeat in FSU history breaking the Southern Miss beat-down of 58-14 in 1981. This was also the most points the Seminoles had ever allowed in their own stadium. The Seminoles were demoralized, Coach Willie Taggart felt like his Noles had quit on the game. I have to agree. They had three players ejected, one due to targeting and two others for hitting Clemson players. Florida State lost their composure and showed a lack of discipline in this game.
On the other side of the ball, Clemson could do no wrong. The Tigers were able to gain 524 yards with 404 yards coming in the air and 120 on the ground. Clemson earned 25 first down and was penalized only 5 times for 50 yards. Florida State found themselves penalized 16 times for a total of 134 yards. Clemson defense was able to hold the Seminoles to -21 yards rushing.
The Tigers looked like a National Championship caliber team on Saturday. They are well on their way to the NCAA Football Playoffs.
Clemson welcomes Louisville on 11/3/18 at 11 am
#3
Notre Dame 44 – Navy 22 The 23.5 spread was not covered
Regular Season Match-up
Notre Dame's offense fumbled on the first play from scrimmage. No problem, the defense held Navy to its first three-and-out. The Fighting Irish didn't look back after they got the ball back, scoring on their next four of five possessions!
Notre Dame and Navy played this game in San Diego for the first time ever. This was a home game for the Midshipmen but they decided to play this game in San Diego. This port city is home to over 35,000 sailors and marines. It gave a great opportunity for other members of the USN to attend the game and not just the potential officers at Annapolis.
Notre Dame showed their power by gaining 584 total yards with a fairly even run/pass game. Both teams turned the ball over twice with one interception and one fumble each.
The Fighting Irish look ready to fight for a spot among the chosen four for the playoff. They are undefeated so far this season. Their strength and skill are shining!
Notre Dame travels to Northwestern on 11/3/18 at 6:15 pm
#4
LSU did not play – Bye week
LSU welcomes Alabama on 11/3/18 at 7 pm
#5
Michigan did not play – Bye week
Michigan welcomes Penn State on 11/3/18 at 2:45 pm
#6
Texas 35– Oklahoma State 38 The 3.5 spread was not met as Texas lost the game
Regular Season Big-12 Match-up
The Texas Longhorns run for the top-four was cut short of that goal as Oklahoma State dealt them their second defeat of this season. The Longhorns went into the half down 31-14. Quarterback, Sam Ehlinger, recovering from a shoulder injury had a difficult first half but was able to come out the second half and help his team pull within 3 of the Cowboys. The Longhorns had too big a hole to come out of. Even though they outscored the Cowboys by 14 points in the last half, it was just too big a deficit to recover.
The Cowboys were able to outgain the Longhorns by 100 total yards with Oklahoma State gaining 502 yards to Texas' 402. OK. St. also held onto the ball for 34.28 minutes keeping the Texas offense off the field.
Texas lost their run for the playoffs this season by losing their second game of the season.
Texas travels to West Virginia on 11/3/18 at 2:30 pm
#7
Georgia 36 – Florida 17 The 7.0 spread was covered
Regular Season SEC Match-up
The Largest Outdoor Cocktail Party in the World is how the game is billed every year. Playing on a neutral site in Jacksonville, Florida the Georgia Bulldogs and the Florida Gators duke it out every year in this venue. Two power-house teams met on Saturday, but it was Georgia that came away the decisive victor this season.
Turnovers were the Gator's biggest obstacle in this game. They turned the ball over three times with two fumbles lost and one interception. In the meanwhile, Georgia quarterback, Jake Fromm hushed the speculation of being replaced by passing for three touchdowns.
This game was hyped to be a "slobber-knocker" and it lived up to its billing. This was an exciting hard-fought game by two power-house SEC East teams.
With only one loss the Bulldogs will look for a place in the four-team playoff if they are able to win out their season.
Georgia travels to Kentucky on 11/3/18 at 2:30 pm
#8
Oklahoma 51 – Kansas State 14 The 25.0 spread was covered
Regular Season Big 12 Match-up
What a performance by Heisman hopeful, Kyler Murray! The Sooner's offensive showing was phenomenal with a total of 702 yards and only one punt in the game!
Kansas State stand out running back, Alex Barnes was held to only 28 yards on 14 carries. The Sooners defense held the Wildcats to 245 yards, the Sooners defense has struggled this year, this was the lowest amount of yards they have allowed. They are seeing improvements under Interim Defensive Coordinator, Ruffin McNeill. Since Coach McNeill has taken the helm the difference has been evident. The defense is playing as a cohesive unit.
The Sooners offense amassed a grand total of 702 yards in 32 first downs. They had a balanced attack with 380 yards passing and 322 yards rushing. They did not lose the ball one time during this game.
Oklahoma travels to Texas Tech on 11/3/18 at 7 pm
#9 Florida 17 – Georgia 36 Georgia did cover the 7.0 spread
Regular Season SEC Match-up

Since I have already covered this game here are a few stats.

First-downs: Florida 16 – Georgia 20
Total Yards: Florida 279 – Georgia 429
Penalties: Florida 7-27 – Georgia 4-53
Turnovers: Florida 3 – Georgia 0------ the biggest difference in the game
Time of possession: Florida 28.36 – Georgia 31.24
Florida will drop from the Top Ten but Georgia has only a small space to move up with three undefeated teams ahead of them.
Florida welcomes Missouri for Homecoming on 11/3/18 at 3 pm
#10
UCF did not play – Bye week
UCF welcomes Temple on Thursday 11/1/18 at 6:30 pm
Next week we will see more action as #1 Alabama and #4 LSU play in Baton Rouge. This should be a great game along with Michigan taking on Penn State and Georgia playing Kentucky.

So, until next week,

Mama