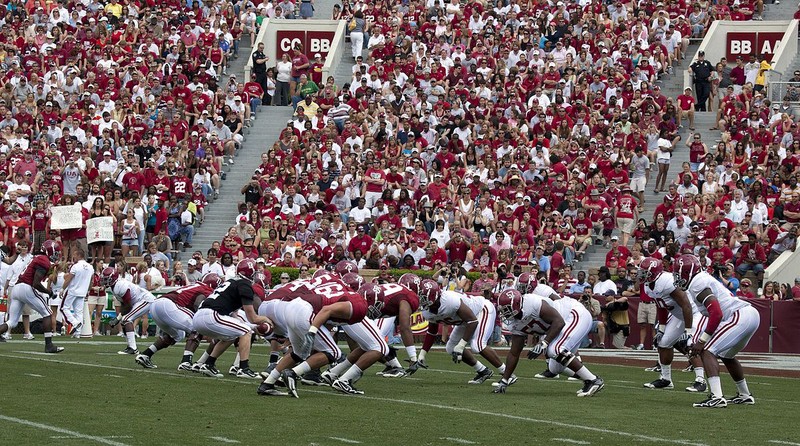 Rivalry Week! This is the week anything is possible. Anything can happen and did!
I would not have ever dreamed the LSU/TAMU score or Ohio State/Michigan score.
Looking forward until Tuesday night to see where everyone lands on the College Football Playoff poll.
Next week will bring us Conference Championship Week. Again, anything is possible.
The Top Ten
#1
Alabama 52 – Auburn 21 --- The 24.5 point spread was covered
Rivalry Game
The Iron Bowl! If you live in Alabama you grow up either an Alabama fan or an Auburn fan. Usually, it is declared for you at birth by your family. We dress our babies in our team's gear. The fans pretty much hate each other (one day a year) and 365 days of merciless bragging rights are what's at stake. Now, to the game.
The Tide started slow and didn't seem to be able to get a whole lot going in the first half. So, they went into half-time with a score of 17-14. Way too close for comfort.
The 3rd quarter Bama scored 3 touchdowns for 21 points to Auburn's 7 points. Tua came out hot in the 3rd quarter, it was like he could do no wrong.
The 4th quarter brought the Tide 14 unanswered points! Auburn was completely shut down in the 4th.
It was good to see both teams shaking hands and hugging each other after the game. A lot of respect was shown by both teams to their opponents. Way to keep it classy guys!
Alabama will play #5 Georgia for the SEC Championship on Saturday, December 1, at 3:00 pm
#2
Clemson 56 – South Carolina 35 ---The 26.5 spread was not covered
Rivalry Game
Another in-state bragging rights game. These are always hard-fought games. Every yard is worked for.
Clemson's offense showed out, 744 total yards of offense! But, South Carolina's offense was no joke either, racking up 600 total yards of their own. This was the second most yardage Clemson's defense has allowed.
Clemson was able to score two touchdowns in each quarter. They were consistent.
The 6-4 Gamecocks of South Carolina scored more points on the mighty Clemson defense than anyone else this season. Defensive Coordinator Brent Venables said he was embarrassed by the Tiger defense in this game. TAMU had put up 26 points on them in their second game of the season.
I think Coach Venables and Coach Swinney had better work on their defense before going into the CFP.
Clemson plays Pitt for the ACC Championship on Saturday, December 1 at 7:00 pm
#3
Notre Dame 24 – USC 17 --- The 11 spread was not covered
Rivalry Game
Across the country rivalry that dates back to December 1926. The Irish won that game by a score of 13-12 and the rivalry was on. In their storied history, each team has games that knocked the other out of National Championship contention.
This game was no different in its expectations and the desire to conquer their opponent.
Even tho' the Trojans came into this game 5-6 and 11 point underdogs, they played hard and was able to keep the game within one touchdown. You see, USC came out and put up 10 points on Notre Dame, who had been unable to score at that time. 10-0 was not what the Irish were used to seeing on the scoreboard. The Trojans were on fire! They went into half-time with the score 10-7 Trojans.
Something happened during the half. The Irish came out a different team. Determined to win and not lose their undefeated season. They were able to out-score USC 17-7 in the second half to win the game, remain undefeated and secure a spot in the CFP.
Notre Dame plays as an Independent. They end their season a perfect 12-0.

#4
Michigan 39 – Ohio State 62 --- The 4.5 spread was not covered as Ohio State won the game.
Rivalry Game
Next door neighbors and front-runners in the Big10 Conference rivals. This game would decide who would play in the Big10 Conference Championship game. Both teams came into this game 10-1. Michigan was predicted to win, but in these rivalry games, you never know what might happen.
This game was huge! Ohio State was playing at home, ESPN Game-Day Show was broadcasting from there, the feeling was electric!
The Buckeyes set a record, the most points scored against Michigan EVER.
Michigan came into this game with their only loss coming early in the season to Notre Dame, not a bad team to lose to. Coach Jim Harbaugh has been beaten 4 times now by the Buckeyes. If you are a Wolverine fan and/or alumni that is hard to swallow. He may be feeling the hot-seat after this season.
Statistically, these teams were pretty close. I'll speak more about that in Ohio State's write-up below.
Michigan will have to wait on the Bowl Committee to see if they get into a New Years Six Bowl game.

#5
Georgia 45 – Georgia Tech 21---- The 17.0 spread was covered
Rivalry Game
Another in-state rivalry. They call this game, "Clean Old-Fashioned Hate". Lol, I suppose that is a good name for it. However, sadly for Georgia Tech fans, this game was over before half-time.
Georgia's defense held the Ramblin' Wreck to only 128 yards rushing, their average was 354 yards coming into this game.
When you look at the stats you see this was a very lopsided game. Georgia was totally dominating throughout this game. They punted only one time in the 4th quarter, they were getting everyone playing time and about the 6th string had to punt.
Georgia is obviously a force to be reckoned with and one that Tech just cannot stand up to this year. Coach Smart and his genius recruiting skills have proven to give Georgia an upper hand in almost every game they play in. Georgia scored 14 points in the 1st quarter, 24 points in the 2nd, and 7 in the 3rd. In the meantime, Tech was able to score only 7 points in the first half, they were able to cross the goal line twice in the 4th against the Bulldogs backup players.
Georgia plays Alabama for the SEC Championship on Saturday, December 1 at 3:00 pm
#6
Oklahoma 59 – West Virginia 56 --- The 2.5 spread was covered
Regular Season Big 12 Match-up
Not a true rivalry game other than they have only been in the same conference since 2012 when West Virginia joined the Big 12.
Again, I ask myself, "does the Big 12 not recruit defensive players, do they not have any good Defensive Coordinators, at all"? It's a good thing this game's spread was only 2.5, these two teams played "get the ball and score". So, whoever is on offense scores and then kicks to the other team. Except for The Sooners defense scoring twice!
It was fun to watch "Heisman hopeful", Kyler Murray. He is a fantastic quarterback for the Sooners. Murray threw 27 times with 20 completions for 364 yards.

Not to be out-done the Mountaineers quarterback, Will Grier put up some amazing stats himself with 539 passing yards and 4 touchdowns! The Mountaineers problem was with turnovers, fumbling twice and allowed the Sooners defense to score on both.
Oklahoma plays Texas for the Big 12 Conference Championship on Saturday, Dec.1 at 11:00 am. This is a rematch. Texas gave Oklahoma their only loss on Oct. 6 with a score of 48-45.
# 7
LSU 72 – Texas A&M 74 ---- The 3.0 spread was not covered as TAMU won the game
Rivalry Game
Louisiana and Texas share a border, they share a lot of recruits and they share a love for football. All tho' this is a fairly new rivalry, it has become a big one! TAMU joined the SEC in 2012.
If you look at the score, you will probably think there was no defense played in this game, but the answer is, they played an SEC record-setting 7 Overtimes!
At the end of regulation play, these two teams were tied up at 31 points each. LSU scored 41 points in 7 OT's, while TAMU scored 43 and won the game.
There was a very controversial call at the end of the game with one second added back onto the clock. I believe it was wrong and it shouldn't have been added, but that's just my opinion.
Had the second not been added back onto the clock after it had ticked down to 0 when TAMU spiked the football, they would have tied again and gone into another over-time. I think the refs were ready to go home.
LSU will wait for the Bowl Selection Committee Invitation, with three losses, it probably won't be on New Years Day.
Washington State 15 – Washington 28 --- The 3.0 spread was not covered as Washington won the game.
Rivalry Game
In State Hate! They call this game the "Apple Cup". This year it was the Washington Huskies that upset the Apple Cup for the Washington State Cougars.
This game was played on a snow-covered field that was beautiful to see but hard to play on.
The Huskies defense was able to hold the Cougars to only 85 rushing yards. Both teams had three turnovers in the messy snow. The Cougars threw for two interceptions that stopped two drives.
Myles Gaskin was the stand-out for Washington gaining 170 yards on the ground.
Washington State was the last hope for the CFP, with this loss the Pac-12 will not see a team in the playoff yet again.
Anyone who has read my past blogs may remember that I had predicted Washington to make it to the CFP this year. That didn't happen, but they made sure that Washington State didn't make it either.
Washington State will wait for the Bowl Selection Committee
#9
UCF (Central Florida) 38 – USF (South Florida) 10 --- The 14.0 spread was covered
Rivalry Game
Known as the "War on I-4". Interstate 4 goes thru' both Orlando and Tampa, so the name fits! These two teams are only a little over 83 miles apart. They compete for everything, recruits, coaches, staff, and money.
Central Florida finished this regular season 11-0 and the Nation's longest winning streak of 24 wins in the past two years. This is their second year to go undefeated.
South Florida ended their season with a 5 game losing streak. Not good.
So this game was a rout. South Florida just couldn't get their team jump started.
The biggest and most sad thing to happen in this game was Central Florida's quarterback, McKenzie Milton suffering a devastating knee injury. He underwent surgery yesterday and is now recuperating is all we know at this time. We do know the knee was dislocated. I was watching the game on TV and saw this injury as it happened. Let me tell you, as a person who has had two previous knee surgeries, my stomach lurched when I saw the direction his lower leg was pointing. Sickening. My heart breaks for this young man.
But, with all that, UCF rallied around winning for Milton and defeated USF without any trouble at all.
UCF will play Memphis in the AAC (American Athletic Conference) Championship on Saturday, Dec.1 at 2:30 pm
#10
Ohio State 62 – Michigan 39---- The 4.5 spread was not covered as Ohio State won the game
Rivalry Game
Since we have discussed this game, here are some of the game stats.
First Downs – Michigan 28 ------ Ohio State 28
Total yards – Michigan 401 ----- Ohio State 567
Passing - Michigan 240 ------ Ohio State 396
Rushing - Michigan 161 ------ Ohio State 171
Penalties - Michigan 7-72 ----- Ohio State 12-150
Turnovers - Michigan 2 ------ Ohio State 1
Possession - Michigan 35:24 ---- Ohio State 24:36
(source) ESPN
Did you see the Ohio State penalties? Personally, I've never seen a team be tagged for 150 yards in penalties score 62 points and win the game. Was this some sort of record?
Ohio State will play Northwestern for the Big10 Championship on Saturday, Dec. 1 at 7:00 pm
That's it for week #13
All that's left is the Conference Championships before the bowls begin with the Christmas/New Years holidays. It appears the Pac-12 is out of CFP hopefuls and it may be that the Big10 doesn't have a team in hunt either.
Rivalries are tough and teams live to destroy their rivals season. It's fun for the winning teams and their fans, devastating if your on the losing end.
Until next week,
Mama