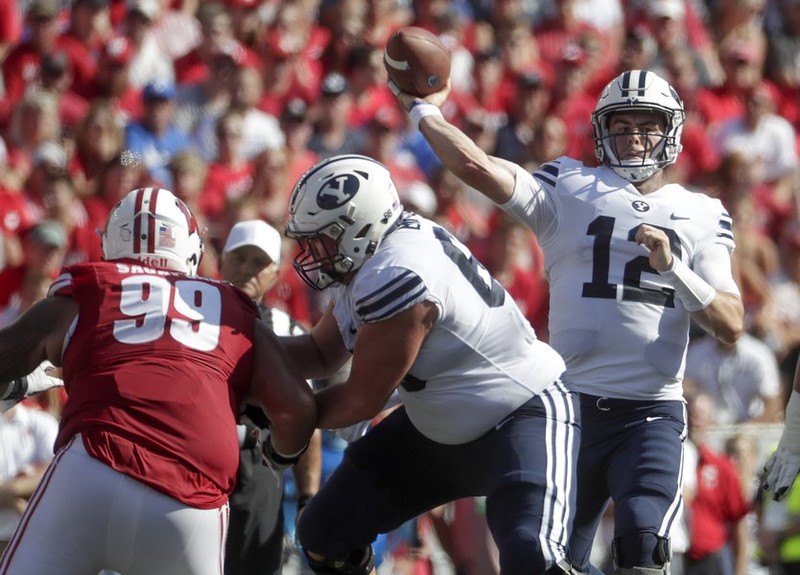 For those of you who have Direct TV, you know that when you record a sports game, it always asks if you want to record an extra 30 minutes…just in case. Well I am so glad I took my little black box's advice, otherwise I would have missed a thrilling ending to what would wind up being one of my favorite games of all time.
My College Years
Let's rewind the proverbial clock and take you to back in time, to January of 2001. I was following in the footsteps of my father, two of my brothers, and my sister, and would attend Brigham Young University (BYU Cougars) where football greats Gifford Nielsen, Marc Wilson, Jim McMahon, Steve Young and Heisman Winner Ty Detmer, who all happened to be quarterbacks, played. I wasn't pressure into it, in fact I hadn't really planned on going there, but as my Associates Degree at my Community College was all but in my hands, one of my best friends asked me if I wanted to take his spot in a condo with two of my other friends, and attend BYU, because he was getting married. I thought about it for a while and said why not.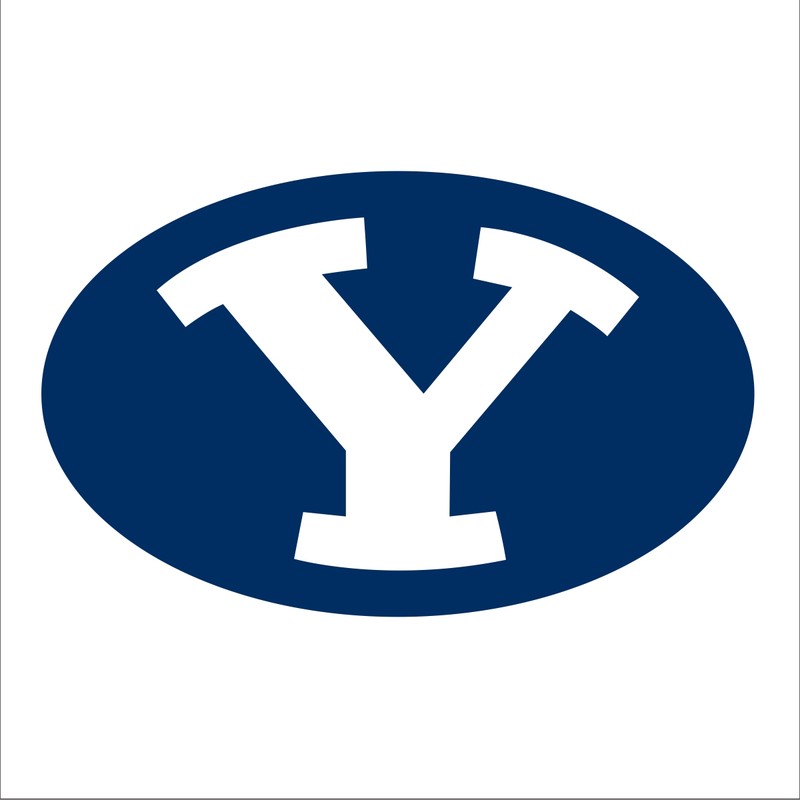 My first couple of years of my 3.5 years at BYU I didn't attend many sporting events, I was to into my other hobbies, like chasing girls, rock climbing, and bowling. But my last two years the 2003 and 2004 seasons, were incredible. We would walk to the Stadium and watch the Cougars battle it out at LaVell Edwards Stadium, in Provo, Utah. A capacity of 63,725, but always sounded like it was over 100k screaming fans. They won some, they lost some, and I got to see Alex Smith dismantle my BYU Cougars defense a few times. Alex would then get drafted by my favorite team the 49ers in 2005.
Post College Years
For the past 14 years since I graduated from BYU, I have always followed my team. They had a lot of decent years, sometimes even making into the top 25 for a time. There were also some pretty spectacular games to watch, but one of my favorite and most memorable games to watch was the game they just played against the number 6th ranked 2-0 team Wisconsin Badgers. BYU was playing a team that beat them 40 to 6 a year before. In that game the Wisconsin QB Alex Hornibrook was 18/19 for 256 yards and 4 TDs. Jonathan Taylor had 18 carries, 128 yards and a TD. Coming into this year Jonathan Taylor after 2 games is a top contender for the Heisman Trophy. BYU's QB Beau Hoge went 11/20 for 111 yards and 2 INTs. And this was at BYU Stadium.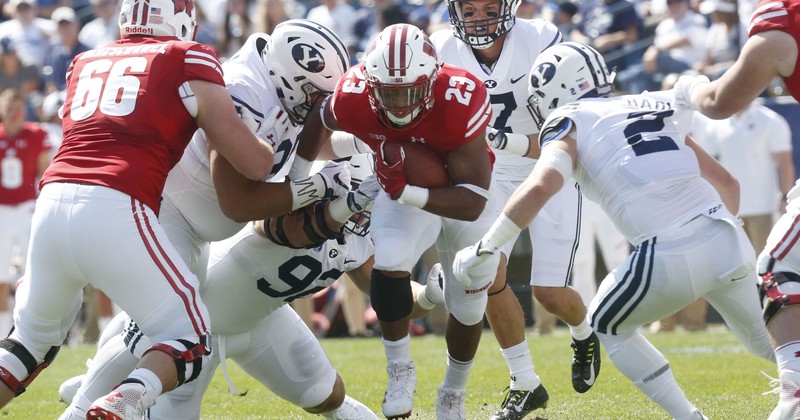 BYU was coming into this game with a 1-1 record and a disappointing defeat to the Cal Bears the previous week. They looked okay, but still Wisconsin was the heavy favorite. I read one place that had The Pick Wisconsin (-21.5). I will admit I have no idea what that means in sports betting terms, but it didn't look great for the BYU Cougars.
Game Time
Finally it was game time, I set my Direct TV DVR to record the game, knowing I had to step away from the house for several hours and would miss the game. I was able to watch the first quarter live though.
1st Quarter
BYU would win the toss and defer, meaning Wisconsin would start the game with the ball and BYU would get the ball to start the 2nd half. After kicking off, it was time to see this #6 Wisconsin team's offense go to work. To my surprise the Defense of BYU was pretty stout, and held them to a 3 and out. What? That is unusual, but better not get my hopes up.
BYU would receive the punt deep in their territory at the 5-yard line. The first play had a brilliant run from one of their running backs Aleva Hifo, who managed 12 yards. They would eventually have to punt the ball after 3 more plays.
Wisconsin would begin their second drive with excellent field position, beginning on their own 43-yard line. Taylor would go on to run for 29 total yards that drive and with a 27 yard pass to Jake Ferguson, would set the Badgers up for a few goal line plays where their running back Taiwan Deal would score a Touchdown, and make the extra point.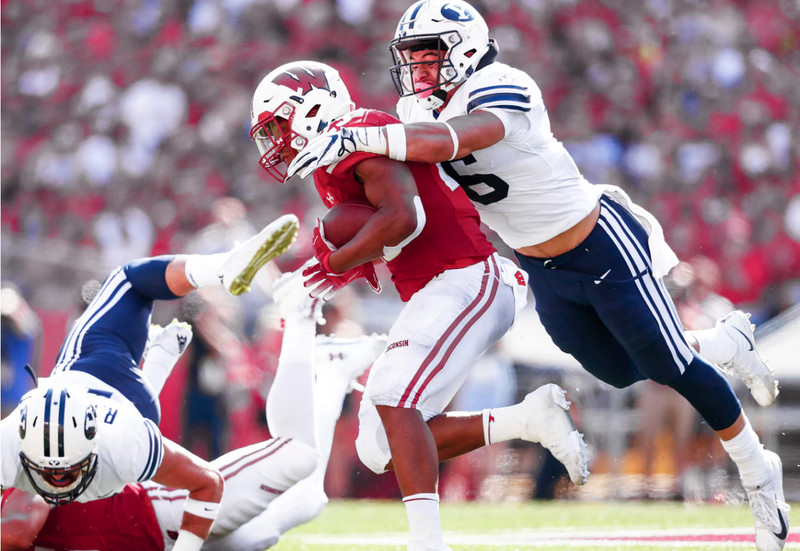 Score
Wisconsin – 7
BYU – 0
BYU would then start the ball at their 25-yard line, for their second drive of the game. After a short pass for 3 yards to Aleva Hifo, Squally Canada one of their running backs and featured back, would pull off an incredible 44 yard run getting them to the Wisconsin 28 yard line. BYU would eventually run the ball in for a Touchdown, and they would make their extra point. Oh wow, this game is getting interesting I thought, but there is so much time left. Let's see what happens.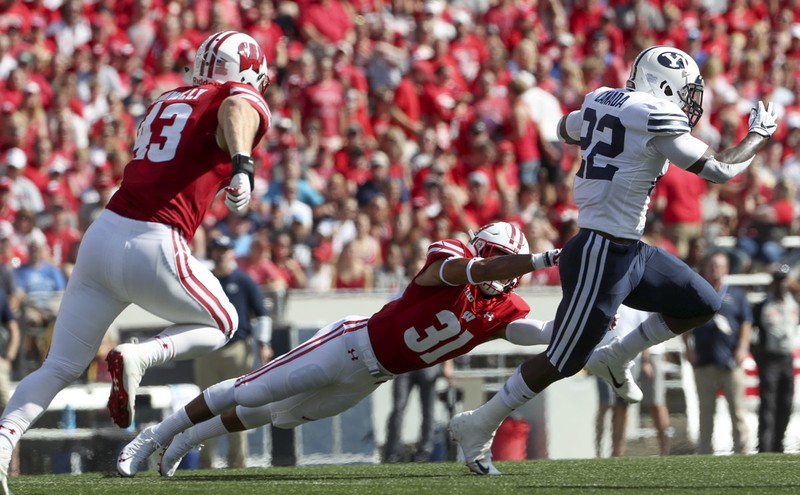 Score
Wisconsin – 7
BYU – 7
It was at this point that I had to leave and attend to my commitments. I was excited to get home and finish watching the game. I purposely didn't look at my phone or listen to news or talk to anyone that might give away the ending to the game. Finally I was back home, made some dinner and settled in to watch the rest of the game.
Wisconsin's next drive would go 4 plays and 24 yards resulting in a punt. Whoa look at that BYU Defense go.
The BYU would start with the ball after the punt on their 16-yard line. The next drive would go 10 plays, 89 yards and would also start the 2nd quarter.
2nd Quarter
BYU would score and amazing Touchdown pass, beginning with Tanner Mangum their QB throwing a backward pass to the running back Aleva Hifo, which totally confused the Badgers Defense, which left Moroni Laulu-Pututau wide open for a pass from the running back Hifo, and he nailed the pass and the ball was caught for a TD. WOW!!! What an incredible trick-play, and wait, what is this? The BYU Cougars are up.
Score
Wisconsin – 7
BYU – 14
Wisconsin would get the ball and manage 7 plays and 29 yards but ultimately would have to Punt.
BYU would receive the ball and start on their 20-yard line. After some great runs and a 19-yard run by Hifo, that set BYU up for a 52-yard field goal. Skyler Southam, the kicker, gets the ball, the position is perfect, the kick goes up, has the distance, but wide to the right…missed. Now Wisconsin would have the ball with great field position.
Wisconsin starts on their 35-yard line. They would go 10 plays and 65 yards ultimately scoring a TD to close out the half.
Score at Half Time
Wisconsin – 14
BYU – 14
Woah this game is super exciting; who would have thought the Cougars had it in them. Still plenty of game left to play. By the way I feel I should mention that in @mikey's competition he is doing each week; I actually picked Wisconsin to beat my BYU Cougars. Why did even touch the game? Why didn't I pick another game? I don't know, I was just excited to see BYU competing against a highly ranked team, but wasn't sure they could win. Lame I know…lol
3rd quarter
BYU would receive the ball but only get 3 yards and wind up punting the pall.
Wisconsin would start their drive at their 26-yard line. Taylor would run for 3 yards. Then Taylor would run for 4 yards. Man this player can run. Then Hornibrook the QB would throw the ball, and what is this?? It is INTERCEPTED! Zayne Anderson has an incredible defensive play intercepts the ball and runs for 12 yards.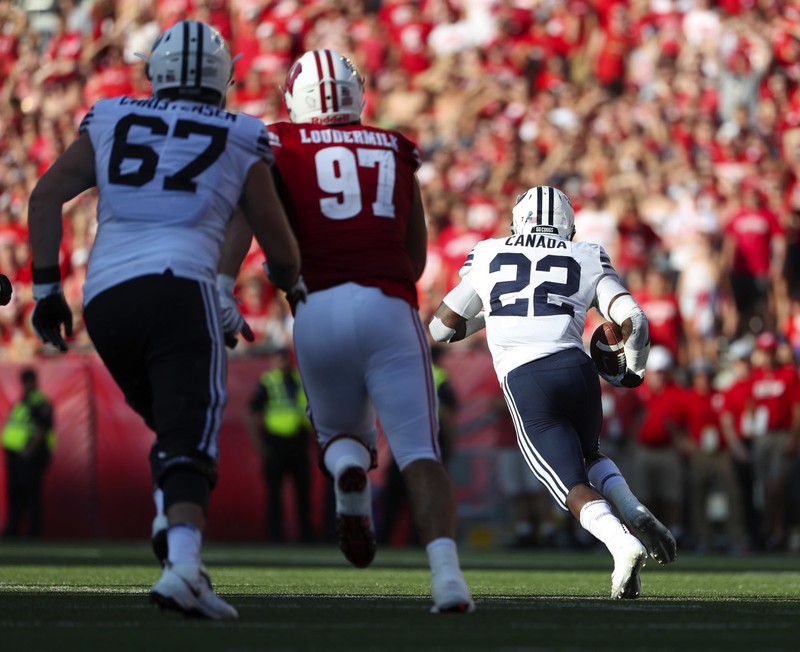 BYU would start at the Wisconsin 22-yard line. They would wind up scoring a TD with none other then their running back Squally Canada. That is a cool nickname isn't it? The 5'11 209lb running back's real name is Bryant Canada. The extra point is made and the Cougars go up a TD.
Score
Wisconsin – 14
BYU – 21
Wisconsin would start at their 24-yard line. They would go 11 plays and 39 yards. Taylor wasn't much of a factor in this drive, but the big story with this drive is Wisconsin goes for it on 4th down and 1 and the offense has a false start, pushing them back 5 yards. They still go for it and are stopped! Not what I was expecting and I am pretty sure the Wisconsin fans weren't expecting this either.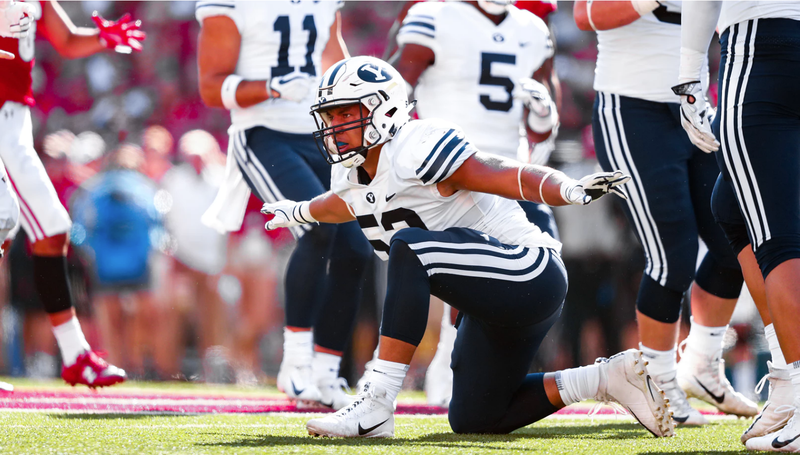 BYU would get the ball on the turn over on downs, but would manage -1 yard and have to punt. It's okay they were ahead by a touchdown.
After the punt the Wisconsin Badgers would begin their drive on their 18-yard line. They would mount a 10-play 82-yard drive, with a massive 31-yard run by Garrett Groshek. Taylor had 26 rushing yards as well during the drive. The result was a 5-yard TD run by Taiwan Deal. Oh my, this game is getting intense, such an exciting game.
4th Quarter
Score
Wisconsin - 21
BYU – 21
BYU would begin the ball on the own 25-yard line. On first down Squally Canada pulls off a 46 yard run! Taking them to the 29-yard line of Wisconsin. BYU can't do much after that, and wind up settling for a field goal try. The snap is good, the hold is good, Southam kicks the ball, and and and the 45 yard field goal is GOOD!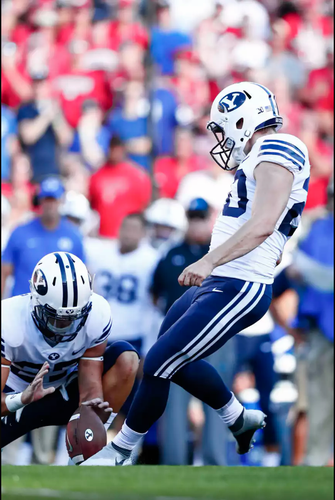 Score
Wisconsin – 21
BYU – 24
Wow, at this point, I am like they just might do it! My Cougars just might upset the #6 Badgers.
Wisconsin would receive the ball and get stopped in there tracks and have to punt after 5 plays and only 10 yards.
BYU would then get the ball back. Could they drive the ball and score sealing the deal? They would drive the ball 5 plays and only get 14 yards, ending in a disappointing punt.
Wisconsin would begin with the ball on 8-yard line after an amazing 50-yard punt by Rhett Almond. Still lots of time left. It is at this point I look at the timer on my DVR; it very well could end the recording before the game was over. Oh crap, why didn't I think to add an additional 30 minutes on top of the suggested 30 minutes that I already added? LOL.
Wisconsin on a series of great plays would drive the ball 11 plays and 68 yards to their 24-yard line. But BYU's defense is tough and stops them, 4th and 8. It will have to be a 42-yard field goal attempt by the veteran kicker Rafael Gaglianone. It is almost a gimme, a chip shot for this guy. I look at my timer, 10 minutes left. Oh darn, this game will get tied and then go into overtime, and I won't get to see the end!!! Stupid.
BYU's head coach calls a time out to "ice" the kicker.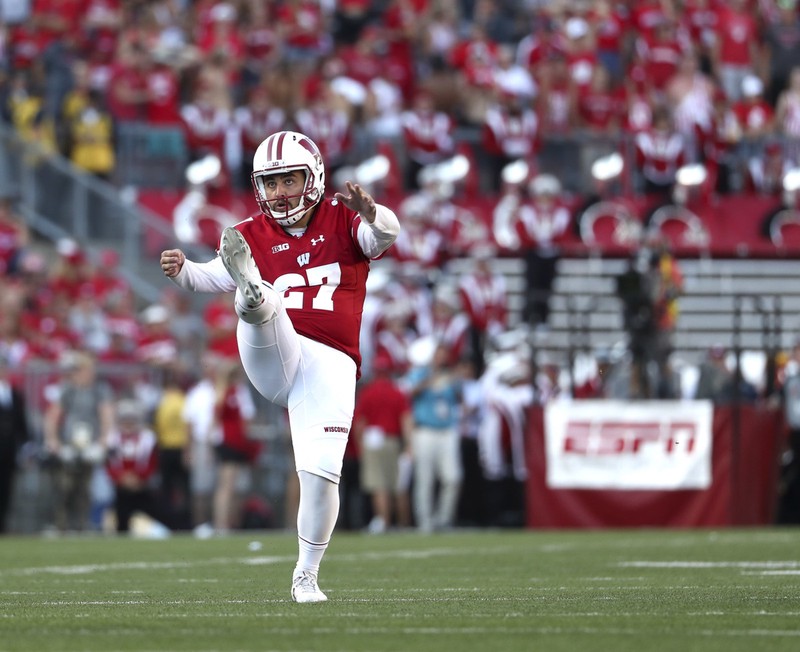 Now it is time for the kick, will BYU's coach call their last timeout? No, he lets the play unfold. The snap is good, the hold is good, and the kick is is is NO GOOD!! NO GOOD!! BYU has WON the GAME!!! Holy cow. I was so excited!!
Final Score
Wisconsin – 21
BYU – 24
Stats:
Wisconsin
Alex Hornibrook - 18/28, 190 yards, 1 INT
Jonathan Taylor - 26 Carries 117 yards
394 total yards offense
BYU
Tanner Mangum – 12/22 89 yards
Squally Canada – 11 carries 118 yards 2 TDs
311 total yards offense
Sione Takitaki 13 total tackles with 1 sack
Watch the game highlights here:
There you have it my friends, one of my favorite games of late. The day my BYU Cougars upset the #6 ranked Wisconsin Badgers.
Your Scorum friend,
Matt aka @bayareasportsfan