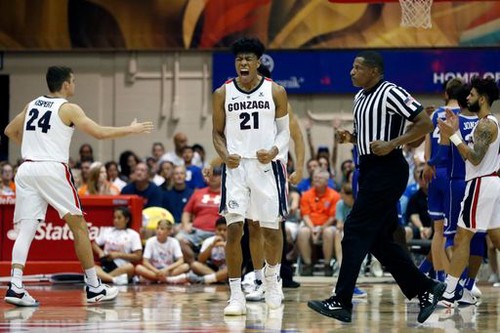 Thanksgiving came a day early to everyone who hates Duke when the No. 3 ranked Gonzaga Bulldogs put an early end to their undefeated campaign. There were many people who believed the Blue Devils wouldn't lose a game this season, with Jay Williams even arguing that they can beat the Cavs due to their incredibly talented freshmen class which features three projected Top-5 Draft picks (Williams has been met with harsh criticism for this). Gonzaga came out hot and energized in the first half grabbing an eight-point lead at the break, and finished the game strong despite a dramatic comeback by Duke. The contest ended with the Zags on top 89-87, winning the Maui Jim Maui Invitational and improving to 6-0.
The game was incredibly fun to watch and lived up to its hype, and there are three things that everyone can take away from this possible Final Four matchup.
Duke's freshmen aren't superheroes, they're just normal kids.
Make no mistake- R.J Barrett, Cam Reddish, and the already-famous Zion Williamson are fantastic players, and are arguably the three best freshmen in college basketball. They are a deadly combo and are the reason numerous analysts believed they could go undefeated. However, despite being phenomenally talented, these guys are no different than any other freshmen mentally and displayed that they can become easily rattled.
R.J. Barrett scored a respectable 23 points in the loss, but it took him 25 attempts from the field. The number one recruit made questionable decisions at the end of the game, and failed to convert his final five shots, ultimately handing Gonzaga the win.
Williamson also played a good game looking just at the numbers, recording his second double-double of the year on 22 points and ten rebounds. In addition, the 6'7" freshman added four blocks, totaling fifteen on the year in five games. He was very poised on the free-throw line as well, sinking six out of six attempts, coming into the game at a mere 13/22 from the line. Beyond the statistics, there were many times during the game when Zion looked very flustered- forcing shots and unnecessary drives, even missing a wide open dunk by playing with uncontrolled passion rather than his head. This led to two turnovers and many other scoreless possessions for Duke.
The last member of the Duke trifecta, Cam Reddish, had the worst game of the three scoring ten points on nine shots. Reddish turned the ball over four times, and only saw 24 minutes of playing time.
2. It's still really hard to beat Duke.
Obviously, the Blue Devils didn't play their best game last night. In fact, it was the first time Duke looked beatable, and it resulted in their losing. This was their first challenge against an AP Top 3 team, playing in a high-pressure environment against a Gonzaga team that proved they are a legit title contender. Despite looking rattled at times and not playing nearly to their full potential, they still only lost by two.
It wasn't easy for the Zags, who had to shoot over 50% (10/19) from beyond the arc and have fantastic front-court play by Rui Hachimura and Brandon Clarke to sustain their lead. Gonzaga played exceptional offense, complimenting it with passionate and aggressive defense.
Before they played Gonzaga, Duke won a great game against No. 8 Auburn who put up an almost equally good fight. Auburn made one more three than Gonzaga, had two less turnovers, and also had five more offensive rebounds, but still came up short against the Blue Devils. Whenever it seemed like Auburn was getting back in the game and had a shot to win, Duke would come right back at them, never letting the game get too close.
Additionally, in last night's loss to Gonzaga it seemed like they were out of the game much earlier, being down by 16 at one point. Duke cut the lead from thirteen down to a tie game in the last six minutes, thanks to a 21-8 run that featured massive blocks and coast-to-coast dunks- reminding viewers just how good Duke is. Gonzaga had to keep hitting clutch shots and playing relentless defense in order to sneak by Duke's freshmen powerhouse, even though they missed their four final free-throw attempts.
3. Gonzaga can win the National Championship.
It's hard to believe that a school of about 5,000 kids in the Western Coast Conference can win a championship, but it's becoming more and more of a reality. The Bulldogs came just within reach of their program's first title in 2017, losing by six to North Carolina in the final game. Yesterday's victory brings Gonzaga's regular season record of the past three years to 75-6, a winning percentage of .926. Although they aren't in one of the major conferences, this is still an outstanding record led by coach Mark Few. Gonzaga beat the best team in the nation last night- and did it without arguably their best player in Killian Tillie.
Tillie, a 6'10" junior, was second on the team in scoring last year with 12.0ppg, also notching about six rebounds a game. Tillie has been out this year with a stress fracture in his ankle, keeping him on the sidelines until late-December to early-January at the earliest. Tillie is a dominant center, and also led the team in three-point percentage last year. Once Tillie is back he'll join Rui Hachimura in the post, making for one of the most dominant front-courts in the nation.
Until then, the focus in the post is Hachimura, who did not disappoint last night. If college basketball fans didn't know about him before, he made sure they do now. Hachimura was a star in the contest scoring 20 points, grabbing seven rebounds and dishing out five assists. He also played great defense against Duke's Zion Williamson and Javin DeLaurier, especially in clutch moments.
The other two leading scorers for the Zags last night were junior Brandon Clarke and sophomore Zach Norvell. Clarke, a transfer from San Jose State who averaged 17.3 points as a sophomore, scored 17 last night and had five rebounds. He played phenomenal defense against Williamson and the rest of the Blue Devils, recording six huge blocks. Clarke did a great job filling in for the injured Tillie, and it will be interesting to see how his role changes once Tillie returns.
Norvell was equally sensational, scoring 18 points while shooting 4/6 from beyond the arc. Although only a sophomore, he was hitting shots that veterans make, looking years beyond his age in composure and confidence. Norvell, along with senior Josh Perkins (who had seven assists in the win) will continue to lead the back-court for the Bulldogs as they stay on the path to try to win the first National Championship in the program's history.
Follow my twitter account, @MarchMadnesss! It provides the latest college basketball news, along with scores, updates, and more.