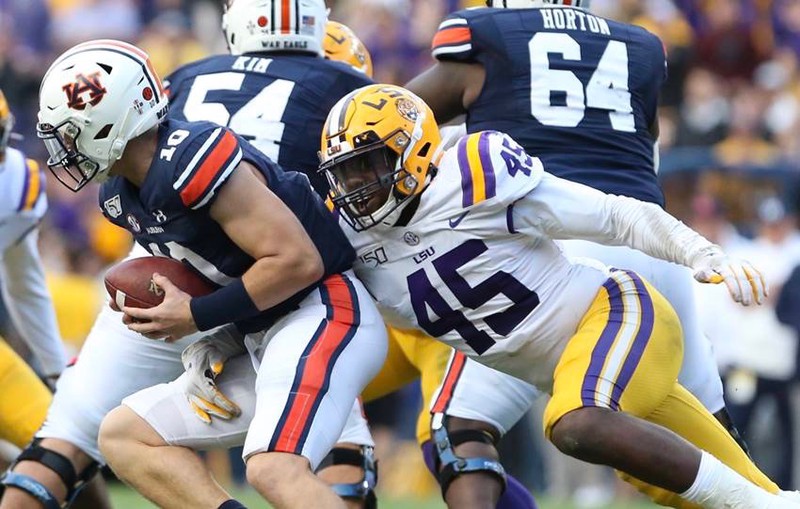 LSU LB Michael Divinity Jr will return to the team ahead of the national championship against Clemson on Jan. 13 2020. LSU head coach Ed Orgeron broke the news Tuesday in a press conference. This is huge news for LSU as he will be a huge part of LSUs defense in the national championship.
-
Divinity Jr was suspended for the last six games due to a drug related issue dealing with marijuana. Outside of that issue he also missed some playing time throughout the years due to injuries. After only playing in 5 games this season, Divinity Jr 23 tackles and 3 sacks.
-
Divinity Jr is a big asset to LSU that can play inside and outside linebacker and will be a very big part in LSUs pass rush. LSU has done well with Jacob Phillips and Patrick Queen playing in the inside, so its likely Divinity Jr will be put on the outside but I'd expect him to be moved around and also show some looks of him coming from the inside gaps.
-
By Rule, Divinity Jr was still allowed to practice with the team throughout his suspension and even traveled to Atlanta for LSUs semifinal game against Oklahoma where LSU cruised to a 63-28 victory to move on to the National Title game against Clemson on Jan. 13, 2020. Now that Divinity Jr has fulfilled his suspension, he is deemed eligible and will play in the title game. This is a huge boost for LSUs already clicking defense.