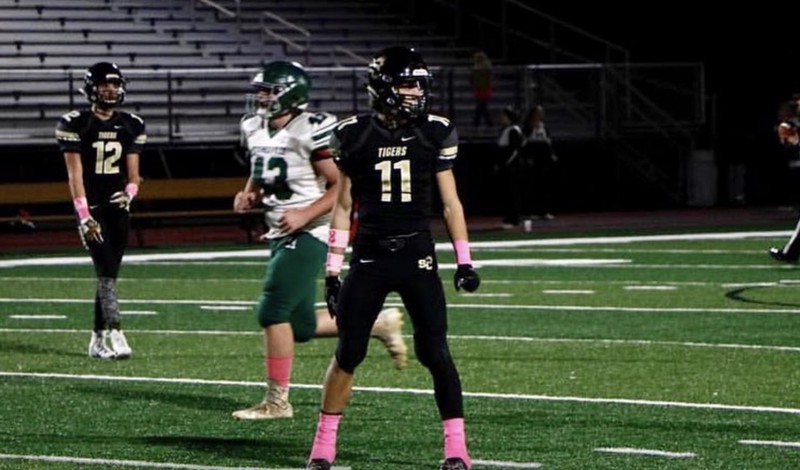 By MARC MALKOSKIE
Press Enterprise Writer
FRANKLIN TWP. — Cornerback might be the most difficult defensive position.
It's even tougher for Southern Columbia's Shane Miller, who has to play the opposite side of his highly-recruited teammate Julian Fleming.
While Fleming tends to negate opponents' No. 1 receivers, he also forces intimidated quarterbacks to test the skills of Miller, who is playing the position for the first time this season.
"(Julian) usually goes with the best receiver, so I'm on the other side," Miller said. "It's a lot to step up to because a lot of quarterbacks avoid him so they'll throw at me instead. It's nice to go out there competing and raise your level of play."
Miller, a first-year starter as a senior, saw sporadic playing time the past two seasons as a backup linebacker. After Brett Szuler graduated last year, Miller won the open starting spot over the summer, where he's stepped up ever since.
He's a big reason Southern's defense has excelled this year and why the Tigers will play Wilmington in the Class 2A state final Friday in Hershey.
"We got the idea (Miller) could win the spot over the summer," Southern coach Jim Roth said. "Since he was already in the program for a while, we knew his ability level, so it was a matter of how he could adjust to the position change. He looked good in the summer before preseason camp, so we pretty much knew we were going to take a good look at him for the corner position then."
Hard work over the summer in 7-on-7s and preseason practices obviously has led to a lot of Miller's success, but he also credits the time he got to sit back and watch on the sideline to him learning his new position.
"It's helped me a lot to see the pace of the game," Miller said about being a backup his sophomore and junior seasons. "When you're out there on the field, you have to pick up the pace. So it helps to see how teams play and how the game goes at the varsity level."
While most quarterbacks have learned to avoid throwing at Fleming, Miller has a pair of interceptions himself, shutting down his receiver enough to force teams to still throw to Fleming every once in a while.
"To a point, everyone has had to put trust in (Miller)," said Fleming, who has four interceptions this season. "He's really played a key role this year in stepping up and playing a huge part in our pass defense."
Another key factor in Miller catching on to his new position is watching film each week.
"Film helps a lot," Miller said. "Some people think it wouldn't, but it helps to see the routes your opponents are running. You still don't know exactly what's coming at you, but you get an idea of what's coming. It allows you to get a jump here and there to make a play."
One thing that comes with being a defensive back is getting beat by the receiver you're covering from time to time, an unfortunate event that happens to even the best cornerbacks and safeties.
This happened to Miller late in the third quarter of Friday's state semifinal win over West Catholic, when he had to switch over to West Catholic's top target Seth Degree after Fleming sat out the majority of the second half with a lingering cramp.
Degree beat Miller on a route, going 62 yards for the Burrs' only score.
"With a cornerback, it's important to have a short memory," Roth said. "You can't let a completion that goes against you get you down. You have to just forget about it and move on."
Miller did just that on West Catholic's first play of its ensuing drive, reeling in an interception that was called back on a roughing the passer penalty.
"Shane has really made some progress," Fleming said. "Earlier in the year, he'd get down on himself a lot. That's something as a team we really stressed to him, just telling him you have to stay calm and play with confidence or they're going to continue to pick on you. So after he got burnt, I think he just set it in his mind that he needed to move on from that play and make up for it. You can see how much he's improved as a player, both mentally and physically."
In addition to state championship game appearances the past two football seasons, Miller has also made two trips to Hershey on The Tigers' state-qualifying wrestling team.
"Wrestling has helped a lot with football," Miller said. "Not only does it keep me in shape, it also helps with tackling and gives you a good mindset for football also."
Miller also plays on the baseball team as an outfielder and is one of the Tigers' best hitters, but football still holds a special place with him.
"I've always liked football coming up through school," Miller said. "It's been fun. More recently, I've liked getting to make big plays in big games. I'd say it's my favorite sport."
Much of the talk around Southern is about its explosive offense. However, Miller and the rest of the Tigers secondary has played an overlooked part in the state title run, limiting opposing quarterbacks to just 91.6 yards per game through the air.
"I'm really excited for this game," Miller said. "Starting my senior year after just waiting to get my chance to play in the state championship game is going to really exciting. After all the hard work we've put in, it really just comes down to this."
Marc Malkoskie covers sports for the Press Enterprise. He may be reached at (570)387-1234, ext. 1339 or by email at sports@pressenterprise.net. Follow him on Twitter at @mmalkoskie.