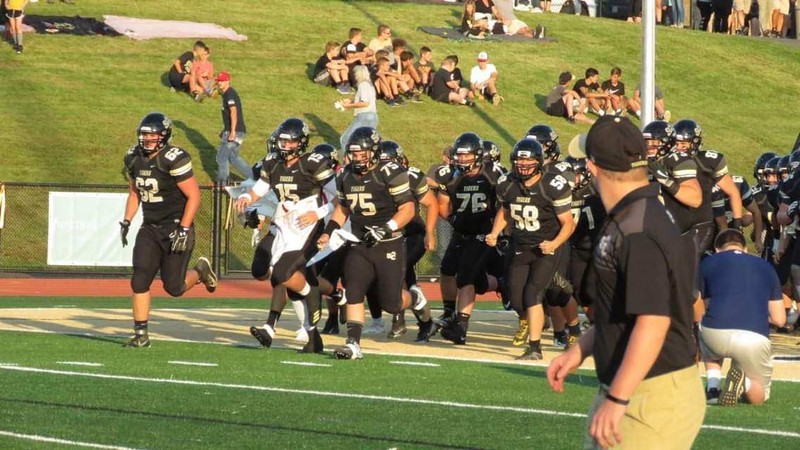 By MARC MALKOSKIE
Press Enterprise Writer
FRANKLIN TWP. — Southern Columbia has had the area's most prolific running game for the better part of two decades now.
Some may argue this year's backfield is the program's best ever. Southern has ran for 4,375 yards, averaging more than 8.1 per carry.
Overshadowed by the outstanding combination of halfbacks Gaige and Gavin Garcia and fullback Ty Roadarmel, is the offensive line protecting them, led by senior center Troy Donlan.
Donlan, a three-year starter, is no stranger to big games. Each season of his career has ended in Hershey, earning gold in two of them.
The Tigers are 61-1 (and counting) in Donlan's career, with the lone loss coming in a 49-7 defeat to Steel Valley in the 2016 state championship game.
Donlan has a chance to end his career with a third gold medal. The Tigers play West Catholic tonight in the PIAA Class 2A semifinals, with another trip to Hershey on the line.
"I love winning," Donlan said. "It's the culture here at Southern. Even though I've only ever experienced one loss, the feeling never gets old."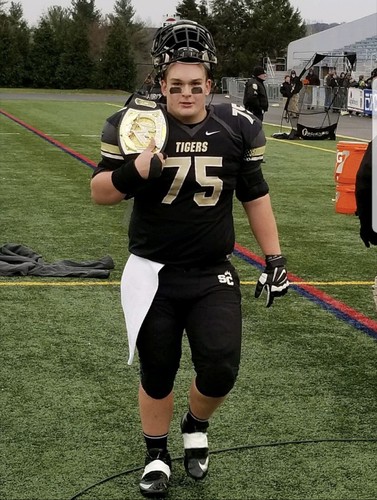 In recent years, Southern has become more two-dimensional with an improved passing game thanks to quarterback Stone Hollenbach, who has combined with backup Preston Zachman to throw for 2,167 yards and 30 touchdowns this season.
The Tigers' offense amassed 6,542 total yards through their first 14 games this season, nearly putting them on pace to surpass the school record of 7,553 set back in 2006 by Henry Hynoski and company.
"We've definitely become a more balanced offense with Stone (Hollenbach)," Donlan said. "As an offensive line, we're used to taking pride in the running game, but having the passing game as a counterpiece helps wear down defenses even more."
Donlan saw a lot of playing time as a defensive tackle as a freshman, getting more and more series down the stretch of Southern's seventh state title run in 2015. He played the majority of the semifinal that year, also against West Catholic.
Donlan's biggest inspiration to play football was, and still is, his older brother Trent, who starts at defensive tackle for Lebanon Valley College. Trent, along with Troy's good friend and Lewisburg wide receiver Dylan Farronato, talked Troy into trying football back in middle school.
"I always played soccer through elementary school," Donlan said. "I was always afraid of contact sports. Then in fifth grade, my brother and my buddy Dylan Farronato, who played for the Mount Carmel Jets at the time, convinced me to try football. I've been in love with it ever since."
Since then, there's been competition between the Donlan brothers. While Trent was selected to the all-state team as a center in 2014, Troy has a couple things his older brother doesn't: two shiny state championship rings.
"When (Trent) would come home from school after we won states my freshman year, I'd show off my ring a bit," Donlan said. "I'd wear it at the dinner table and things like that, but he'd always say he's the better brother until I win all-state."
With the superb job Donlan and his fellow offensive linemen have done blocking for the state's highest-scoring offense, all-state honors are a possibility for the younger Donlan this season.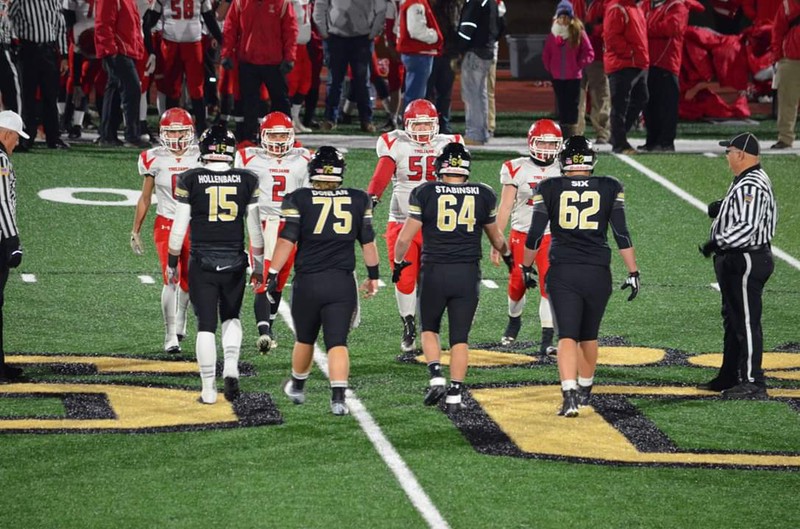 Donlan is also a standout student in the classroom. Ranked fifth out of 115 in his class with a 99.4 average, Donlan plans to major in engineering in college. As the track team's leader in shotput and discus events, he's uncertain whether he'll play football or do track after high school.
Just days after winning his second state title for football last fall, he was already focused on his senior season.
"I was in the weight room the Monday after last year's state championship game," he said. "I kept preparing for football right through track season. I wanted to be as ready as I could possibly be."
Marc Malkoskie covers sports for the Press Enterprise. He may be reached at (570)387-1234, ext, 1339 or by email at sports@pressenterprise. Follow him on Twitter at @mmalkoskie.