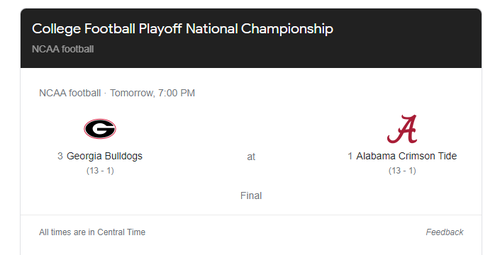 The CFP NC Game is finally here!
While there are still flaws in the CFP system, it's clear that we got the best two teams in the country in the Championship game as the Georgie Bulldogs face off against the Nick Saban's Alabama Crimson Tide. The matchup is a rematch of the SEC Championship Game. And although the Crimson Tide ran away with the SEC Championship game (41-24), Georgia seems to have returned to their dominant ways after an impressive 34-11 drubbing of the Michigan Wolverines in the National Semi-Final.
The National Championship game has everything -- defensive playmakers, a dynamic quarterback -- the Heisman Trophy winner Bryce Young -- the best coach in history, and so much more. But what can we expect out of this matchup?
Odds and Expectations
Despite losing handedly in their last matchup, the Georgia Bulldogs enter this game as the favorite (-2.5). The over/under number was set by oddsmakers at 52 points, which leads me to believe they are expecting Georgia's defense to prevent what happened in their first matchup, which included giving up over 500 yards.
My Prediction
It's hard to decide between these two teams. The best quarterback and coach in the nation is facing off against the best defense in the nation. I am going to go with history, and I will take Alabama and coach Nick Saban to once again win the National Championship. I believe Alabama's offense is just a bit too powerful for Georgia to keep up with.
Alabama 31, Georgia 24.
Picks: Alabama + 2.5, Over 52 points
Note: This is a completely original article although Scorum's algorithm says it was partially copied from other articles. I assume because of the number of articles on the game, there are some similarities. But this is written completely from scratch.