This past weekend of college football was one of the most interesting and bizarre weeks I can remember in the past 30 years. Maybe that's because we have more access to games and the information that comes from them, or maybe the antics are rising a bit.

I tend to gravitate towards the strange, and Liberty Head Coach Hugh Freeze, is certainly strange. He was fired from his high-profile coaching job at Ole Miss for using a school-issued phone to contact an escort service. Hugh, in my opinion at least, outdid himself this past weekend as he coached from the press box... in a hospital bed.
Dedicated? Certainly. Insane? Absolutely!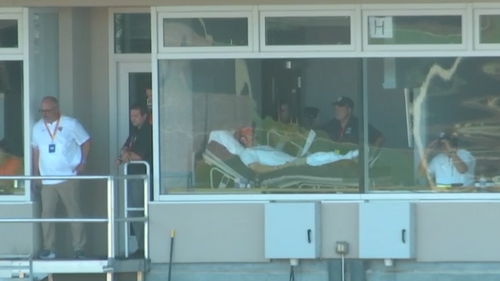 Freeze had been told he would need to stay in the hospital for 4-6 weeks after having back surgery and suffering from a staph infection that could've taken his life. But would that stop Freeze from being there for his team against #22 Syracuse? No, but maybe it should have.
Freeze was in the press box in a hospital bed coaching his team. They cut a whole in the nearby room so he could communicate with his coordinators.
So how did this work out for Coach Freeze and Liberty? Liberty was shutout at home 24-0 and ran for -4 rushing yards.
Best of luck to Freeze as he recovers from surgery and congratulations on being dedicated to your job. But coach, why don't you stay at home next week and rest up?
---
What do you think? Brave or silly?