Hello,

It's been awhile since I was here. It feels like ages.
A lot has happened in the world of sports in the last 3 months since my last post.
I have been trying to catchup lately.
Well, to mark my return to sports posting, I'd be paying a birthday tribute to American college football coach, Dabo Swinney, today.
Who is Dabo Swinney?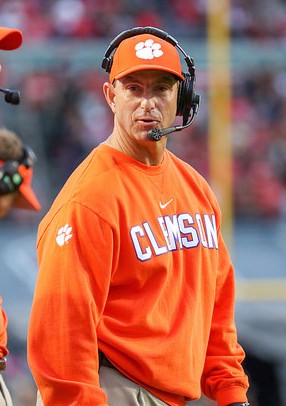 His real names are actually William Christopher Swinney and the 48-year old is from Alabama in the United States.

However, the former American star who played as a wide receiver for the Crimson Tide football program while attending the University of Alabama is popularly called Dabo Swinney.
His name "Dabo" came from his brother trying to pronounce "that boy" when referring to Swinney. His parents started using it on him and it stuck.
Swinney is married to Kathleen Bassett. He got married in 1994 and one of his three sons plays for Clemson as a wide receiver.
Currently, Dabo Swinney is the college football head coach at the Clemson University.
He is graduated in with a commerce & business administration degree and also a business administration master's degree from Alabama.
After graduating he was appointed as an assistant coach for the 'Crimson Tide' in 1995.
However, things didn't go according to plan for Swinney; as he was sacked in early 2001 along with the coaching staff of the team at the time.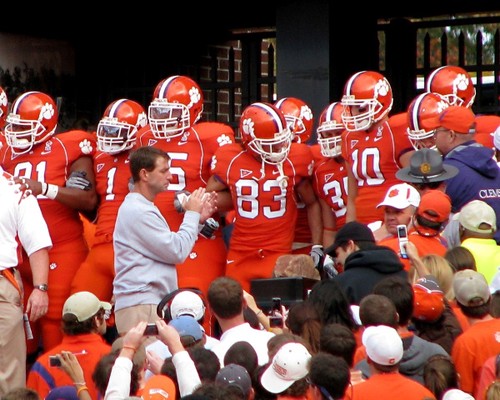 A few years down the line, precisely in 2008, he signed a big money contract for the role of the head coach at the Clemson University.
The position was made available after previous head coach, Tommy Bowden resigned after only 6 games into the season.
After joining Clemson, he grew to become one of Clemson Tiger's prolific coaches.
He wrote his name in the club's folklore when he led his team to the national championship title in 2016.
It was only the second time the school had won it in its history – the first time being in 1981.
Dabo Swinney's Records
So far, Swinney has etched his name in the legendary history of the Clemson Tigers.

After the famous Clemson Tigers coach Frank Howard, Swinney is the second coach in the clubs history with the most wins.
Dabo Swinney has also won several awards since joining the club, some of which are; the Walter Camp Coach of the Year Award, the George Munger Award, and many more.
Without question William Christopher Swinney a.k.a Dabo Swinney has shown that he is a great achiever. He definitely deserves to be celebrated today.
HAPPY BIRTHDAY, DABO SWINNEY!!!