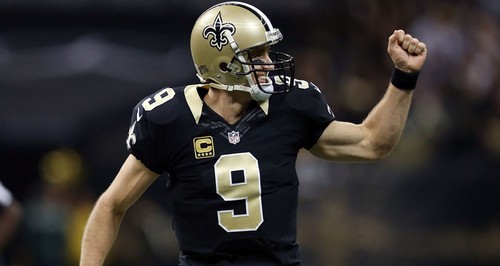 Bad news came from experienced quarterback Drew Brees to the New Orleans Saints. It was announced that Brees, who was injured in the match where the Louisiana team beat the San Francisco 49ers 27-13, will stay away from the fields for at least three weeks.

While Drew Brees was included in the Saints' injured players list, it was stated that the experienced player had 11 cracks in his rib, eight of them on the left and three on the right. Brees, 41, was injured during the sack of San Francisco 49ers defensive tackle Kentavious Street. The star actor, who was forced to his feet after the blow he received, held his chest for a long time.
Brees, who has the most TD passes in the regular season in NFL history, led his team to victory in seven of the nine games he played this season, playing with a total of 18 touchdown passes and three interceptions, and scoring two TD runs. Teddy Bridgewater, who played in the absence of Drew Brees, who missed five matches due to a injury in his thumb last season, did not miss the absence of Brees and at the end of the year, he took the road of Carolina Panthers with a loaded contract.
After Teddy Bridgewater's departure, the third reserve quarterback signed with Taysom Hill for $ 16.3 million a year for Saints, as well as $ 1.1 million for one year with Jameis Winston, whom Tampa Bay Buccaneers cut from the team.
While Jameis Winston entered the field after Drew Brees' injury in the 49ers match, this week it was announced that Taysom Hill would take the field as the first point guard against the Atlanta Falcons. The fact that Taysom Hill, which Saints generally uses in read options and trick plays, will start in the first 11 has surprised many people for now.
Saying that he always wants to be a full-time point guard during the off-season, Taysom Hill has had a very important opportunity. On the other hand, Jameis Winston, who made a very interesting statistics with 33 touchdown passes and 30 interception last season, will wait for the opportunity behind Hill to rise from his ashes, although he is not a very reliable name.