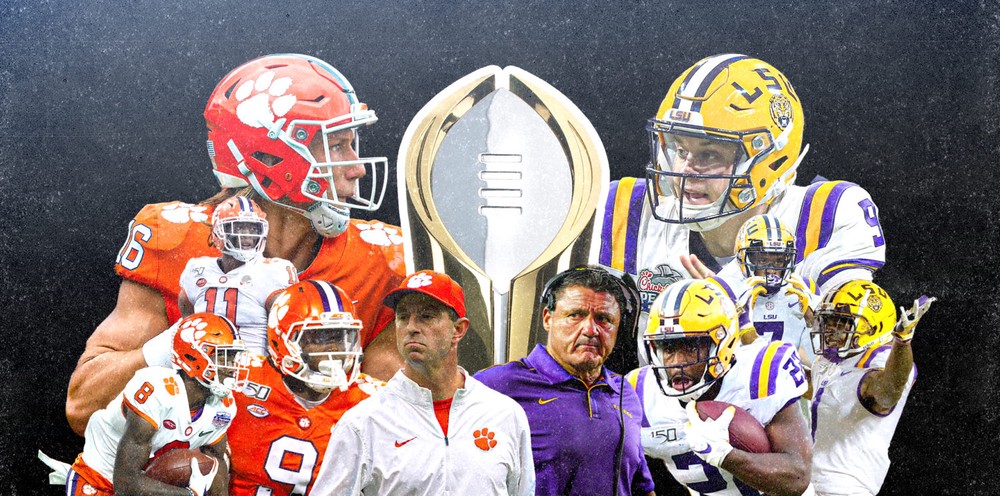 Welcome back everyone! The big game is finally upon us! In tonight's dream battle of the Tigers, we have 14-0 #1 LSU taking on 14-0 #3 defending Nat'l Champion Clemson in what has the potential to be an epic Title game showdown. Before tonight's action kicks off, I've got you covered with all you need to know ahead of the big Championship showdown.
-
Let's first take a look at the #1 LSU Tigers & their 2019 team profile:
-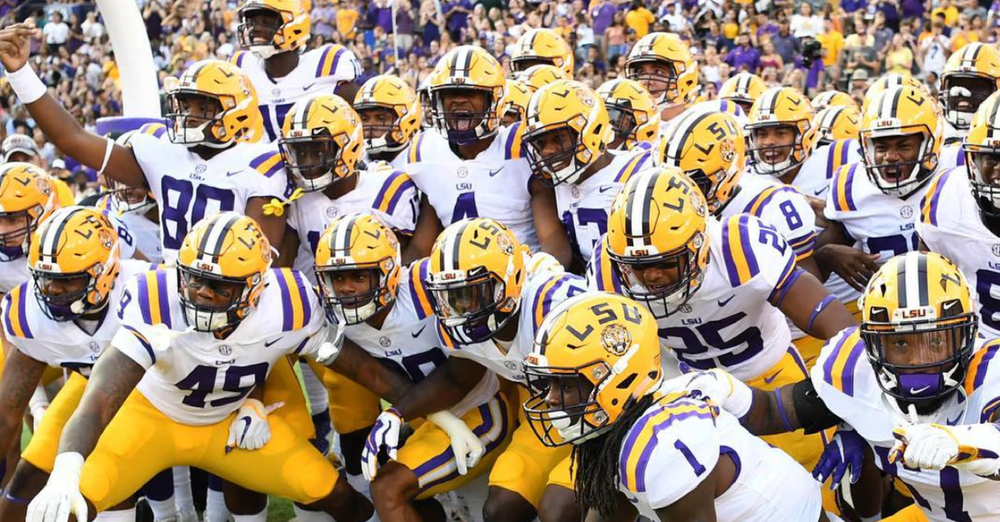 1) LSU TIGERS (14-0)

-
[National ranking in ( ) next to respective category]
-
Points Scored Per Game: 48.9 (1st)
Points Allowed Per Game: 21.6 (29th)
Total Yards Per Game (Offense): 564.2 (1st)
Total Yards Per Game (Defense): 339.9 (29th)
-
Key Wins:
-
@ Texas (8-5) W 45-38
vs Florida (11-2) W 42-28
vs Auburn (9-4) W 23-20
@ Alabama (11-2) W 46-41
vs Texas A&M (8-5) W 50-7
vs Georgia (12-2) W 37-10*
vs Oklahoma (12-2) W 63-28***
*- SEC Title game
***-Peach Bowl CFP Semifinal
-
Key Losses:
-
None
-
Stat Leaders:
-
QB Joe Burrow SR
371/478, 5,208 pass yds, 55TD, 6INT
-
HB Clyde Edwards-Helaire JR
199 / 1,304 rush yds, 16TD;
50 / 399 rec yds, 1TD
-
WR Ja'Marr Chase SO
75 / 1,559 rec yds, 18TD
-
WR Justin Jefferson JR
102 / 1,434 rec yds, 18TD
-
LB Jacob Phillips JR
105 total tackles
-
LB K'Lavon Chaisson SO
6.5 sacks
-
At this point, we all know what LSU is going to try to do on offense. They are going to let Joe Burrow chuck it up & down & all-around the field, targeting his two elite pass-catchers in Biletnikoff Award - winner Ja'Marr Chase, & junior standout Justin Jefferson - who torched Oklahoma for a FBS bowl record 4 TD receptions (all in the 1st half). Now, of course, there is a glaring difference between Oklahoma & Clemson, that being the former doesn't play much defense whatsoever, while the latter are pretty darn good at it.
-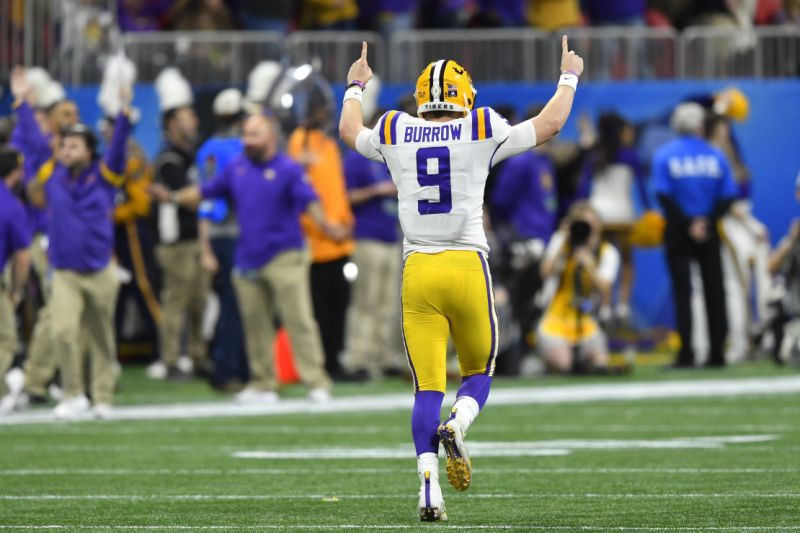 -
The LSU running game should get a boost as well with star HB Clyde Edwards-Helaire able to rest his ailing hamstring thanks to the lopsided blowout of the Sooners. Center Lloyd Cushenberry is one of the best in the country and anchors the O-line. The Tigers have looked like a well-oiled machine on O, with all of the different parts moving in perfect order, all knowing where they need to be, at the right time, all while executing with pin-point precision.
-
On the defensive side, this was a once-maligned unit after they were shredded for over 400 yards on the ground by Ole Miss. They still won that game 58-37, but the D showed some substantial weaknesses - especially up front along the D-line. Since then, they are healthier and the results have been much, much better. They've surrendered a total of 65 points in the 4 games since (16.25 per game), and done it against overall better competition. Moreover, take a look at the halftime scores in those past four games: 28-6, 31-0, 17-3, 49-14. The defense has been downright dominant while the offense has built a big lead in each. So, what does it all mean for the National Title showdown? Let's first take a look at the defending Champion Clemson Tigers 2019 team profile:
-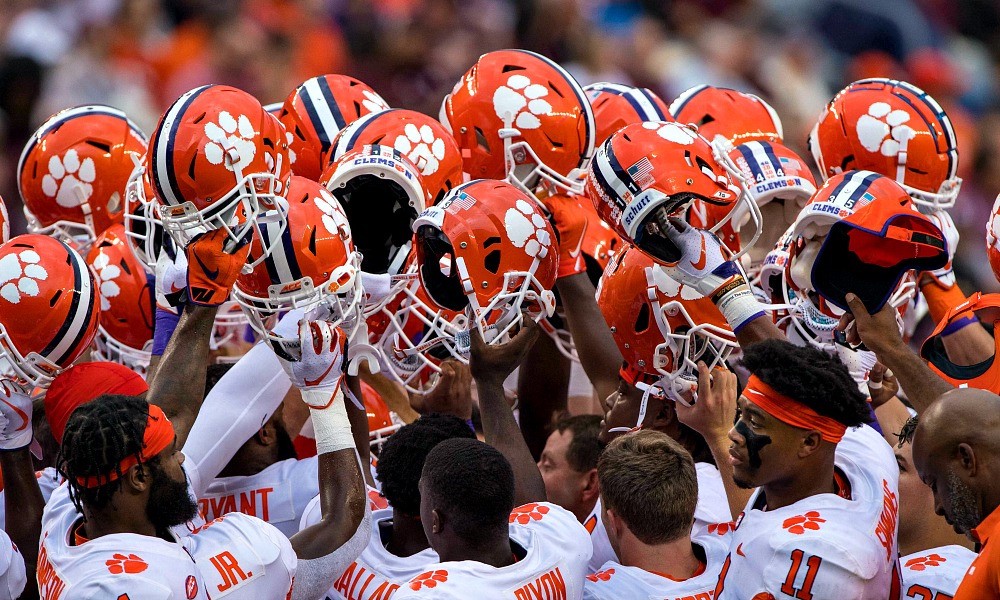 3) CLEMSON TIGERS (14-0)
-
Points Scored Per Game: 45.3 (4th)
Points Allowed Per Game: 11.5 (1st)
Total Yards Per Game (Offense): 538.4 (3rd)
Total Yards Per Game (Defense): 264.1 (2nd)
-
Key Wins:
vs Texas A&M (8-5) W 24-10
@ Louisville (8-5) W 45-10
vs Wake Forest (8-5) W 52-3
vs Virginia (9-5) W 62-17*
vs Ohio State (13-1) W 29-23***
*- ACC Title game
***-Fiesta Bowl CFP Semifinal
-
Key Losses:
-
None
-
Stat Leaders:
-
QB Trevor Lawrence SO
250/370, 3,431 pass yds, 36TD, 8INT
-
HB Travis Etienne JR
192 / 1,536 rush yds, 18TD;
32 / 396 rec yds, 4TD
-
WR Tee Higgins JR
56 / 1,115 rec yds, 13TD
-
LB Isaiah Simmons JR
97 total tackles
-
LB Isaiah Simmons JR
7.0 sacks
-
The Tigers of course will lean-on the hot-hand and poise of talented sophomore QB Trevor Lawrence. He may have started the season slow, but all of that is well in the rearview at this point. He's closed the season on a tear, throwing 22 TD passes to 0 INTs over the Tigers' last 7 games. He took some big shots in the Fiesta Bowl triumph over Ohio State, and seemingly played even better after literally taking it on the chin. He has size, toughness, and athleticism, and appears to be playing his best ball of the season, which is a great sign for Clemson fans.
-
-
Don't forget about the ACC's career TD leader in HB Travis Etienne, whose speed & athleticism are a focus point of the Tigers' attack. With burners Tee Higgins & Justyn Ross on the outside, Etienne will carve apart the middle of opposing defenses. He only rushed for 36 yards against the Buckeyes in the CFP semifinal, but he was huge in the passing game - catching 3 for 98 yards and a pair of scores. The O-line relies on not one, but two All-Americans up front to set the tone for one of the nation's most efficient units.
-
On the defensive side, they might not be as talented up front as the previous couple of year's units, but they have a bevy of athletes that can make plays from all over the field. Do-it-all LB Isaiah Simmons is excellent against the run, can pressure the QB, and is equally good in pass defense (he had a huge INT in the Fiesta Bowl win). Along with safety Tanner Muse (4 INT) in the secondary, this defense is one of the best in the nation. They bring an aggressive, attacking, swarming style of defense, and will be a different kind of matchup than LSU has seen this year. So, how will it all translate on the field in the Super Dome? Who has the upper hand in the battle of the Tigers?
-
PREDICTION:
----
LSU's offense has been one of the most prolific & efficient in college football history. They pile up points with ease, and QB Joe Burrow has operated there pro-style passing game with otherworldly precision & accuracy. The Tigers have faced a number of high-quality defenses this year and shredded each and every one of them. Clemson will be a different kind of monster to take down, however.
-
Clemson has the advantage of experience, and the closer this game is down the stretch, the more that could have a bearing on how this one plays out. One could easily make the argument that they were out-played in the Fiesta Bowl by Ohio State, but received a couple of breaks their way, and then made the extra couple of plays down the stretch in the closing moments. The experience factor was present in that one and shouldn't be downplayed in this one. QB Trevor Lawrence has not lost a single collegiate game (let that marinate for a moment), and head coach Dabo Swinney obviously has a plethora of experience on this stage.
-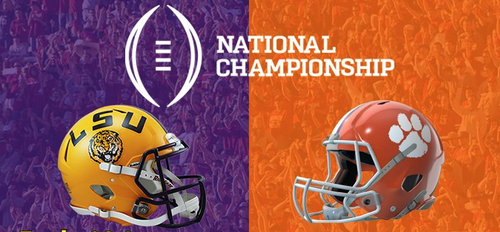 -
That being said, Clemson runs an aggressive, attacking defense that relies on athletes all over the field. They started painfully slow against OSU in the Fiesta Bowl before turning it on, and obviously can't afford a similar start in this one. LSU, meanwhile, will look to negate that aggressive D by getting the ball out quickly & accurately - something they've done all season long. That is going to be a problem for the Clemson D. They are going to need an incredible performance out of their redzone D to come out with a W in this one.
-
QB Trevor Lawrence will make some plays for Clemson, and will keep them in it. In the end, Joe Burrow & the Tigers' O make a couple of more plays, however, and hang-on down the stretch for the W. Their defense has been playing much better, and they look like they are ready to culminate what has been an outstanding season with the Championship. LSU races out to the halftime lead and then hangs on down the stretch.
-
LSU 34 CLEMSON 27
-