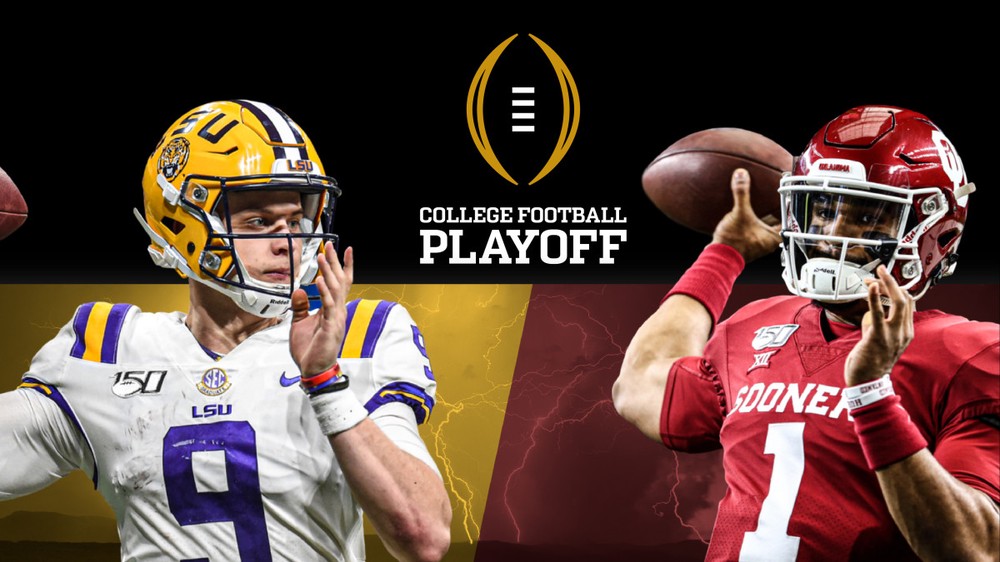 The CFP has finally arrived (well, just about)! We are inching ever-closer to the kickoff of the two highly-anticipated CFP semifinals matchups. Yesterday, I previewed the second of the two semifinals - the Fiesta Bowl showdown between #2 Ohio State & #3 Clemson. Now it's time to take a closer look at the first of the two semifinals games, as #1 LSU takes on #4 Oklahoma in the Peach Bowl.
-
First, we'll cover the top-ranked team in the land heading into the playoff, the LSU Tigers. Behind Heisman Trophy - winning QB Joe Burrow, the LSU offense was nearly unstoppable this season. Burrow shattered SEC single-season marks for passing yards & TD passes, and NCAA records for completion % & passer rating. Behind Burrow's pinpoint precision, the running of HB Clyde Edwards-Helaire, and a pair of 1,000-yard receivers in Justin Jefferson & Ja'Marr Chase, LSU finished as the #1 offense - a whisker ahead of - you guessed it - Oklahoma. So, what will happen when these two high-octane offenses take the field in Atlanta? Let's start by taking a look at the LSU Tigers 2019 profile:
-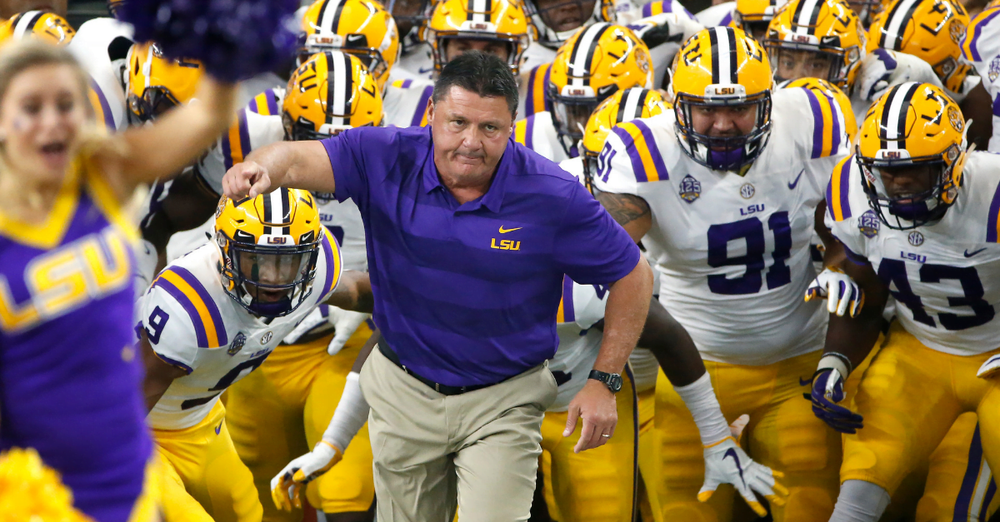 1) LSU TIGERS (13-0)
-
[National ranking in ( ) next to each category]
-
Points Scored Per Game: 47.8 (3rd)
Points Allowed Per Game: 21.2 (25th)
Total Yards Per Game (Offense): 554.4 (1st)
Total Yards Per Game (Defense): 341.3 (32nd)
-
Key Wins:
@ Texas (7-5) W 45-38
vs Florida (10-2) W 42-28
vs Auburn (9-3) W 23-20
@ Alabama (10-2) W 46-41
vs Texas A&M (7-5) W 50-7
vs Georgia (11-2) W 37-10*
*- SEC Title game
-
Key Losses:
None
-
Stat Leaders:
-
QB Joe Burrow SR
342/439 - 4,715 pass yds, 48TD, 6INT
-
HB Clyde Edwards-Helaire JR
197/1,290 rush yds, 16TD, 6.5ypc
-
WR Ja'Marr Chase SO
73/1,498 rec yds, 18TD, 20.5ypr
-
WR Justin Jefferson JR
88/1,207 rec yds, 14TD, 13.7ypr
-
LB Jacob Phillips JR
97 total tkls
-
S JaCoby Stevens JR
5.0 sacks
-
The Tigers are clearly an offensive juggernaut. They own the nation's top overall offense (0.2 yards per game ahead of Oklahoma), and the #3 scoring offense at 47.8 per contest. They run a pro style attack that has reached new levels of efficiency and production in 2019. Facing one of the most daunting schedules in all of college football, the Tigers took care of everybody in their path. They are coming off of an absolute domination of Georgia's formidable defense in the SEC title game, and probably have the most impressive quartet of victories of any team out there in wins at home against #10 Florida and #11 Auburn, @ #12 Alabama, and against #6 Georgia.
-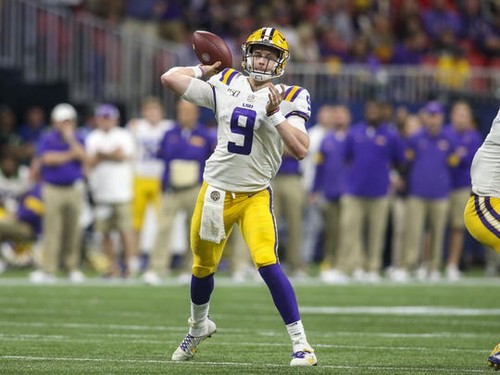 -
The big storyline to watch right now on LSU's side is the availability of star HB Clyde Edwards-Helaire, who is dealing with a hamstring injury. The second leading rusher behind Edwards-Helaire is actually QB Joe Burrow with 289 yards, and then backup HB Tyrion Davis-Prince (270 yards, 6TD), who is himself questionable for the Peach Bowl and may not play, which would leave a huge experience gap at the HB position in highly-touted freshman John Emery Jr., who has just 36 carries in his NCAA career.
-
One other point of emphasis on this matchup is the perception that LSU struggles with running QBs, and that may be true to an extent. Guess what? Every team that has played Oklahoma this season has struggled with Jalen Hurts rushing ability - except for Baylor. The Bears may have provided the blueprint for how to contain Hurts in the Big XII title game, when they limited him to just 38 yards on 23 carries (1.7 ypc).
-
The Tigers have struggled at times defensively this season, but looked much-better in their last two games - a complete annihilation of Texas A&M & SEC title game pasting of Georgia. The defense seems to be making some strides, and the offense has been nearly perfect down the stretch, making these Tigers one tough out. So, the biggest question of all may just be - how far can Heisman Trophy QB Joe Burrow take them?
-
Now let's take a closer look at Lincoln Riley's explosive Oklahoma squad. The Sooners posted a 12-1 record, and won a fifth consecutive Big XII title behind an elite offense & improved defense. Here is a closer looks at the Sooners 2019 profile:
-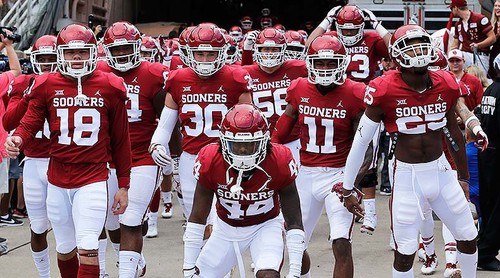 4) OKLAHOMA SOONERS (12-1)
-
Points Scored Per Game: 43.2 (6th)
Points Allowed Per Game: 24.5 (48th)
Total Yards Per Game (Offense): 554.2 (2nd)
Total Yards Per Game (Defense): 330.6 (25th)
-
Key Wins:
-
@ Texas (7-5) W 34-27
vs Iowa State (7-5) W 42-41
@ Baylor (11-2) W 34-31
@ Oklahoma State (8-4) W 34-16
vs Baylor (11-2) W 30-23 OT*
*- Big XII Title game
-
Key Losses:
@ Kansas State (8-4) L 41-48
-
Stat Leaders:
-
QB Jalen Hurts SR
222/309 - 3,634 pass yds, 32TD, 7INT
-
QB Jalen Hurts SR
219/1,255 rush yds, 18TD, 5.7ypc
-
HB Kennedy Brooks SO
145/976 rush yds, 5TD, 6.7ypc
-
WR CeeDee Lamb JR
58/1,208 rec yds, 14TD, 20.8ypr
-
LB Kenneth Murray JR
95 total tkls
-
DL Ronnie Perkins SO
6.0 sacks
-
The Sooners had one of the country's most explosive offenses behind Jalen Hurts dual threat talents. The former Alabama QB ran wild and in any other year, would have probably took home the Heisman Trophy. They had the top scoring offense in the nation heading into the Big XII title game, but were held to 30 points in the OT win over Baylor, dropping them to 6th at just over 43 points per game. It wasn't all Hurts, however, as WR CeeDee Lamb was a highlight reel himself throughout the season, turning in big-time performance after big-time performance in the most significant games. Sophomore HB Kennedy Brooks has also been a factor in the Sooners' potent offensive attack.
-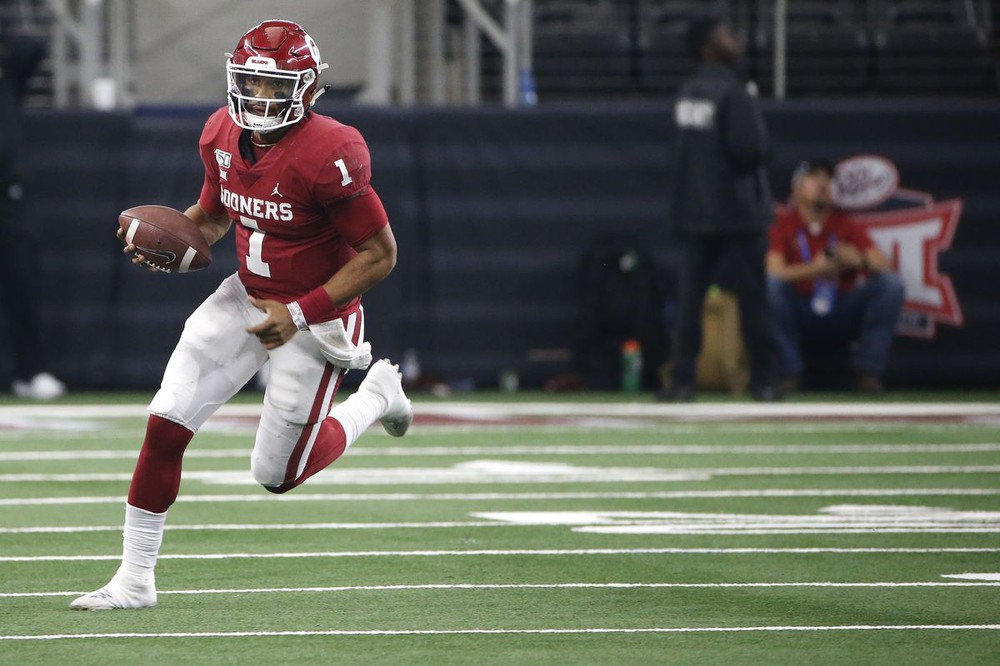 -
While the Sooners O gets most of the attention, the defense was an improved version over the previous few years highly susceptible versions. They did struggle at times during the season, however, and although they were able to hold Baylor to 23 in the Big XII title game, they gave up a number of huge, long plays. The resume is better than most, with a pair of narrow victories over 11-2 Baylor & comfortable win @ in-state rival, 8-4 Oklahoma State. It still leaves a bit more to be desired, thanks to what turned out to be a pretty weak non-conference portion of the schedule, and surprising loss at Kansas State. The final score may have read 48-41, but it was a complete rout by the Wildcats, as they lead 48-23 at one point in the 4th quarter.
-
The Sooners have weapons everywhere on O, and motivation from two previous CFP semifinals shortcomings, but do they have enough D to get past LSU and into the National Championship game?
-
PREDICTION:
-
LSU is dealing with injuries at HB, and a defense that has struggled at times this year. The defensive line has not been what we've come accustomed to seeing down in Baton Rouge, and they've been susceptible to teams that like to run the ball. Whenever a safety is your team leader in sacks, your probably not getting the desired production up front from your defensive line.
-
Oklahoma is also dealing with their own issues, as they are expected to be missing players due to suspension, with the team's sack leader (and best D-lineman), Ronnie Perkins, possibly not available. The Sooners defense has been better than in recent years, but have still had their share of troubles at times in 2019.
-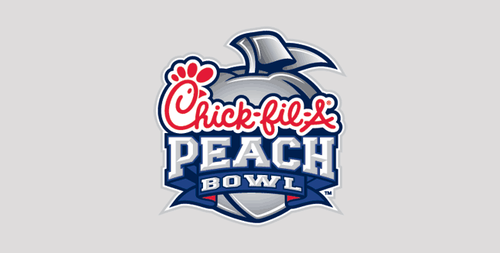 -
For the Sooners, it's been a bit of the tale of two teams - the one we saw in the first seven games that demolished opponents by 31.0 points per contest, and the one from the last six games that has squeaked past teams by just 4.3 points per game. So, which one will we see in the Peach Bowl later today?
-
In the end, this game is all about the quarterbacks. Burrow & Hurts were the two best signal-callers in 2019 and it seems almost fitting that they will square off with one-another. Hurts was 2-0 against LSU while at Alabama, but those Tigers teams were nothing like this year's version - especially on offense. Look for Burrow to continue his hot streak no matter who is able to play in the backfield behind him, as the Sooners' pass defense just is not built to get enough stops to slow LSU's offense enough to keep up. Oklahoma will be able to move the ball and score some points, but in the end, LSU's defense is better than they are getting credit for. I have more faith in the Tigers' being able to get stops when they need them the most, and therefore like LSU to keep their dominant run going to the Title game.
-
LSU 41 OKLAHOMA 27
-
As always, I appreciate the support and would love to get your pick in the comments section below. Enjoy all of the quality Bowl games today - especially the two highly-anticipated CFP semifinals matchups!