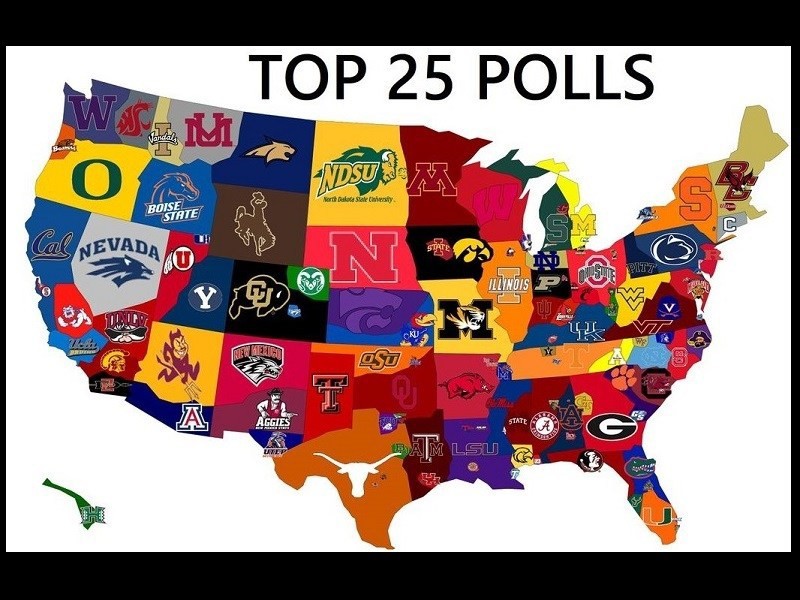 Welcome back all! What a Saturday it was in the world of college football. It was actually a big week in general for NCAA football, as we saw the return of the MAC with a full slate of mid-week Wednesday action. Then, on Saturday, the Pac-12 finally joined the 2020 college football party with an early 9am West Coast kickoff between highly-regarded USC & Arizona State. We had the showdown of the season in the ACC with Notre Dame visiting Clemson in a Saturday night thriller, and Georgia & Florida did battle for SEC East supremacy. There is plenty to cover, including some seriously emerging darkhorse candidates for the CFP, an intriguing race for the #4 spot, and much more, so let's dive right into it!
We start at the very top of the rankings, where #1 Clemson took to the road to take on the #4 Fighting Irish from South Bend, IN. The story before kickoff of course, was Clemson star QB Trevor Lawrence not being available for the second consecutive game, due to Covid-19 protocols. The Tigers were without him last week, and survived a near disaster as they actually trailed Boston College at home, 28-10 late in the first half. The defense flexed its muscle in the second half, and the Tigers rallied for a 34-28 victory to setup the big showdown with the Irish. Freshman QB DJ Uiagalelei played well in the victory, helping to lead the come-from-behind rally.
Now to the game of the day. The Fighting Irish took a page out of BC's script, and jumped out to an early double-digit lead themselves, and rode a 23-13 edge into the locker rooms at the half. Once again, Clemson came fighting back strong in the second half, and were able to tie the game and then take the lead in the 4th quarter. A 53-yard completion from QB Ian Book late in the 4th quarter allowed Notre Dame to get the game-tying TD they needed to force OT.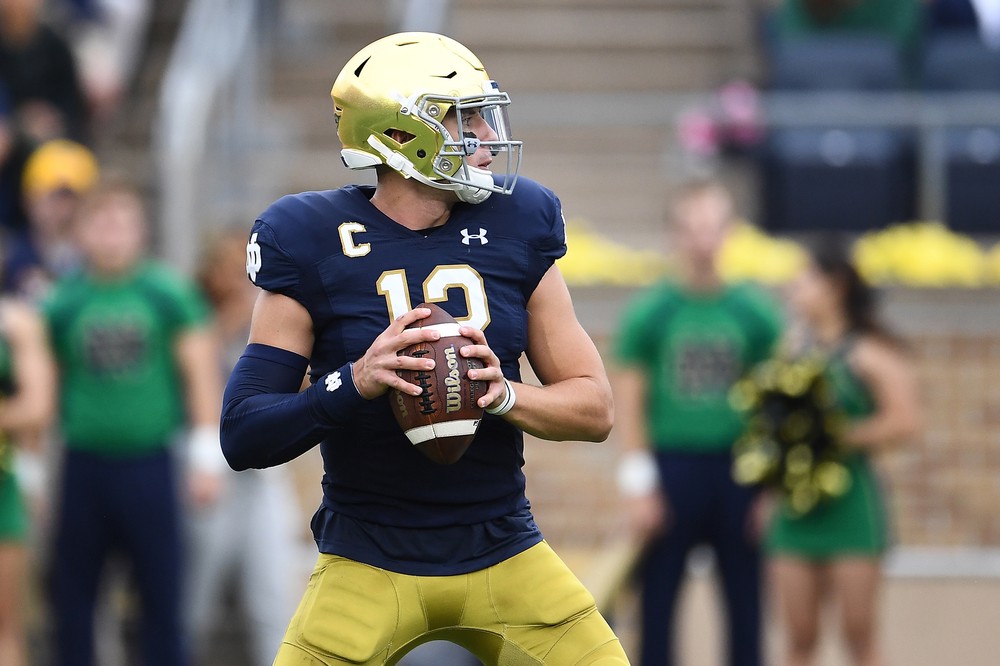 In the 2nd OT, it was Book again, who made the play of the game. With the Irish facing a 2nd and 13, Book took off on a 12-yard scamper that set-up what proved to be the game-winning score. Book was terrific, throwing for 310 yards and a score, while rushing for another 64 yards. Backfield mate Kyren Williams piled up 140 yards and 3 scores on the ground to lead an impressive offensive onslaught.
In the end, Book's playmaking was the difference, and Notre Dame's defense took control on the final possession in double-OT, registering back-to-back sacks and forcing the Tigers into a hopeless 4th and 24 situation. The thrilling 47-40 double-OT victory sends the Irish up two spots to #2, and in great position moving forward. Clemson played well in defeat, with Freshman QB DJ Uiagalelei once again having a monster game, throwing for a whopping 439 yards and 2 scores. Star HB Travis Etienne was completely stifled, however, as he was held to just 28 yards on 18 carries, and also had a fumble returned by the Irish for a score.
A double-OT loss on the road to the #4 team in the country while missing your star QB, and two key contributors on defense, shouldn't be held too strongly against the Tigers. They drop 3 spots to #4 this week, but don't have much room for error as there are several deserving teams closing in on the top 4. The vaunted defense was exposed badly, however, by a Notre Dame offense that heading in, had struggled to generate much in the downfield passing game all season long. That may be a point of concern going forward, as well as the slow start for a second consecutive week.
Moving on to the SEC, where we had another marque showdown, featuring #6 Georgia hosting #10 Florida with SEC East supremacy on the line. The Bulldogs jumped out to a quick 14-0 lead, and then were completely undone by the Gators and QB Kyle Trask. A 24-point 2nd quarter, and 474 yards and 4TDs from Trask later, and Florida registered one of the more impressive victories of any team out there this season, with the 44-28 triumph. The big-time W moved the Gators up 4 spots to #6, and puts them in control in the SEC East.
Meanwhile, it might be time to consider that the Bulldogs have been overvalued this season. They are now sitting at 4-2 overall, with both losses coming to highly-ranked SEC opponents. The problem is, they weren't competitive in either of those games. A 17-point loss at Alabama, and 16-point loss at home to Florida. They do own the impressive victory over Auburn at home, but it is clear that Georgia is a peg lower on the SEC echelon than in the previous couple of seasons. They are still the highest ranked 2-loss squad in the country, but drop 7 spots this week to #13.
#3 Ohio State was in action as well, taking care of Rutgers, 49-27. It was another easy W for the Buckeyes, but the Scarlet Knights did put up some points on OSU, scoring more in this one than their previous 4 encounters combined. The win moves OSU to 3-0 and keeps them at #3.
Rounding out the top 5 are the Cincinnati Bearcats, who got another impressive victory on Saturday by routing Houston, 38-10. The Cougars aren't real good, but they're not necessarily bad either, as Cincinnati continues to make mince-meat of a pretty solid American Athletic Conference. They now own a 14-point victory over 6-1 Army, a 29-point road rout of #21 7-1 SMU, and now 39-point & 28-point victories in back-to-back weeks over Memphis & Houston. Make no mistake, the Bearcats are for real, and playing as good as anyone in the country. They are entrenched at #5, and patiently waiting for a slip-up at the top, for their opportunity to move into the top 4.
Looking around the rest of the top 10, Texas A&M completely crushed South Carolina on the road, 48-3, to move up 3 spots this week as well. The Aggies land in a tie for #6 with the Gators. Their most impressive victory of the season is a 41-38 defeat of those same Florida Gators back on October 10th. They've now rattled off 4 straight victories after being crushed by Alabama in early October.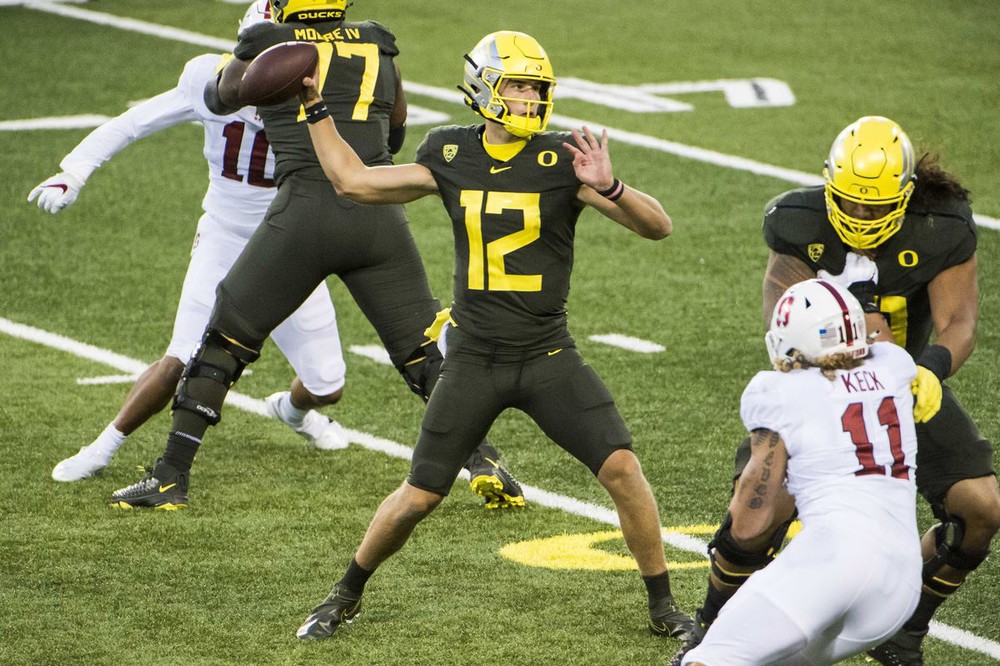 With the Pac-12 kicking off, the Oregon Ducks made their season debut as well. There was a lot of hype - and question marks surrounding Mario Cristobal's squad heading into 2020. By all accounts, the defense was expected to be superb, with a lot of questions to be answered on the offensive side after losing QB Justin Herbert to graduation and the NFL draft. Well, they seemed to answer those questions in a complete 35-14 victory over Stanford to start the season. The win keeps them in the top 10, as they slid down 1 spot to #8. The Ducks' still appear to be the cream of the crop out west.
Speaking of teams "out west", how about the BYU Cougars? All they had done through October was amass a 7-0 record while averaging 44.4 points per contest, and an even more insane +31.0 average margin of victory in those 7 victories. That is all very good, the problem? The level of competition that those wins came against. Navy, Troy, Louisiana Tech, UT-San Antonio, Houston, Texas State, and Western Kentucky aren't going to be confused as a murderer's row of opponents. They badly needed a 'marque' victory over better competition, and they got that opportunity on Friday night with a visit to take on #23 Boise State on the blue turf.
The Broncos were off to a 2-0 start, and appeared to be the best of the Mountain West to this point. The Cougars' kept their hot streak moving right along with a very impressive 51-17 rout of the Broncos on their home turf. They led 16-3 at the half, and 38-3 at the end of the 3rd quarter in a game that they completely dominated from the start. The impressive victory now has the Cougars firmly entrenched in the top 10 (up two spots to #9 this week), and also firmly entrenched in the CFP conversation. Hats off to BYU on taking advantage of the golden opportunity to boost the resume.
Meanwhile, the Wisconsin Badgers got off to a solid start with an impressive 45-7 rout of Illinois back on October 23rd. Redshirt Freshman QB Graham Mertz turned in a debut for the ages, completing his first 17 passes, and finishing 20-21 for 248 yards and a school-record 5TDs. Then came the subsequent Covid-outbreak that sidelined not just Mertz, but the entire team for the last two weeks, causing games against Nebraska & Purdue to get canceled. They seem to be back on track with the cases now going down, and able to resume on-field conditioning. Hopefully they can return this coming Saturday to take on Michigan, otherwise the Badgers risk being ineligible for the Big TEN Title game if they are to miss another game. At any rate, they drop two spots this week, and round-out the top 10 at #10.
Directly behind the Badgers, we have the surprise of the Big TEN, and one of the surprises of the entire 2020 college football season to this point in the Indiana Hoosiers. They were in action against the Michigan Wolverines & once-again maligned head coach Jim Harbaugh. Coming off an upset loss to in-state rival Michigan State, the Wolverines were looking for a bounce-back performance.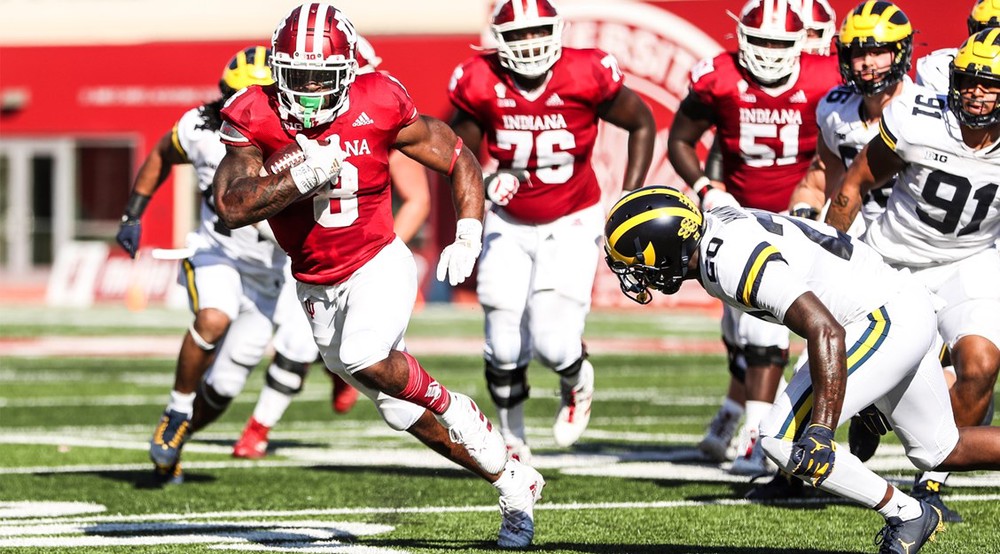 Instead, they were thoroughly out-played by the Hoosiers, managing just 13 paltry rushing yards for the entire game on 18 attempts. Indiana was more physical, dominated the line of scrimmage, and was the flat-out better team for the entire game. Don't be mistaken, Indiana is a good football team. After all, they did start the season just outside of the top 25 following a breakout 2019 campaign that saw them finish at 8-5. That being said, the Wolverine faithful was expecting much more after a promising opening game rout at Minnesota.
The loss drops Michigan completely off the radar, and well out of the top 25 picture, while another impressive victory sends the Hoosiers up two spots this week to #11. Don't look now, but Indiana is knocking on the door of the top 10 - in football not basketball mind you. They will travel to Michigan State next week, where they will most likely be double-digit favorites after the Spartans were completely crushed by Iowa, 49-7 on Saturday.
There wasn't a whole lot of significant movement in the rankings this week following the upstart Hoosiers. Miami FL remained at 12 after sneaking past N.C. State, 44-41 on Friday night. Oklahoma State remains at 14 after earning a hard-fought 20-18 victory at Kansas State. Surprise, surprise, the Cowboys are winning with defense this year, in a Big XII that features very little of it.
Rounding out the top 15 is another one of 2020's best stories to this point. Coastal Carolina already set new impressive bench marks for a program still in its infant stages - especially as a full-blown FBS member. They jumped up 5 spots a week ago to #17, and even became the highest ranked Sun Belt team ever in the AP poll, coming in at #15. They followed up all of those positive accolades by taking care of business once again on Saturday, downing South Alabama, 23-6.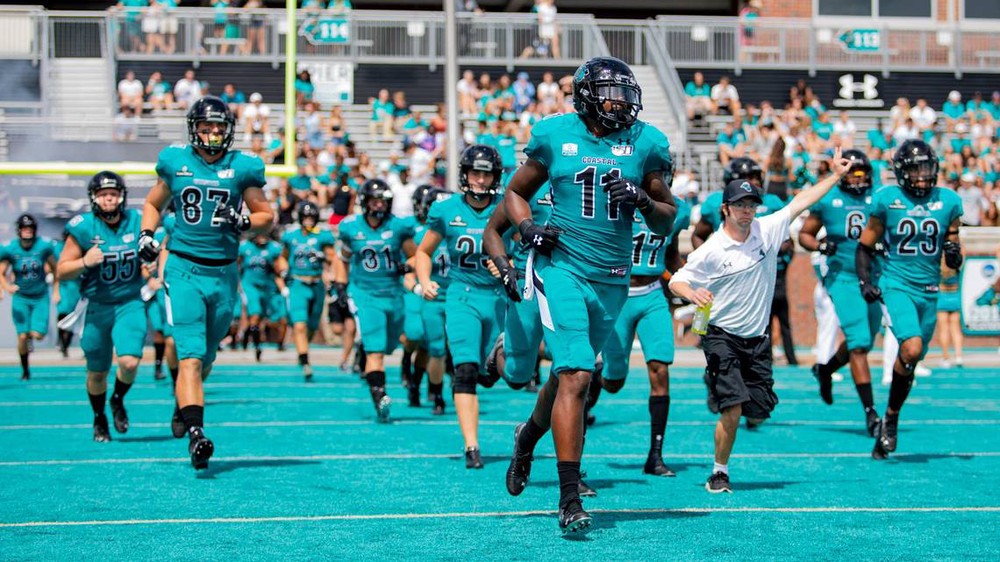 The victory sends the Chanticleers up 2 more spots this week to 15, as they are now an impressive 7-0 on the season. At first glance, one might be quick to dismiss them as a fancy upstart from a second-tier conference with no resume, but that could not be further from the truth. They destroyed Kansas on the road, completely blew away an Arkansas State team coming off a win at Kansas State, knocked off a ranked UL-Lafayette squad on the road (the Caj'uns are now 6-1 on the season), and are winning games by an impressive +21.6 margin to this point. As odd as it may seem to say it, but Coastal Carolina is very much in the CFP conversation.
Behind the Chanticleers is another breakthrough story of 2020, in the Marshall Thundering Herd. They improved to 6-0 on the season after having no problems whatsoever with UMass in a 51-10 pasting of the Minutemen. Their resume pretty much hangs on their 17-7 early-season victory over a quality Appalachian State team. For now, the victory keeps Marshall at #16.
A pair of Big XII teams follow Marshall, with Iowa State and Oklahoma both up a spot, to #s 17 & 18, respectively. The Cyclones erased a 2nd half home deficit to Baylor, and then hung-on for a 38-31 victory, while the Sooners beat-up on a hapless Kansas squad in Norman, 62-9.
The USC Trojans got their season going early on Saturday morning with a 9am local start, taking on Arizona State as surprising 15-point favorites. The Sun Devils proved to be up for the task, as they jumped out to a 17-14 halftime lead, and pushed it to 27-14 in the 4th quarter. The Trojans were sloppy and looked as though they were about to give away their season in the opener.
But then, they turned in a dramatic final 1:30 that erased that 13-point deficit and sent them to a dramatic 28-27 come-from-behind victory. Using a recovered onside kick and 4th & 9 Touchdown pass as part of the miraculous rally, the Trojans improved to 1-0 despite being out-played for nearly the entire game. The fortunate victory drops USC a few spots, but still comfortably in the rankings at 19.
The Texas Longhorns remain at 20 this week after grinding out a 17-13 victory over West Virginia, using 34 carries for 181 rushing yards. The Longhorns head to Lawrence in two weeks where they will be huge favorites against the woeful JayHawks, then come back home for a big showdown with Iowa State.
Rounding out the top 25 are the SMU Mustangs, remaining at 21 after taking care of Temple 47-23, Auburn, who was idle, and then the lone newcomer to the rankings this week.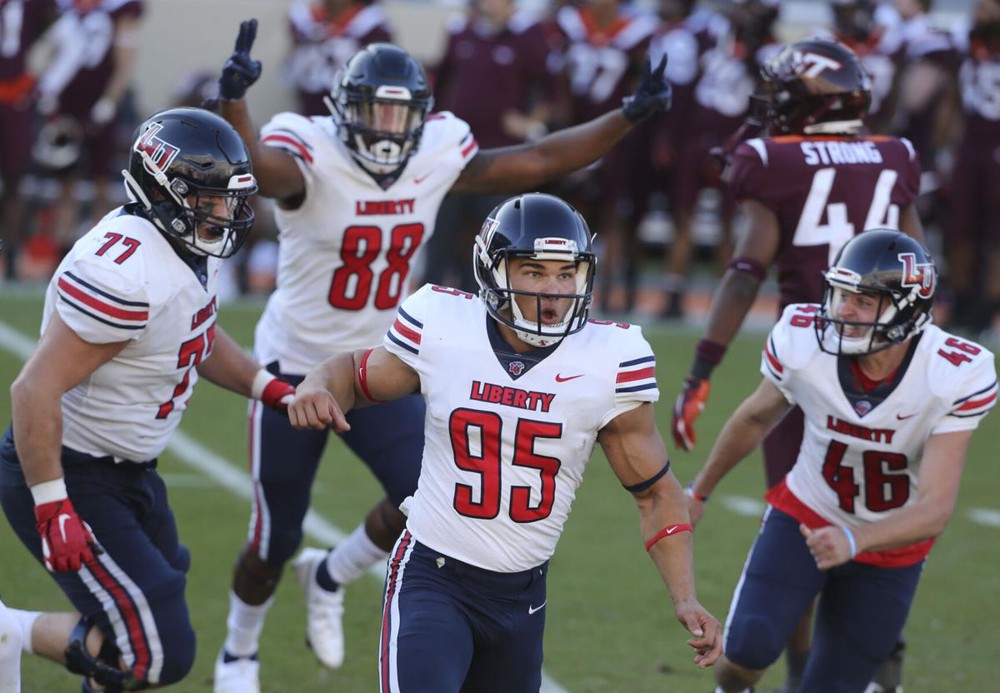 The Liberty Flames keep the string of surprising teams in 2020 going, as they make their season debut in the top 25 this week. They broke through into the AP rankings last week coming in at #25. Which left an interesting scenario for their trip to Blacksburg, VA on Saturday, where they came in as the ranked team, but as a 15-point underdog at Virginia Tech. A 51-yard field goal later after VT iced themselves, and Liberty pulled out a dramatic 38-35 victory. It was their second road win over an ACC opponent on the season and sends them into the rankings at #24.
North Carolina moved up a spot to #23 after completely obliterating rival Duke. The game was basically over after a completely dominant 42-10 first half by the Tar Heels. They improved to 5-2 and continue to look like one of the ACC's better teams behind frontrunners Notre Dame & Clemson.
That brings us to end of the top 25 for week 11, where the Army Black Knights remain after not playing. They are followed by the "Next" group of teams just outside of the rankings. After an eventful week in general, and in NCAA football, and with every FBS conference officially kicked off, here is this week's updated Ultimate College Football Top 25!:
@sportsguychris
Ultimate College Football Top 25 for Week 11
-
1 ALABAMA (6-0)
2 NOTRE DAME (7-0)
3 OHIO STATE (3-0)
4 CLEMSON (7-1)
5 CINCINNATI (6-0)
6 TEXAS A&M (5-1)
6 FLORIDA (4-1)
8 OREGON (1-0)
9 BYU (8-0)
10 WISCONSIN (1-0)
11 INDIANA (3-0)
12 MIAMI FL (6-1)
13 GEORGIA (4-2)
14 OKLAHOMA STATE (5-1)
15 COASTAL CAROLINA (7-0)
16 MARSHALL (6-0)
17 IOWA STATE (5-2)
18 OKLAHOMA (5-2)
19 USC (1-0)
20 TEXAS (5-2)
21 SMU (7-1)
22 AUBURN (4-2)
23 NORTH CAROLINA (5-2)
24 LIBERTY (7-0)* N/A
25 ARMY (6-1)
Dropped Out:
-
23 Boise State (2-1)
Next:
-
Louisiana (6-1), Northwestern (3-0), Appalachian State (5-1), UCF (4-2), Maryland (2-1)
As we turn the page on the first weekend of college football action in November, there are a solid 15 teams or so that are still very much alive for the college football playoff. There is still plenty to be decided in this unprecedented season, so be sure to check back next week for another updated Top 25 as we continue to plug along toward the finish line. In the meantime enjoy all of next weekend's action, highlighted by #1 Alabama at LSU, #10 Wisconsin at Michigan, and Northwestern visiting Purdue in a matchup of surprising unbeatens in the Big TEN.
-
As always, thank you for the support! Be sure to find me on IG & Youtube:
@sportsguychris
Email:
celgersma7@gmail.com