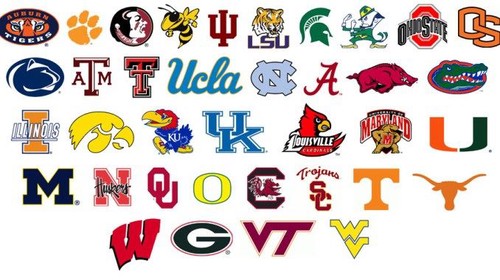 College Football Ultimate Top 25 Week 3 -
Ducks, Hawkeyes Get Statement Wins & Shoot Up the Rankings
Welcome back everyone, after another long off-season, football is back & in full swing! The college football season kicked off quietly at the end of August, and then came to life in a big way with a ton of huge Labor Day weekend showdowns. Week 2 provided plenty more storylines, and I'm back with a full college football rundown & updated Ultimate College Football Top 25! There is plenty to cover, so let's jump right in -

One Big TEN team in particular has made a mark early in the 2021 season. No, not Ohio State, Michigan, or Wisconsin.
Iowa started the season by knocking-off previously 16th-ranked Indiana in a game they dominated from start to finish last week. The 34-6 victory was one of the more dominant of week 1. That setup this past week's in-state rivalry showdown at top-10 ranked Iowa State.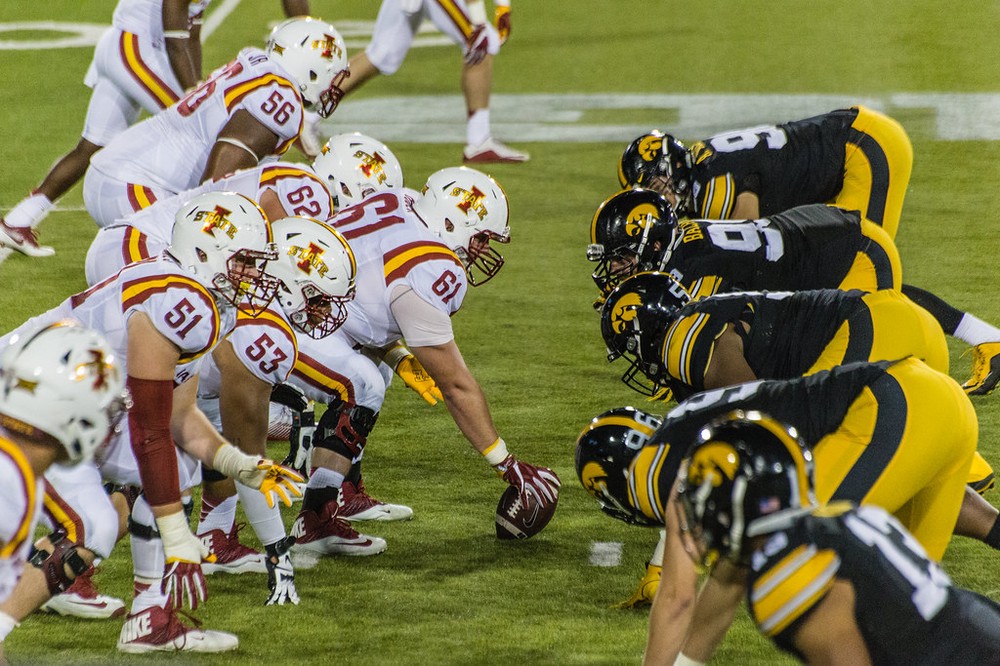 The Cyclones were favorites, and despite out-gaining the Hawkeyes 339-173, lost 27-17, needing a late TD to even make it that close. 4 turnovers for the Iowa defense was the difference in this one. The Hawkeyes' D looks legit as they've now defeated ranked teams in back-to-back weeks to start the season, including a top-5 ranked Iowa State team in a rivalry game. The victory sends Iowa up 8 spots as the big gainer of the week, and all the way up to #5.
Meanwhile, the Cyclones, to despite all of the progress the last couple of seasons, continue to not quite be able to showup in the big-time games. They've given the Oklahoma Sooners plenty of problems in recent history, but came up short in last year's Big XII Title game & were disappointing in this one against Iowa. The loss drops ISU 10 spots down to #15 this week as they look to regroup at UNLV this Saturday.
Top-ranked Alabama was in action against FCS -foe Mercer & cruised to a 48-14 victory. Bryce Young threw for 227 & 3 scores before giving way to the backups in a tune-up before this weekend's trip to the Swamp to take on #14 Florida.
Speaking of the Gators, they were hosting South Florida in an all-state showdown. After jumping all over the Bulls 35-3 in the first half, they coasted the rest of the way for a 42-20 victory. The W sent them up 3 spots this week ahead of the massive showdown with the Crimson Tide.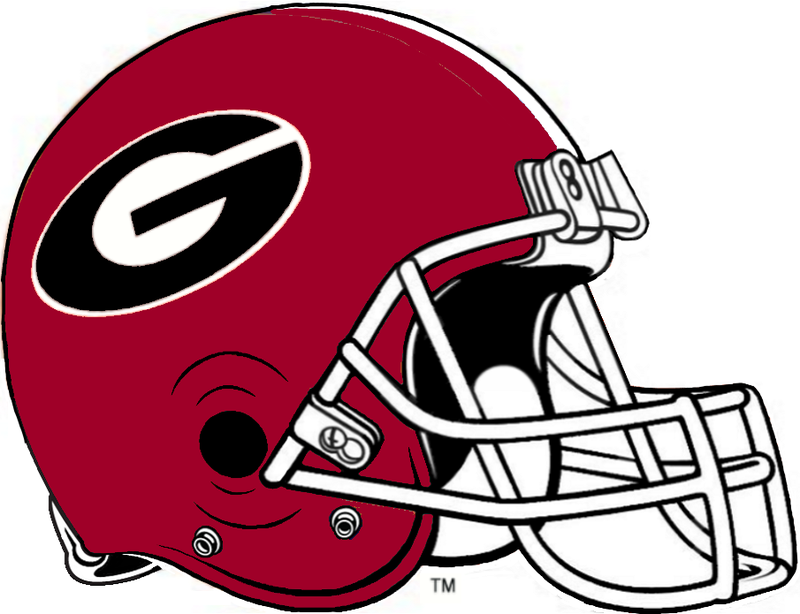 Staying in the SEC, & atop the rankings, #2 Georgia was hosting UAB in a non-conference battle in Athens. While the Blazers were big underdogs heading in, many thought they might be able to at least make it some kind of a game against the mighty Bulldogs.
After all, the program has went 26-11 over the past 3 years, so as far as a non-power 5 non-conference opponent, this was a pretty good one - on paper at least.
The Dawgs' absolutely throttled the Blazers 56-7, leading 49-0 through 3 quarters & getting a sparkling 10/12 for 288 yards & 5 TD passes from backup QB Stetson Bennett.
Georgia looks the part through 2 games and are entrenched at #2 ahead of this week's SEC-opener against South Carolina, where they should once-again be bigtime favorites at kickoff.
All of this really just allowed us to set the stage for the showdown of the week - a game that did not disappoint as #8 Oregon visited #3 Ohio State as surprising 14.5-point underdogs.
The Ducks used their team speed, and behind a balanced offensive attack, coupled with timely stops down the stretch defensively, pulled off the upset in Columbus, 35-28, in an entertaining game that lived up to the hype.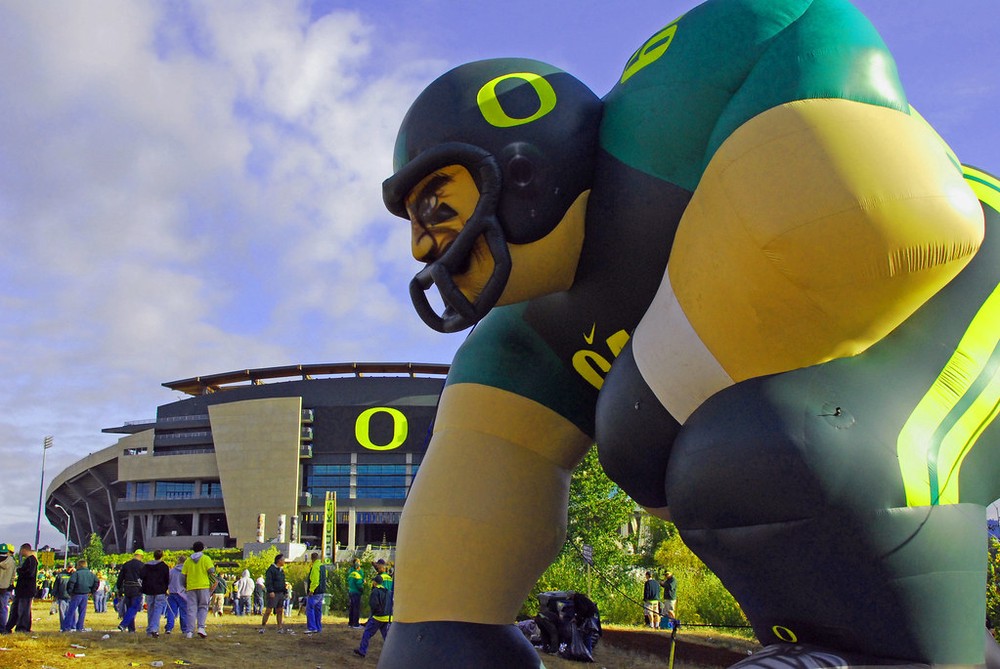 The victory is the best of any team out there in the early going of the season, & sends the Ducks up 5 spots and into the top 5 - taking over OSU's spot at #3. C.J. Stroud was impressive in defeat (35/54 484 yds 3TD/1INT), but it still wasn't enough in the end, as Oregon hung-on for the win. Despite Stroud's big day, the Buckeyes drop 7 spots, but remain in the top 10 at #10.
Staying in the Big TEN, Wisconsin & Penn State both got routine victories over Eastern Michigan & Ball State, respectively.
After struggling mightily in the red zone against PSU to start the season, the Badgers got off to a similiar start against the Eagles Saturday night in Madison, failing to score on their trip into the redzone early in the 1st quarter.
From that point on however, the Badgers did what they do best, piling up rushing yards en route to a 24-0 halftime lead. 352 rush yards and a 518-92 advantage in total offense later and UW bounced-back for a 34-7 W.
The Nittany Lions meanwhile cruised from start to finish in a 44-13 whooping at Happy Valley. The offense was much better against the Cardinals in week 2, as PSU rises 2 spots to #13 this week.
Michigan is knocking on the door of the top 25 after a 31-10 victory over Washington. The Wolverines are 2-0 and big favorites ahead of this week's home date with Northern Illinois. They round out the "next" group of teams just outside of the rankings.
That brings us to the Pac-12 where Oregon scored the W of the week, but the Ducks aren't the only west coast school making noise early in the season.
Chip Kelly's Bruins were off this week after getting an impressive home-victory over LSU to get to 2-0. Idle UCLA jumped into the rankings at #11 this past week, and moved up 2 spots and into the top 10 to #9 this week ahead of their showdown with Fresno State.
Arizona State moved up a spot to #8 after outlasting an overmatched UNLV team 37-20. That makes a trio of Pac-12 teams in the top 10, and there might have been a 4th until...
The odd team out in the Pac-12 equation of early-season highly ranked teams - USC.
The Trojans looked so good against a highly-regarded San Jose State squad that is expected to contend for their 2nd consecutive Mountain West Title in last week's opener. Then they fell completely flat in a 42-28 home loss to a Stanford team that no-showed to start the season at Kansas State.
It was an ugly loss for USC & sent them tumbling down & out of the rankings. The Trojans' exit helped to make way for a trio of newcomers in this week's top 25.
#22 BYU, fresh off of their 26-17 upset victory over Utah are in, while rounding out the top 25 is Kentucky - in at #25 after opening up SEC play with a 35-28 victory over Missouri.
In other action in the top 25 this week...
I know the Irish have been very good over the past handful of years, but I don't understand the pollsters' facination with them this season. They nearly blew an 18-point lead last week at FSU, and then barely escaped with a dramatic 32-29 come-from-behind victory at home over Toledo.
The Rockets scored the go-ahead TD with just 1:35 to go, giving them a 29-24 advantage. Irish QB Jack Coan answered right back, however, dislocated finger & all to toss the game-winning 18-yard TD pass with 1:09 to go.
The Irish are 2-0 after a pair of thrilling 3-point victories and slid up 3 spots to #18 this week. They host 2-0 Purdue this week, fresh off their 49-0 blanking of UConn.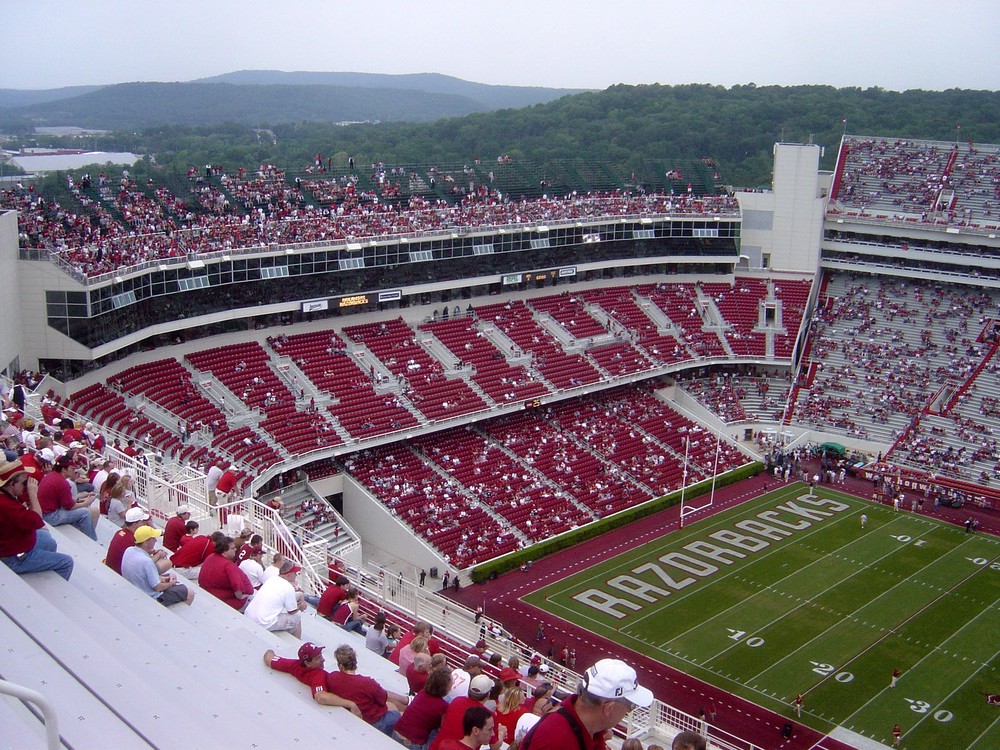 #16 Texas looked over-matched and didn't have much of an answer defensively in their unimpressive road loss to Arkansas. Credit the Razorbacks, who moved the ball with surprising ease, and ripped the Longhorns' D for 333 yards on the ground in the 40-21 upset. Texas dropped out of the rankings, while the big victory for Arkansas sent the Hogs into the rankings - landing at #23.
Another highly-ranked team from Texas was in action on the road, as A&M visited Colorado. For the first 55 minutes + the Buffaloes dominated the game & kept the Aggies out of the endzone, but only had a 7-3 lead to show for it. A&M finally got a late TD with just 2:41 to go to gut-out a 10-7 victory. The win slid the Aggies up a spot to #11 this week. The offensive concerns are real though, and this team will need to improve on that side of the ball if they are to navigate a trecherous SEC West.
Virginia Tech built off of last week's home upset of North Carolina with a win over Middle Tennessee State and made a move up to #16. North Carolina bounced-back from that loss to VT, and throttled Georgia State 59-17. Liberty also moved up, with the Flames hanging on for a tough road victory at an improved Troy squad.
Lastly, Mississippi State was hosting #18 N.C. State & got a surprisingly dominant defensive effort, building a 24-3 lead and keeping the Wolfpack out of the endzone until the waning moments of the game. The 24-10 win has the Bulldogs just outside of the top 25, while knocking N.C. State from the rankings in the process...
Looking ahead to this week, Nebraska & Oklahoma renew a rivalry from the old Big 8 & Big XII days from Norman, while Cincinnati visits Indiana, #12 Coastal Carolina is at Buffalo, Michigan State visits Miami FL, while the aforementioned SEC showdown pits topped-ranked Alabama & 14th-ranked Florida. Finally, here's how the College Football Ultimate Top 25 shakes out for week 3-

2021 COLLEGE FOOTBALL ULTIMATE TOP 25 - WEEK 3
1 Alabama (2-0)
2 Georgia (2-0)
3 Oregon (2-0)
4 Cincinnati (2-0)
5 Iowa (2-0)
6 Oklahoma (2-0)
7 Clemson (1-1)
8 Arizona State (2-0)
9 UCLA (2-0)
10 Ohio State (1-1)
11 Texas A&M (2-0)
12 Coastal Carolina (2-0)
13 Penn State (2-0)
14 Florida (2-0)
15 Iowa State (1-1)
16 Virginia Tech (2-0)
17 Wisconsin (1-1)
18 Notre Dame (2-0)
19 Miami FL (1-1)
20 Liberty (2-0)
21 North Carolina (1-1)
22 BYU (2-0)*
23 Arkansas (2-0)*
24 LSU (1-1)
25 Kentucky (2-0)*
*-New to the rankings this week
Dropped Out:
10 USC (1-1), 16 Texas (1-1), 18 N.C. State (1-1)
Next:
Ole Miss (2-0), Mississippi State (2-0), USC (1-1), Army (2-0), UCF (2-0), Michigan (2-0), Auburn (2-0), Pittsburgh (2-0)
----
Thank you for the support as always. You can find me on IG & YouTube at @sportsguychris and be sure to check out my podcast with my good buddy Mikee:
"The Balls and Beards Podcast" available on Spotify, Apple Pocketcasts, Google Podcasts, Anchor, and Breaker! We keep you up to date on everything in the world of the NFL & NBA!
If you enjoy my content, and the find value in our podcast, please checkout our Patreon page if you have the chance:
https://www.patreon.com/join/ballsandbeardspodcast