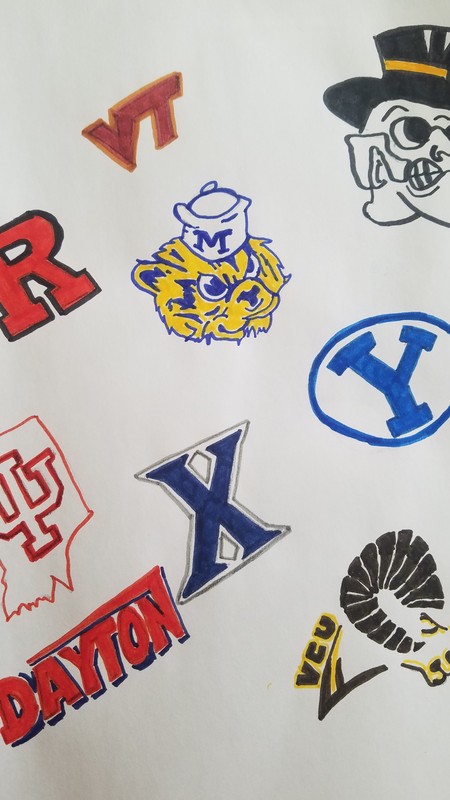 Conference tournaments are in full-swing, as we have hit the middle of Championship week. Which makes it the perfect time to check-in on the current "bubble", where the Big TEN & ACC are currently taking center stage.
We start in the Big TEN, where a trio of teams are firmly on the bubble, and most likely will remain there until Selection Sunday. Rutgers, Michigan, and Indiana all have the resumes of a Tournament team, thanks to the difficulty & depth of this year's Big TEN, but all still have work to do.
Rutgers has the most impressive group of victories (@ Indiana, vs Illinois, @ Wisconsin, vs Ohio State, vs Michigan State, vs Iowa, vs Michigan, vs Purdue), which should be enough to get them in, but bad early season losses to DePaul, Lafayette, and UMass, combined with not-so-favorable metrics (currently just 76 in NET rating), all adds up to the Scarlett Knights being right square on the bubble.
As for the Wolverines, they finished the season with a massive win at rival Ohio State, to stay on the right side of the bubble. Wins at Iowa, at home against Purdue, and at Indiana all help. A non-conference win over San Diego State continues to look better & better as well, but at just 17-13 overall, they remain right on / around the cut-line. They face Indiana tomorrow in the Big TEN tournament in what could amount to an elimination game. Lose that one and they would finish just 3 games above .500, and would then need to make history to make the field of 68.
Speaking of the Hoosiers, they have a slightly better overall record than Michigan at 18-12, but posted a 9-11 mark in Big TEN play. They enter tomorrow's matchup with the Wolverines having gone just 2-7 down the stretch, and seem to be in desperate need of a win. They continue to show up right on the cut-line (Joe Lunardi has them as the first team out), I've got them as the last team in. Most of their resume happened early-on with a home win over Purdue back on January 20th, as well as home wins over Ohio State & Notre Dame. That resume seems to need a bit more "meat & potatoes" if you will, to feel safe come Selection Sunday.
Wake Forest is right on the cut-line as well despite a sparkling record (23-8, 13-7 ACC), as their resume just doesn't have much for quality wins. They need to avoid losing to Boston College in the ACC tournament, and a couple of wins might be enough to play themselves in. I have the Demon Deacons as the first team out at the moment, but knock off BC, and they should be feeling much better about their at-large chances.
Virginia Tech has snuck into the "bubble" fray as well, and could possibly play themselves in if they can make some noise in the ACC tournament. The Hokies' resume consists of just 3 wins of note, however, - @ Miami FL, vs Notre Dame, and a blowout of St. Bonaventure in non-conference play. Which doesn't exactly scream "tournament team". It might be a bit of an uphill climb at this point.
That brings us to BYU. The WCC was much tougher than usual this season, with Gonzaga once again featuring as one of the top teams in the country. Saint Mary's is comfortably in as well after turning in a heck of a regular season that should see them land as a 5 or 6 seed. San Francisco should be safely in as well, with a decent resume combined with very good metrics. Even UC-Santa Clara had a good season and posted 21 victories.
The Cougars' at-large chances took a significant hit, however, when they fell to San Francisco by 12 in the WCC tournament. The Dons' should be safely in after that W, and somewhere on the 9-10 line. BYU does have a win at San Fran, and a home win over Saint Mary's, but were not competitive at all in their two games versus Gonzaga, losing by 26 & 33, respectively. They do have non-conference wins over San Diego State & Oregon, which look nice, but also lost to Utah Valley & Vandy. It all adds up to not quite enough to get one of the final at-large bids. Everyone else will have an opportunity to make a final mark on the committee, while the Cougars will have a nervous wait until Selection Sunday...
THE "BUBBLE"
------------------------
[Team followed by overall record, conference record, conf. affiliation, and (NET rating) ]
◇ - teams have finished their regular season & conference tournament & have no more remaining games
Last 4 Byes:
--------------------
10 Miami FL 22-9, 14-6 ACC (59)
11 Rutgers 18-12, 12-8 Big TEN (76)
11 San Diego St. 21-7, 13-4 MWC (29)
11 Creighton 20-10, 12-7 Big East (66)
Last 4 In: (Play-in Games)
----------------
12 Michigan 17-13, 11-9 (31)
12 SMU 22-7, 13-4 AAC (49)
12 Xavier 18-12, 8-11 Big East (36)
12 Indiana 18-12, 9-11 Big TEN (44)
First 4 Out:
------------------
Wake Forest 23-8, 13-7 ACC (39)
Florida 19-12, 9-9 SEC (54)
Dayton 22-9, 14-4 A-10 (52)
Oregon 18-13, 11-9 Pac-12 (73)
Next 4 Out:
-------------------
VCU 21-8, 14-4 A-10 (51)
BYU 22-10, 9-6 WCC (55) ◇
Virginia Tech 19-12, 11-9 ACC (37)
Virginia 18-12, 12-8 ACC (77)
----
Thank you for the support as always. You can find me on IG & YouTube at @sportsguychris and be sure to check out my podcast with my good buddy Mikee:
"The Balls and Beards Podcast" available on Spotify, Apple Pocketcasts, Google Podcasts, Anchor, and Breaker! We keep you up to date on everything in the world of the NFL & NBA!
BE SURE TO CHECKOUT MY PATREON WHERE WE HAVE EXCLUSIVE CONTENT INCLUDING NCAA TOURNAMENT PROJECTIONS, AS WELL AS ALL KINDS OF MARCH MADNESS CONTENT TO COME, INCLUDING "UPSET PICKS", & MUCH, MUCH MORE!
https://www.patreon.com/join/ballsandbeardspodcast